Sex is Basic to Marriage
Sex is Basic to Marriage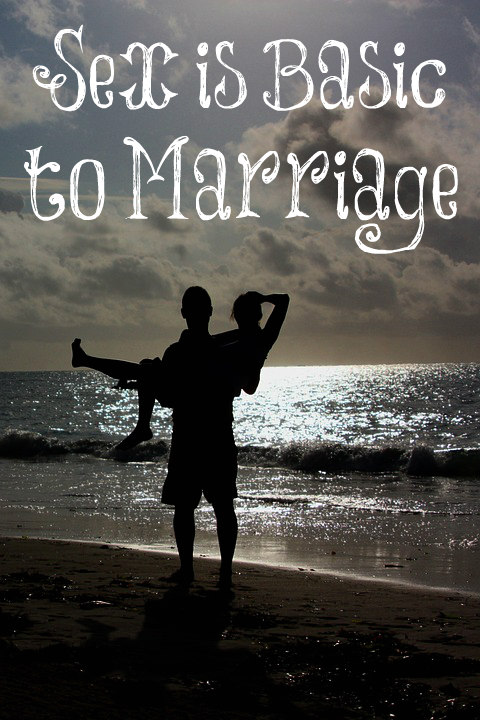 We know of some couples who are going through some very hard times and the wives refuse to be intimate with their husbands. Yes, we can try to guess what the husbands are doing wrong that the wives don't want to have sex with them but we must still focus upon obeying God even when the other spouse is not in some areas. Most times in these situations, the wives don't want to talk to me because they know what I will tell them, so we pray.
I read an article by a woman, who is not a Christian, entitled What Sleeping With Married Men Taught Me About Infidelity. She prefers married men because she doesn't have to worry about the long-term emotional attachment since they have wives, children, and mortgages. She wrote, "What surprised me was that husbands weren't looking to have more sex. They were looking to have any sex…I suppose I would hope his needs would involve fishing trips or beers with friends. But sex is basic. Physical intimacy with other human beings is essential to our health and well being. So how do we deny such a need to the one we care about most? If our primary relationship nourishes and stabilizes us but lacks intimacy, we shouldn't have to destroy our marriage to get that intimacy somewhere else, should we?"
The answer is no. God is clear that we are not to deprive each other sexually. She found that most married men simply wanted sex and would prefer sex with their own wives. They live with them day in and day out and are attracted to their wives. This is what happens when members of the opposite sex live in the same house, dress in front of each other, and sleep in the same bed. This shouldn't surprise women.
Men have ten times the testosterone than women and their sex drive is typically much higher than women's. Wives need to know this so they will keep their husbands sexually satisfied at home so they won't go elsewhere looking for it. No, the husbands shouldn't do this but even God's Word warns us about this. "Defraud ye not one the other, except it be with consent for a time, that ye may give yourselves to fasting and prayer; and come together again, that Satan tempt you not for your incontinency (1 Corinthians 7:5)." When wives deprive their husbands, they are opening up their husbands to be tempted by Satan. This is not good at all! We are to do nothing to cause our brothers to stumble, no, not even our husbands.
The author said these husbands didn't tell their wives about their longing for sex and finding it elsewhere because they didn't want to hurt their wives. The author thought the lie was worse than the affair. Most husbands probably tell their wives how much they want sex but not to the extent since they know how their wives will respond. More rejection. This is why God commands older women to teach younger women to love their husbands which includes satisfying them sexually. Husbands go to work daily even when they don't feel like it. Wives need to be sexually available to their husbands even if they don't feel like it. We lives our lives based upon obedience not feelings.
Yes, there are some men who will have affairs even if their wives are available sexually and there are times when a wife simply cannot be available sexually because of health issues, giving birth, and issues such as these. I am not speaking about these specific cases but if you are married to a man who loves you and wants sex with you, I am writing to you.
Let the husband render unto the wife due benevolence: and likewise also the wife unto the husband. The wife hath not power of her own body, but the husband: and likewise also the husband hath not power of his own body, but the wife.
1 Corinthians 7:3, 4