Dealing With a Messy Husband
Dealing With a Messy Husband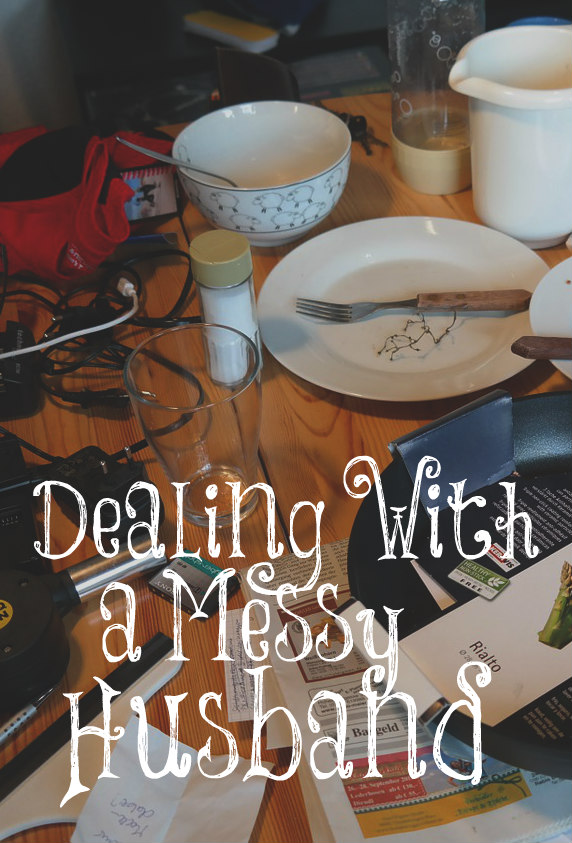 Yes, there are women who are married to messy husbands. These husbands come home from a long day at work and have no interest in doing any housework or even cleaning up after themselves. After all, they married a help meet for a reason! I know, many women don't look at it this way and their messy husbands drive them crazy. What are they to do?
Here are a few comments left on my Facebook page by women yesterday concerning this issue:
"The Transformed Wife, it is inconsiderate of the HUSBAND to just leave a mess around CARELESSLY 24/7. Just as the wife would be considered as inconsiderate if she did something like that, am I right?"
"The Transformed Wife, if a man can't look after himself and refuses to, then he isn't a man. So yes, divorce him. I want a husband, not a son."
"The Transformed Wife, if a husband refuses to love his wife by being courteous and picking up after himself, and she has lovingly addressed the situation with him, then the husband is in unrepentant sin, and a woman should seek the advice of church elders who are in authority over her husband. It's quite simple. The sin needs to be addressed and repented of, regardless of gender. Unrepentant sin is what leads to marital breakdown."
I can tell you that the godly women from the chat room had entirely different views about this issue. (Oh, how I love the wisdom from godly women.)
 "I wonder how well those elders can make the husband pick up after himself? Many of the elders may be messy too. There are women struggling with husbands who abuse, fail to provide, husbands with ongoing addictions, and those who commit marital unfaithfulness. Although messiness and inconsideration is annoying, most 'picking up' can be done in a few minutes. This verse comes to mind: 'If it be possible, as much as lieth in you, live peaceably with all men' (Romans 12:18)." (Judy)
"She's basically saying that if the husband won't do women's work by cleaning up the house after himself, he's sinning. Where exactly in the Bible is it written 'Thou shalt pick up your own mess?' I can't seem to find it." (Lindsay)
"She needs to humble herself and submit to her husband. #jezabelspirit" (Jessica)
My mom had a good friend who was constantly getting after her husband for not picking up after himself. He worked hard to provide for his family and was exhausted when he came home. After years of heckling him over his messiness, one day he simply broke down and sobbed during another one of her tirades. She decided right then and there that she was never going to nag him about picking up after himself again and she didn't. She willingly picked up after him. She decided that it wasn't worth destroying her marriage over. Now, she has Alzheimer and he lovingly cares for her.
"When a husband refuses to clean up messes, even after his wife has brought it to his attention, then he has made the executive decision, as head of his household, that his wife should be the one to do that cleaning up. The wife should honor this and do it herself, without complaining.
"Imagine the impertinence of a child being told to wash the dishes and telling his mother that she needs to wash her own dishes and when the mother does not, he tells the mother that she is in unrepentant sin. No, it's not sin for the mother to delegate that task to her child. She is in authority over him and he should obey. In the same way, it is not sin for the husband to delegate the task of cleaning up the house to his wife, regardless of who made the mess. He has that authority. It is impertinent and rebellious for the wife to insist that her husband has to do that chore. She doesn't get to decide which chores he does. She doesn't have that authority. She's not the boss. Her husband is." (Lindsay Harold)
God created wives to be their husbands' help meets, to be keepers at home, and submit to their husbands in everything. I agree with Lindsay. If he doesn't want to clean up after himself, so what, women? If he's a good provider, faithful, and loves you and your children, be thankful and cheerfully clean up after him! Even if he isn't all of those things, you may win him by choosing to care for him in this way without quarreling.
If wives can't clean up after their husbands because they believe their husbands are being "disrespectful" to them for being "slobs," they have forgotten what Christ did for them (remember – being crucified on a cross) and what He said: "The greatest of all is the servant of all." True love bears ALL things.
Love is patient, love is kind and is not jealous; love does not brag and is not arrogant, does not act unbecomingly; it does not seek its own, is not provoked, does not take into account a wrong suffered, does not rejoice in unrighteousness, but rejoices with the truth; bears all things, believes all things, hopes all things, endures all things. Love never fails.
1 Corinthians 13:4-8