Feminism Operates Through Fear
Feminism Operates Through Fear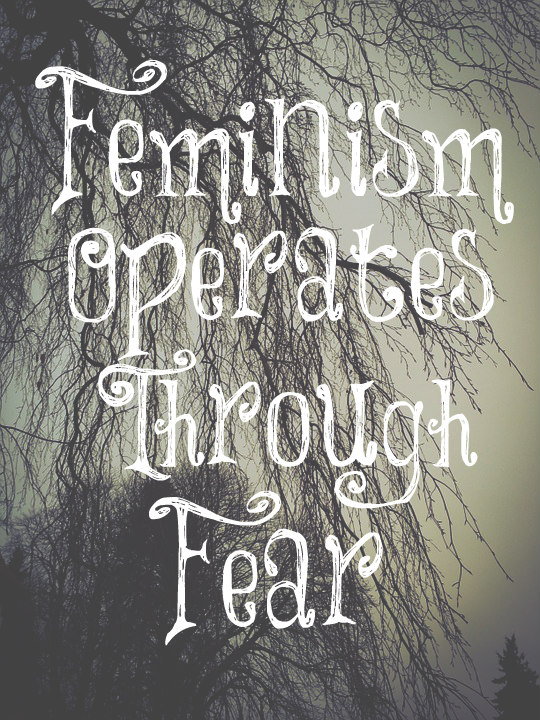 Fear is what motivates many women today. The sad part is that as they are trying to prepare for all of the "what ifs…?," they are making it more difficult to ever be home full time caring for their husband, children, and home. Feminism operates through fear. Biblical womanhood operates through faith in Almighty God. Heather made this comment on my post Traditional Wives Set Feminism Back. For many years, her life operated by fear but now she walks by faith and obeys God.
"I read her article. Ultimately, feminism and traditional values are antithetical and of course a feminist cannot understand a traditionalist because the world views are so opposing. I didn't understand before. At the core of feminism is fear… fear if 'it didn't all work out,' if the worst case scenario happened, etc. I was married once before and it ended in divorce, as I followed this dangerous feminist thinking. That was the worst case scenario for me. I believe it was a direct result of my believing so many of these lies.
"Fear has always been a tool of the devil and is opposite of faith. I struggle with anxiety and even I recognize this is a choice, to follow fear or faith. I've been both a working mother and a housewife who stayed home. I found this blog looking for resources on homemaking and how to be happy staying home because it was so difficult after a lifetime of education and working towards 'success' defined by our current culture. My loving husband (I am remarried) fears God and encourages me to remain busy at home and raise our children. I have learned to submit to him through many of the trials of our marriage and family these last five years and it has not been easy after following the 'God-just-wants-you-to-be-happy-thinking' that I ascribed to in my earlier days.
"God has been showing me how rebellious my spirit has been (even from childhood), how wrong I've been in my theology, and correcting, no, 'transforming' my thinking over the last two or three years. It's only been through reading His word and searching out teaching such as Lori's to help me understand this. I'm thankful the Lord led me to this blog. A woman who has been deceived, which can happen no matter what her upbringing (I had a loving, Christian family and a stay-at-home mother who has remained married to my father for over forty years), can fall into these deceptions and into the fears of feminism.
"It takes faith, commitment, and courage to stand against the social fray, and repentance to live the life of biblical womanhood, as taken literally in the scriptures. I'm thankful for the mercies the Lord has given me despite my many failures. But for the grace of God, I would sill be living in misery believing these lies."
For we walk by faith, not by sight.
2 Corinthians 5:7