Setting the Record Straight Again
Setting the Record Straight Again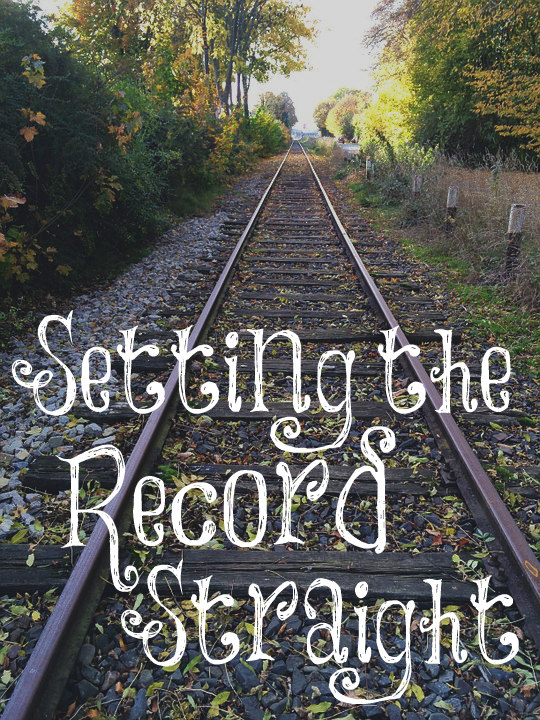 Written By Ken
About every six to twelve months, I sense the need to try and set the record straight concerning the Alexanders. I know many of you think we should ignore the haters, which we do most often, but it just seems right to speak out every once in a while for clarity's sake.
I tweeted my first tweet the other night after getting a message from a friend that the trolls were attacking a Twitter account that they thought was me. I felt badly for someone being attacked falsely in my place, so I fired up Lori's computer and saw that her Twitter account was up so I clicked on it and entered the person's handle. I really had no idea what I was doing, but I posted a couple comments saying, "This is Ken, and I don't do Twitter" and "None of the stuff posted against us here is true… none of it."  I will not go through the laundry list of crazy accusations against us as there is no shred of truth in them. Some are just made up lies out of thin air and others come from a mischaracterization of some post that Lori wrote in her volumes of writings and comments.
Some time ago, Lori wrote that we spanked one of our children for four hours. What she should have said is that we had to discipline a stubborn child for four hours with some swats on the bottom followed by long "time outs" in her bed, until finally, about four hours later the child did what they were told to do. There was no upset or yelling, the swats were not excessive, just explaining clearly to our child that they cannot say "No!" to their parents in our family. To any sensible observer, the discipline would be considered reasonable, not very painful, but it consistently lasted until the child learned to obey. We found our children only tested us one time like this, and once they knew they could not win, they quickly obeyed. And we would do exactly the same thing today if we were young parents, as consistency the first time your two to three year old tests you almost always pays great dividend of learned obedience, except with the toughest of wills.
If you have never had to go toe to toe for an hour or more with a stubborn two to three year old, you either have a very cooperative children or you are a permissive parent. We were not, and the proof of our success can be found in four godly young adults, whose wonderful spouses see them as extremely mature, disciplined, and emotionally well-adjusted. I will not waste any more time refuting the blatant lies. We know that we have nothing to fear from Satan, the Father of lies, who wants nothing more than to seek to destroy and devour Lori's thriving ministry and take us down too.  If they succeed, we'll still rest fully in the hands of God knowing it is His ministry and we belong to our Lord.
But there is another far more important record that I wish to try and set straight as to why Lori writes what she writes, and why I support her in it. The reason is very simple in that we are trying to help win as many people to the Lord as possible before our gracious Lord and Savior returns with a sword in His mouth to smite His enemies. We do not want to be enemies with the trolls, but we will not back down from what God has called every Christian to do when He says,
"Go therefore and make disciples of all the nations, baptizing them in the name of the Father and of the Son and of the Holy Spirit, teaching them to observe all things that I have commanded you; and lo, I am with you always, even to the end of the age" (Matthew 28: 19-20).
Some who read The Transformed Wife counsel her to tone down the message and tame it so as to not offend. They believe her message has the potential to cost the Kingdom of losing souls by turning Seekers off to the Gospel. It's not that we are unsympathetic to this appeal, but we truly believe that God has placed Lori in a unique position at a unique time in history that the Church needs to hear what she knows and teaches so strongly at her core. Those things that God Himself has asked all older godly women to teach, yet few are willing or able to do so. Even if they tried, the younger generation has little interest in listening to such wisdom. These are not complicated or difficult things to teach as they are plainly and simply taught in God's Word, but our churches have chosen to ignore any emphasis upon them as they clash with culture, and yes, risks persecution and lies, and lost membership.
Our churches have, as a whole, become Seeker friendly places that are unwilling to offend with God's very own Word. And what are those offensive words older godly women and pastors will no longer teach?
"Teach the young women to be sober,
to love their husbands,
to love their children,
to be discreet,
chaste,
keepers at home,
good,
obedient to their own husbands,
that the word of God be not blasphemed"
(Titus 2:4-5)
"Behold, children are a heritage from the LORD, The fruit of the womb is a reward" (Psalm 127.3)
"Wives, submit yourselves to your own husbands as you do to the Lord" (Ephesians 5:22).
"as the church is subject unto Christ, so let the wives be to their own husbands in everything" (Ephesians 5:24).
"Likewise, ye wives, be in subjection to your own husbands; that, if any obey not the word, they also may without the word be won by the conversation of the wives; While they behold your chaste conversation coupled with fear" (1 Peter 3:1-2).
"Let your women keep silent in the churches, for they are not permitted to speak; but they are to be submissive, as the law also says. And if they want to learn something, let them ask their own husbands at home; for it is shameful for women to speak in church" (1 Corinthians 14:34-35).
"And I do not permit a woman to teach or to have authority over a man, but to be in silence" (1 Timothy 2:12).
There are a few other topics Lori covers but these are the bulk of them. Please tell me how you believe your church, and the Church as a whole, is doing with teaching these proven, God given, and time-tested principles of the Word.
In every generation, God seems to raise up a few voices to call His Church to attention. It certainly was never in the Lori's mind when she started what she thought would be a small mentoring program, that God may use her to help thousands of women come to know and understand these vital principles of life, marriage, family, and order in the church. She realizes that this is God's ministry, done out of love for women and out of great regret that she did not know these things when she was younger. She understands that it is God who has raised up the ministry and He can shut it down at any time He so chooses, giving her even more time to be a great wife, mother, and grandma to a family that has come to honor and adore her love and service in our lives.
But she does this ministry, and I allow it and help her with it, for the sake of Evangelism! Yes, I know this may be hard to understand for some, but the fact is that there is no greater evangelistic tool given to the church than strong Christian families raising a quiver full of the next generation of godly offspring. If by far the greatest number of those who will be saved in the Kingdom will come from a Christian home, where O Church is our best investment and return? Tip-toeing around the Seekers? Or by strongly admonishing Christian families who are raising up the children of God in their homes to get on God's page of family life and marriage?
There are many gifts in the body of Christ, the Church, and endless places for women to serve without being in the pulpit, but there is not a more important place of ministry than in one's own home. Teaching our children the Word, memorizing it with them, taking them to AWANA, and schooling them in the vast difference between the world and the Alexanders or Wilsons or Smiths. We are set apart for God and are in the world, but not in Satan's World system.
I know most of you get it, and we hear from many of you encouraging Lori to stand strong as a voice in the wilderness crying to the Church and families to repent and get back on God's track for family life and order in the church. For wives to live in submission in a way that wins disobedient husbands and children back to the Lord. Your kind comments and spectacular testimonies are so greatly appreciated to see God working as you stepped out in faith to match up your life with God's Word.
Our mission is very simple. We want everyone, everywhere to believe in our Lord Jesus Christ and accept the free gift of salvation that God is granting by grace through faith alone. Jesus, God in the flesh, came to live as a man and die on a cross for our sins. All we have to do is believe Him and choose to follow Christ as our Lord. We do not work for salvation… we do not earn it. Yet, any child of God should be so overwhelmed by God's love that the fruit of the Spirit within them will compel them to want to be like Jesus, an obedient child seeking to please her Father.
If you have not yet placed your full trust in Jesus and believed that the same God who has raised Christ from the dead can also raise you from your dead flesh and place His living Spirit within you, then we invite you to do so right now. Simply ask God to come into your life and rule it from now through eternity. It is that easy to find Jesus, but now you must also count the cost by placing your life under His Lordship. Let a Christian friend know about your new faith and commitment, and let us know so we can help you get into a strong Bible teaching church that will help you grow up into Christ Jesus and be all that God has called you to be.
Yes, that calling can be a doctor, lawyer, plumber or stay-at-home Mom, and you can be still be saved. The principles of Christian womanhood that Lori teaches are not things that will save you, but they are intended to make the Christian woman look for herself into the perfect Word of God and ask the question, "My God, what do you require of me?" If you can leave your babies in the arms of strangers and believe that you are better advancing the Kingdom of God than daily training them in the ways of the Lord, that is between you and your Lord Jesus. But please do not fault the one crying in the wilderness for Christian women to make their paths straight. To ponder God's Word on these matters and choose wisely their ways that will affect them and their families for eternal years to come.
God's ways are always good and always the best. Choose you this day whom you will serve. As for me and my family we will serve the Lord, and will live with the lies and slander against us because we can do no other. For we have come face-to-face with Jesus in His Word, in His sufferings, and in His many abundant and immense blessings that come from doing things God's ways. We only want the same for you and the Church and  we pray that the next troll will see the light and wisdom that is abundantly found on this page and repent of her ways to find God's best for her life,
Thus saith the LORD, Stand ye in the ways, and see, and ask for the old paths, where is the good way, and walk therein, and ye shall find rest for your souls.
Jeremiah 6:16