Do I Condemn Mothers Who Are NOT Keepers at Home?
Do I Condemn Mothers Who Are NOT Keepers at Home?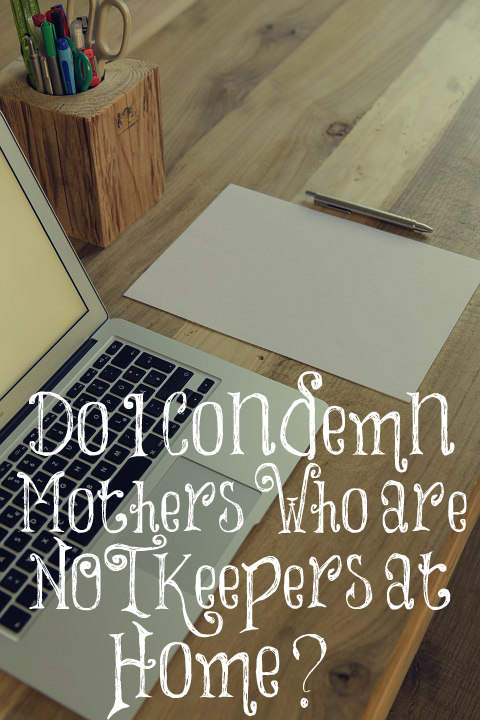 "What I find appalling is you condemning women that don't have the privilege to be keepers at home. Most moms have a difficult time with self-esteem and you are adding to this anxiety. What about single moms? Are they less of a woman because they have to support their family?" A woman wrote this comment to me on Facebook last week but I hear similar sentiments often.
Do I condemn single mothers or mothers who can't be home full time because I teach what God has commanded that I teach to younger women, that they be keepers at home? How is obeying God and doing what He asks of me condemning anyone?
Yes, God tells us that young women who aren't keepers at home blaspheme the word of God so if they feel condemned, they feel condemned by the Word of God, not me. God's Word challenges and convicts many and this is why many hate it. But just because many hate it and it convicts many, does this mean we don't teach it?
Of course not! We obey God regardless of how it is received. Many single mothers or mothers who can't be home full time want to be home full time more than anything else when they understand that this is God's will for their lives. Instead of feeling condemned, they know they are doing the best that they can at this time in their lives and are praying and seeking for a way to come home. Women write to me and tell me these things. There are women in the chat room who must work, even one of our administrators, and they know that what I teach is biblically accurate but for reasons beyond their control, they must work outside of the home. They would all love to be home full time!
They aren't angry with my words because they know they are truth. They understand that all of God's ways are good. Some women have to work because of their own bad decisions. They have a ton of student loan debt that makes it impossible for them to come home. Some divorced their husbands because they weren't "happy" then later figured out that this isn't a good reason to divorce the father of their children and the provider of their family. Some work because their husbands want them to work outside of the home.
Some have to work because of sin done against them. Maybe their husband abandoned them and now they are forced to work. Their children have lost not only their father but their mother, too. They are heartbroken and trying to figure out a way to live on less, work part-time, or maybe even find a way to make money from home. In the meantime, they pray protection over their children daily and ask the Lord for His strength and wisdom.
We must always remind ourselves that with God all things are possible. Mothers who must work for some reason that is out of their control and for single mothers, they know their children still suffer from their absence. It's okay to acknowledge this. Single mothers know that their children would be much better off with a father in their lives who is providing for them but in this difficult time, they must put their full trust in the Lord and depend upon Him to see them all through. Sometimes, it just takes a step of faith in the right direction to see how God will provide abundantly for those who ask!
Now unto him that is able to do exceeding abundantly above all that we ask or think, according to the power that worketh in us.
Ephesians 3:20