NO, I Do NOT Promote Marital Rape!
NO, I Do NOT Promote Marital Rape!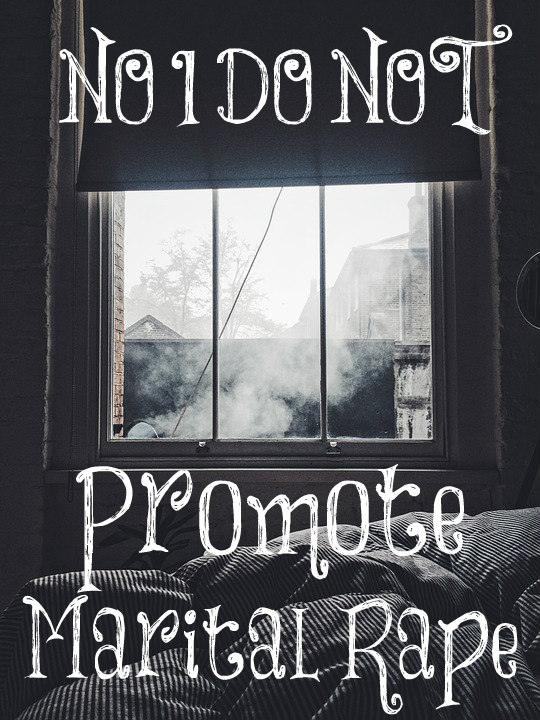 MANY have condemned me for the video I made about a wife being upset that her husband was having sex with her in the middle of the night. I counseled her to join in with him and please him in this way. They accused me (and are still accusing me) of promoting marital rape because I gave the woman this advice. Let's look at what scripture has to say about it.
"Wives, submit yourselves unto your own husbands, as unto the Lord; For the husband is the head of the wife, even as Christ is the head of the church: and he is the saviour of the body. Therefore as the church is subject unto Christ, so let the wives be to their own husbands in every thing" (Ephesians 5:22-24).
"Wives, submit yourselves unto your own husbands, as it is fit in the Lord" (Colossians 3:18).
"That they may teach the young women to be sober, to love their husbands, to love their children,
To be discreet, chaste, keepers at home, good, OBEDIENT TO THEIR OWN HUSBANDS, that the word of God be not blasphemed" (Titus 2:4, 5).
"Likewise, ye wives, be in subjection to your own husbands; that, if any obey not the word, they also may without the word be won by the conversation of the wives; While they behold your chaste conversation coupled with fear" (1 Peter 3:1, 2).
"Even as Sara obeyed Abraham, calling him lord: whose daughters ye are, as long as ye do well, and are not afraid with any amazement" (1 Peter 3:6).
"She that is married careth for the things of the world, how she may please her husband" (1 Corinthians 7:34).
I don't teach men. I only teach women. Therefore, according to all of these verses, when her husband was having sex with her in the night, she should have willingly submitted to him and pleased him, if she is a godly woman and wants to obey the Lord. What is so hard about this? The feminist mindset is SO strong in our culture that it turns something like this advice into marital rape and abuse. This situation isn't either.
A man has to ask his wife each time he wants sexual intimacy with her? Where is the romance or spontaneity in this? What about the command to not deprive our spouses? Where does this fit in? We only have to obey that command when we feel like it?
If a husband is physically abusive towards his wife and causing her harm, then she needs to seek protection and help. He needs to be locked up in jail and put far away from her. No wife should ever have to experience physical abuse. A husband who wants sex with his wife in the middle of the night and begins doing this is not physically abusing his wife nor can this be considered marital rape. When we marry, we are consenting with our husband to give sexual intimacy to each other except for times of prayer and fasting as clearly stated in 1 Corinthians 7. Our bodies belong to each other! We are one flesh. It's a beautiful thing.
This woman wanted my advice so I gave her biblical advice. If I had told her that her husband was committing marital rape against her, what do you think would have happened to her marriage? My job is to build marriages up not help destroy them. Please, women, seek wisdom from above and not from this world. Satan's goal is to kill, steal, and destroy. Be a wise woman who builds her home and marriage up!
No, I do NOT promote marital rape. I teach women to not deprive their husbands sexually as God commands. And guess what, women, God also tells us, "Let the husband render unto the wife due benevolence… likewise also the husband hath not power of his own body, but the wife" (1 Corinthians 7-3-4).  Therefore, if you want to make love in the middle of the night with your husband, go for it and it won't be marital rape, unless we have some double standards going on here. Contrary to the feminist thinking, biblical thinking is that our body is not our own, but belongs to our spouse. And this is God's perfect will for us and our marriages. Yes, let's be considerate of each other, but also remember we are children of the King and want to fulfill His Word and ways to reap His many blessings.
Defraud ye not one the other, except it be with consent for a time, that ye may give yourselves to fasting and prayer; and come together again, that Satan tempt you not for your incontinency.
1 Corinthians 7:5