Do Your Children Want What You Have?
Do Your Children Want What You Have?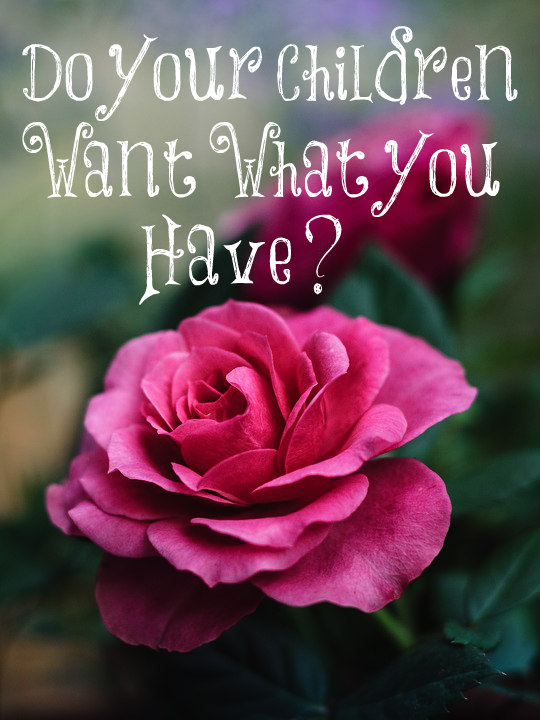 "Let your girl see that you love God's Word more than a novel, a miniseries, a movie. Let her see you read it, study it, learn it, memorize it, apply it to daily life" (Audrey Broggi). Do your children see that your love for the Lord and for God's Word is the most important thing in your life? Do they see you living out your love for Jesus? In raising godly offspring, this is the most important thing you can do. Many children turn away from faith in Jesus Christ because their parents were hypocrites. Their parents told them one thing but turned around and participated in those things they told their children not to do.
Do they see pureness in your life? Are you careful what you watch, read, listen to, and speak? Are you careful to not allow any filthiness into your home? Satan is on the prowl and looking whom he may devour. He would love to devour your children. We are in a spiritual battle and we must protect our children. This, I believe, is one of the main reasons God wants young women to be keepers at home. They are to protect their children from Satan's wiles. They must put on the full armor of the Lord every day and stand guard over their homes.
Do they see Jesus in you by your kindness? They are watching the way you treat the disgruntled waitress, the way you treat your husband even when he is unkind, and especially by the way you treat them. Do you live a life of kindness? Kindness as defined in the 1828 Webster Dictionary: "Disposed to do good to others, and to make them happy by granting their requests, supplying their wants or assisting them in distress; having tenderness or goodness of nature."
One of the qualifications for older widows to receive assistance from the churches is this: "Well reported of for good works; if she have brought up children, if she have lodged strangers, if she have washed the saints' feet, if she have relieved the afflicted, if she have diligently followed every good work" (1 Timothy 5:10). This is a description of living a life of kindness.
We are told to be long-suffering. Are you long-suffering? Benson commentary describes long-suffering this way: "The love of God, and of our neighbour for God's sake, is patient toward all men. It suffers all the weakness, ignorance, errors, and infirmities of the children of God; and all the malice and wickedness of the children of the world; and all this not only for a time, but to the end; and in every step toward overcoming evil with good."
Is your love genuine? Do your children see you not only saying that you love others but that you show others love? Do you listen when they speak? Do you care for their needs and serve them willingly? Words are meaningless if they are not followed up by actions.
In order to be godly women, we must be in the Word of God daily since this is what transforms us. We can't expect to live out a love for Jesus if we aren't dwelling on the good and the lovely that is in God's Word. He has given us everything we need for life and godliness. His Spirit works mightily within us. We are His children and loved by Him. He has washed us clean by His blood that He shed on the cross for us. We are called to be living sacrifices for Him. Learn about all of this in the Bible, then live for Him. When your children see you living a joy-filled life for the Lord, they will want what you have.
That the life also of Jesus might be made manifest in our body.
2 Corinthians 4:10