How Can We Influence Culture For Good?
How Can We Influence Culture For Good?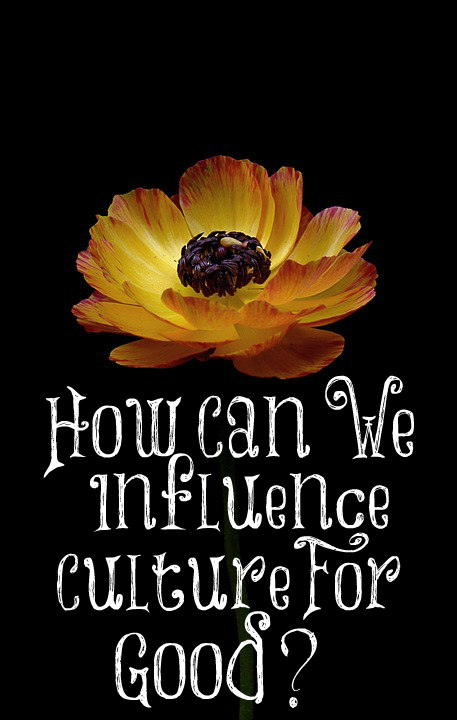 There's a ongoing debate among Christians on how we are to influence the culture for good. Are we to march in protest, speak out against all of the evils, petition congress, use our social media to combat the evil around us, preach politics from the pulpit, or what? I believe all of these things can be used for good but I don't believe these are the way to have the greatest influence.
The Church is called to be salt and light in a wicked generation. It was wicked when Jesus and the Apostle Paul walked this earth. Nothing much has changed. Satan is the prince of the power of the air so until he is thrown into the pit of destruction, he will be active in deceiving people towards evil.
We know that God hates a lukewarm Church; one that has lost its saltiness (Revelation 3:16). We are called to be salt and light, a light on a hill! How are we salt and light? I believe it's by obeying what God has commanded that we do and be. We can't look and act like culture while participating in its deeds and expect to be an influence for good. We are called to be set apart and holy. We are on the narrow path that leads to life, not on the broad path that leads to destruction that most are on. "Wherefore come out from among them, and be ye separate, saith the Lord, and touch not the unclean thing; and I will receive you" (2 Corinthians 6:17).
I don't believe in being social justice warriors. I don't see anywhere in the Word of God that God commands that we do this. Yes, we speak the truth in love but our main purpose in life is to glorify the Lord by the way we live and love. Mothers at home who are raising their children to love the Lord and His ways are glorifying God and doing more to influence culture than most. Older women who are helping and loving the young women around them are glorifying God. People's hearts are softened to the truth much more easily if they are seeing Christians walking the talk and living a life of love and service to others.
When women aren't raising their own children but allowing daycare centers and public schools to raise their children, the chances of raising godly offspring are slim (statistics prove this to be true). We are losing these children to the world because mothers don't want to take the command to be "keepers at home" seriously. What can be more important than raising your children in the ways of the Lord?
If wives are living in rebellion to their husbands and the culture around them sees this, they will think that "Christian" marriages are no better than theirs. As Christians divorce in high numbers, people aren't attracted to Christianity. But when wives are living in loving submission to their husbands and committed to them until death do part, they are being a huge influence for good to those around them. "Wow, there's something different about those Christians!"
How did Sodom and Gomorrah become so evil that if Abraham could have found only ten righteous people, God would not have destroyed these cities yet ten people couldn't be found? I believe it was because people kept compromising what they knew to be true and gave into their flesh and to culture. There was no one influencing anyone for good anymore. These cities had no salt, no light, and were dark. It's the same way America is going.
We must be salt and light to a decaying culture. We do this by loving those around us, sharing the Truth of God's Word when given a chance, praying for our neighbors, and by living godly, set apart lives. No, there's nothing wrong with signing petitions, marching for life, calling congress, and doing all of these things but living to glorify the Lord in everything by obeying Him is what God calls us to do.
Ye are the salt of the earth: but if the salt have lost his savour, wherewith shall it be salted? it is thenceforth good for nothing, but to be cast out, and to be trodden under foot of men. Ye are the light of the world. A city that is set on an hill cannot be hid. Neither do men light a candle, and put it under a bushel, but on a candlestick; and it giveth light unto all that are in the house. Let your light so shine before men, that they may see your good works, and glorify your Father which is in heaven.
Matthew 5:13-16