Men Aren't Allowed Preferences That Offend Women
Men Aren't Allowed Preferences That Offend Women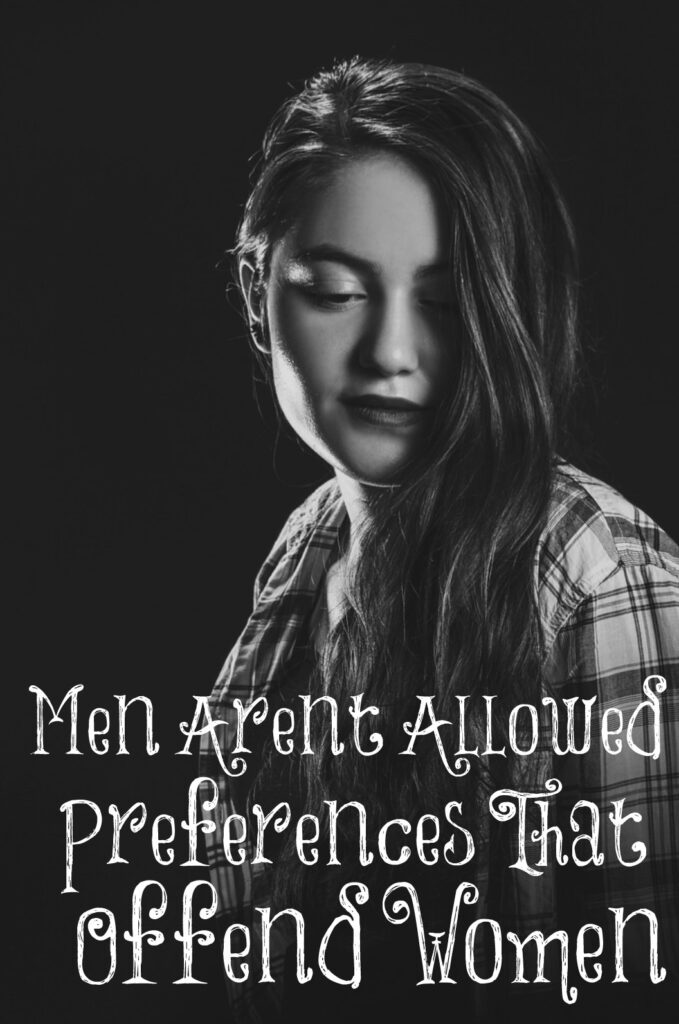 It seems men aren't allowed to have preferences in this feminist culture that offend women, as I found out quickly on my Men Prefer Debt-Free Virgin post. A man who goes by The Multibeast on Twitter wrote this: "Long hair, sundress, no tattoos, clean skin, carefree attitude, caring demeanor, ability to make things beautiful, nurturing, kind, values family, no 'ax to grind' = the most powerful thing on planet earth. Has ALL the chips. Can write her own ticket. Nothing is more powerful." Of course, women were highly offended when I shared it on my social media sites.
Another man on my Gab account wrote this under The Multibeast's tweet that I had shared:
"I'll share a secret with you ladies. If you want to be more attractive than 90% of women in your age bracket, there are only two things you have to do:
"- Keep your weight down
"- Keep your hair long
"Do not worry about nails, makeup, hair treatments, skin care, jewelry, shoes, purses, or fashion. My wife spends no money on the above because none of them are important. She keeps her hair long and her weight around 120 pounds, because these are extremely important.
"I know young women 100 pounds overweight who spend a fortune on makeup and hair products and wonder why they can't find a husband. Just do the two things above, save thousands, and look better than most women easily."
This too, offended many women. "How could he think all women should be 120 pounds?" and many other comments explaining how wrong his comment was.
Dear Sister on Instagram wrote this to these women: "People, generalizations are generally true. If it's not true of you, that doesn't mean it isn't true in general. Most men do prefer women with long hair who aren't overweight. It's reasonable (and health-conscious) advice."
Then, a man on my Instagram wrote the following:
"If a woman does NOT care to try to please her husband the best she can, then you're right, this post isn't helpful. It is definitely Biblical though. I will explain.
"Does not even nature itself teach you that… if a woman has long hair, it is a glory to her?" (1 Corinthians 11)
"Long hair is a sign of feminine beauty in numerous places in the Bible, both in the Old Testament and the New. Men were NEVER condemned for wanting physically desirable women in the Bible, only for focusing on that AT THE EXPENSE of more important things. Jacob was never condemned for desiring the more beautiful, Rachel, over Leah. Both were good women, but one was younger and prettier according to the Word of God. If Rachel had been a harlot, I bet Jacob would've been scolded for desiring her above Leah. Likewise, women are never condemned for wanting men who have a greater ability to provide and protect.
"A husband should satisfy his wife's needs. And a wife should satisfy her husband's needs. The wife's body does not belong only to her. It also belongs to her husband. In the same way, the husband's body does not belong only to him." (1 Corinthians 7)
"Lori ASSUMES her followers (if they aren't already married) are interested in attracting the best husbands, and the best naturally have more options in women. So she assumes women would want to be spend their time on things that have higher value versus lower value. She also assumes that her followers want to please their husbands, as the above scripture instructs. If her assumptions are correct, then it's also fair that she assume women would want to know the MOST important outwardly attractive things to men. That's an economically logical conclusion in ANY context in which a resource, such as time, is limited. 'Here's how to get the most out of your time and effort.'
"For example, if you've only got 30 minutes per day to invest in activities to either: 1) maximize your market value to potential future husbands by making you more desirable than other women, or to 2) pleasing your existing husband, better to use those 30 minutes to get a quick workout in than to paint your nails or put on your makeup. I have nothing against makeup and nails or anything else feminine, I love ALL the feminine stuff, but some things are simply more valuable than others.
"I don't normally try to speak for large groups of people, but if there is absolutely anything in the WORLD I would do it, it's this. Lori is 100 percent right. In the eyes of men, these two things are far more important than any other outward-appearance efforts women can make. Truth is always useful, whether it is Biblical or not, but here, it is Biblical. (A fair assumption in any context in which a resource, such as time, is limited.)
"Also, let me go ahead and say that anecdotal exceptions prove nothing more than than anecdotal exceptions exist. Anecdotes do not give cause to dismiss the overwhelming body of evidence."
In closing, I want to say that I never write nor share anything for shock value. I write and share what I believe is truth and good for women to hear whether or not it offends them. I love to be convicted and challenged about every area of my life. Truth and common sense never offend me.
But if a woman have long hair, it is a glory to her: for her hair is given her for a covering.
1 Corinthians 11:15
But I keep under my body, and bring it into subjection: lest that by any means, when I have preached to others, I myself should be a castaway.
1 Corinthians 9:25
Let your moderation be known unto all men. The Lord is at hand.
Philippians 4:5
In like manner also, that women adorn themselves in modest apparel, with shamefacedness and sobriety; not with broided hair, or gold, or pearls, or costly array.
1 Timothy 2:9