Does Birth Control Help the Poor?
Does Birth Control Help the Poor?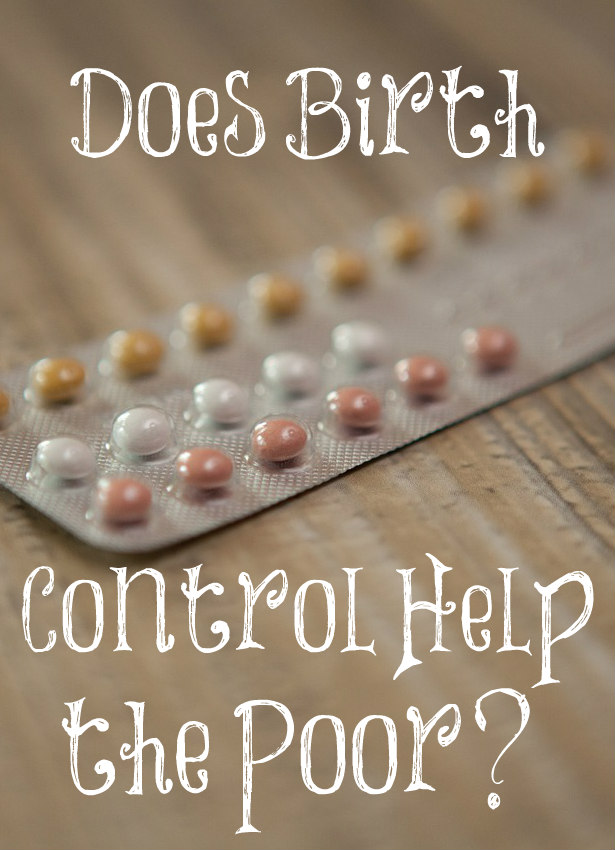 Inevitably when a discussion comes up about birth control and the evil roots behind it, women will bring up generations in times past when birth control didn't exist, where poverty was extreme, and families were large. "Isn't birth control a great invention to help prevent this happening?"
Here are some responses from women in the chat room.
"All that is necessary to allow women to space children (such as for health purposes) is some basic knowledge of how their bodies work. That much is a good thing. We don't need birth control to keep women from having a baby every single year so that she doesn't destroy her health. Most women are not that fertile anyway. And if they are, a little knowledge can help them be good stewards of their bodies.
"What we don't need is the swing to the opposite extreme that we have now where children are viewed as burdens rather than blessings and most people have only one or two and the 'normal' state is to try to prevent sex from producing children."
"I would point out that the Israelites kept having babies when they were slaves in Egypt and when they were in captivity in Babylon. In fact, God told them to have children. Being 'poor' isn't a standard for using birth control."
"Number one: The negative health effects of birth control are proven, and we are commanded to take good care of our bodies; the temple of God. Number two: These women do not truly understand the purpose of having children. We have children and raise them up in the fear of the Lord so that they can do God's work in the world and build up His Kingdom. Therefore, the more children you have, the bigger God's army. And in this immoral society, we need more Godly people, not less.
"Number three: Since God is in charge of opening and closing wombs, a woman should leave it up to Him to decide when she's done having kids, not the opinions of man. Submit to God. Number four: Don't they like to say, 'My body my choice?' but yet they like to tell other women when to stop having babies. Well, her womb is HER choice and it's none of their business. I think that it's so offensive and inappropriate to tell a woman that she's had enough babies but again, it's that controlling spirit. They want to control other adults: control everybody else but themselves."
Children don't make people poor. They make us rich in what truly matters – family and relationships. Large families of old lived in small homes and as long as their basic needs were met and they had a loving mother and father, there was joy in the home.  Now, many people live in large homes with small families, mothers are away at work all day, divorce rates are way too high, children are being raised by strangers, and there's not much joy in the home. Our priorities have changed with birth control. People treasure their stuff more than they do children. It's not easy to bear and raise children, but they are blessings from God and happy is the man who has a quiver full. Who can argue with God?
Happy is the man that hath his quiver full of them: they shall not be ashamed, but they shall speak with the enemies in the gate.
Psalm 127:5