Take Your Children to Big Church!
Take Your Children to Big Church!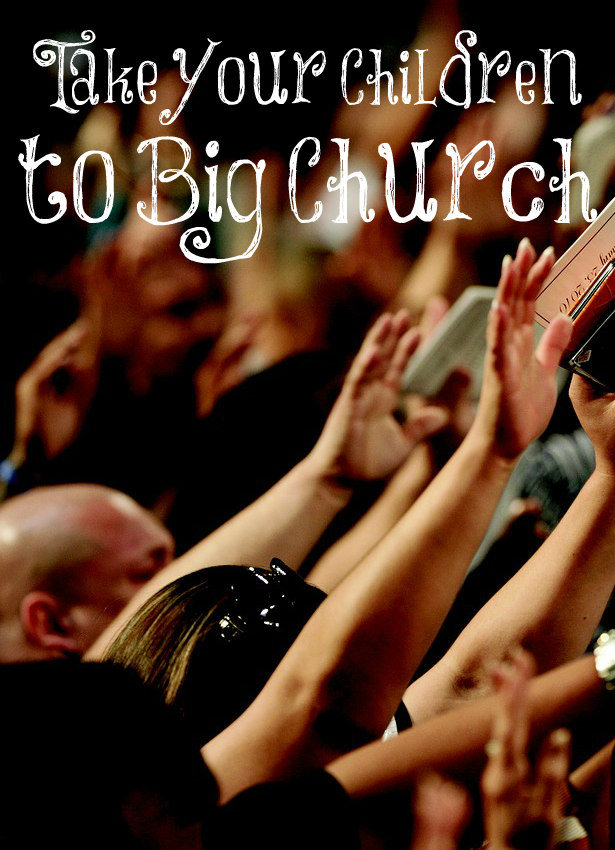 On my post Raising Godly Children Isn't Left to Chance, I received a very wise comment. Churches these days seem to be all about entertaining the masses. It's difficult in this electronic age full of people seeking pleasure to have a normal church service where the Word of God is taught but it's so very important, women. Our children need to learn that they don't need to be entertained all of the time. Being quiet and still is a great thing to teach them from a young age. Here is the comment from a wise, older woman.
"I know opinions are not worth much, but as an older mom I would like to share some advice with parents that depend on the church nurseries, children's church, and youth groups to solely teach their children during church services. Over the years, I've seen very good involved parents never take their babies and children into 'grown up church.'
"Children need to be in the same service with their parents on a regular basis to see grown ups' enthusiasm for worshiping and learning about God. They do learn best by example. I see many parents at my church going through the anguish of the 18-20 something year old children leaving church for more entertaining things because the parents put them in church nursery as babies and they moved up through children's church into youth group and now that they are 18 years old and going to 'grown up church' for the first time in their lives, it's just not entertaining enough so they have left church to find more entertaining things to do.
"Children's church and youth groups have some value but they should be supplemental only. They should not be the only church services our future generations ever see. Take your babies and children into 'big church' more than you put them in nursery and youth group. Teach them by example to go to big church with reverence, respect, and excitement for worshiping God with fellow believers."
 Train up a child in the way he should go: and when he is old, he will not depart from it.
Proverbs 22:6