Training Your Children to Sit in Big Church
Training Your Children to Sit in Big Church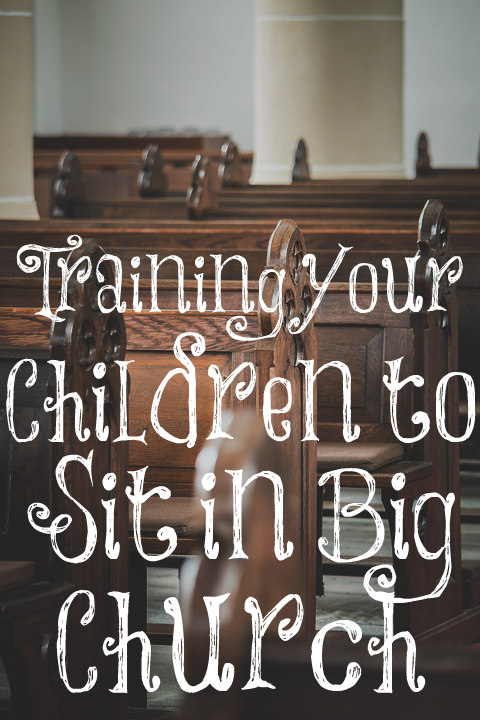 Written By TheJoyFilledWife
I just read your post on children going into the sanctuary. Did you know that we've always had our children in church with us since day one? We've had a church or two that we've visited while traveling the country actually tell us that we are not allowed in the sanctuary if any children are with us, and that they are required to be in children's church because the pastors find it distracting to hear any noise coming from children?
Needless to say, we left and found another church to visit that Sunday. We've also had a couple of churches we've visited while traveling that would separate families who have their children with them to a different building from the regular sanctuary for the same reason. Is the congregation there for the pastor or the pastor for the congregation?
We trained our children to sit quietly through the hour and a half service and to fully enjoy worship. We tell them we will ask them what they learned from the pastor after church and it's neat to hear their takeaways. We have worked (and continue to work with our littlest ones who are struggling to stay still) at home for increasing amounts of time to sit still in a chair. We increase the amount of time each time we practice and it's a great way to train them!
For the kids who can't write yet but can color, we allow them to draw a picture of something the pastor says so it will help them remember what to share after church. If the child can read and write, they need to take notes about the sermon. I don't want them just drawing random pictures of other things and not focusing on the sermon, so what they write or draw needs to show that they were listening respectfully to the pastor's message. A parent will have the greatest success with this if they take the time to train them at home and set the expectation for when they are at church.
With the babies, we have them in church with us. I feed them before I go in, nurse them in the nursing mom's room so I can still hear the sermon, or sit in the back with big nursing cover.
People come up to us after church every Sunday and are dumbfounded that we had so many children with us in church and nobody even knew until afterwards when they stood up because they were so quiet and respectful. And all of our children are very high energy. We don't have a laid-back kid in the bunch!
We find it important for children to learn to rise to the level of adult wisdom and understanding as early as possible, just as we do in daily conversation (all of our children are articulate for their ages). We also are responsible for what they are learning spiritually and we cannot know what is being said or the personal convictions of the person teaching Sunday School. If someone is off-base biblically, we would never know if we are not there to teach our child the truth.
All of our kids LOVE going to church and they ask us all week how many days until Sunday. These are children who have spent every Sunday of their lives in the Sanctuary, without games and children's lessons. I am not against children's lessons as we have many biblical books for kids, but they sure get more truth and impactful conversation by just walking through the Word with us daily, unedited, and uncensored. It has made our relationship with them so richly blessed.
Train up a child in the way he should go: and when he is old, he will not depart from it.
Proverbs 22:6