Does Debi Pearl Promote Physical Abuse in Marriage?
Does Debi Pearl Promote Physical Abuse in Marriage?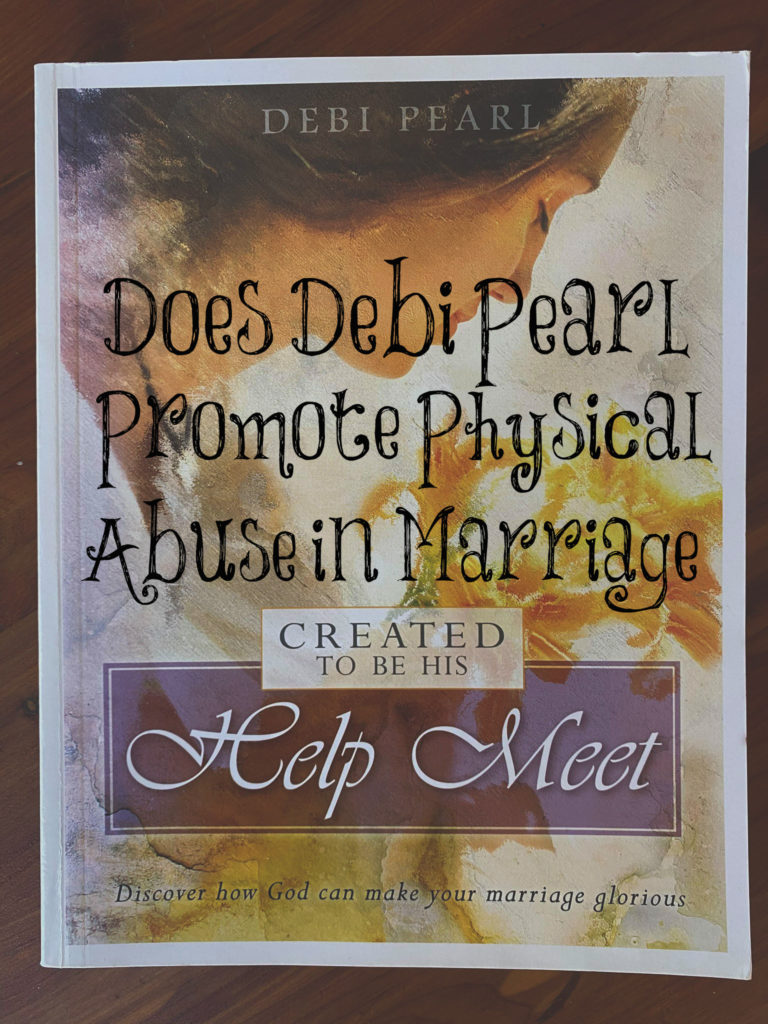 As many of you know, Debi Pearl's book "Created to Be His Help Meet" is the book that began the transformation of my marriage. I read it with eagerness and was thoroughly convicted throughout the book. I was so convicted that I bought cases of the book to hand out to every woman that I knew. I mentored groups of women and individual women with this book for many years.
Yes, I have heard all of the arguments against it and there are many and some of the women I gave the book to either gave it back to me or threw it away. Some have even labeled it the worse marriage book ever. They falsely believe that Debi promotes physical abuse in marriage. Does she?
There's a story in the first edition of her book (2004 – the year I read it) beginning on page 132. She tells a true story about a woman named Sunny who married a man without any wise counsel. "Over the next seven years, Sunny was regularly subjected to his alcoholic rages and beatings, and she endured his flaunted unfaithfulness…When Sunny was pregnant with their third baby, Ahmed came home drunk and tried to kill her with a butcher knife. Only the miraculous intervention of Almighty God spared her life."
Every time her husband would come home drunk, she would flee to her mother's home and tell all of her friends about him. I am sure all of them were encouraging her to leave him. "But she did not leave him."
She planned out how she was going to kill him and she told Debi about her plans. Debi wrote, "I spent hours in prayer and counseling with Sunny that evening. I asked her to make a decision, either to leave Ahmed once and for all and put the pieces of her life back together, or to stay with him and begin a campaign of winning his heart and saving their life together. I fully expected her to leave him that night…"
THIS is what infuriates women. They believe that Debi should have demanded that Sunny leave her husband and never have given her the option of trying to win him back. "Why, he tried to kill her!" they proclaim, yet she didn't leave when her mother and friends told her to leave.
Was Debi's counsel wrong? Was Debi sinful for offering this counsel? NO! She was mentoring her according to 1 Peter 3:1,2. "Likewise [as Christ as suffered for us as stated in 1 Peter 2], ye wives, be in subjection to your own husbands; that, if any obey not the word, they also many without the word be won by the conversation of the wives: While they behold your chaste conversation coupled with fear."
Debi never told her she must try to win her husband. She clearly knew that Sunny was in danger. She told her she could leave him once and for all and even fully expected her to leave, but Sunny made her own decision. Debi didn't force any decision upon Sunny. "Sunny really wanted God's will in her life. She had grasped an eternal vision about life, and she now believed God could save her man."
Are we to fault Sunny for making this decision? It's her life and she decided she was going to fight for her husband's eternal soul even if it meant more harm to her. How can we fault Debi or Sunny for this decision? We can't, and Debi is not counseling all women to stay with their physically abusive husbands. She is giving one extreme instance in her many years of counseling where a wife won a horrible, physically abusive husband to show the power of God's Word in a marriage.
The first thing Debi told her after Sunny made up her mind to try to win her husband was to stop blabbing about him to others since this causes great anger in men. "She was not to speak ill of him again…Sunny had a learner's heart. She took my advice, and the change in her husband was obvious in just one week. It is amazing how vulnerable a man is when a woman treats him with honor."
"The last time I saw Ahmed and Sunny, they were growing in the Lord together. As the Scripture says, she won him 'without the word' by her 'conversation.' God's ways work." Who are we to discount Scripture and His ways?
No, Debi doesn't support physical abuse in marriage, as many claim that she does. She supports Scripture and even if she may not always think it's the best thing to do at the time (she did tell Sunny she could leave him and begin a life without him), she made sure to tell Sunny exactly what God's Word has to say about being married to a husband who is disobedient to the word. There is nothing wrong with doing this and everything right. We must never underestimate the power of obeying God nor should we ever underestimate God's instructions to us. Sunny's husband will now spend eternity with Jesus instead of in eternal hell and damnation because of Sunny's willingness to not give up on her husband even if it caused her suffering.
For what glory is it, if, when ye be buffeted for your faults, ye shall take it patiently? But if, when ye do well, and suffer for it, ye take it patiently, this is acceptable with God.
1 Peter 2:20