God "Calls" Many Women to Work Outside the Home?
God "Calls" Many Women to Work Outside the Home?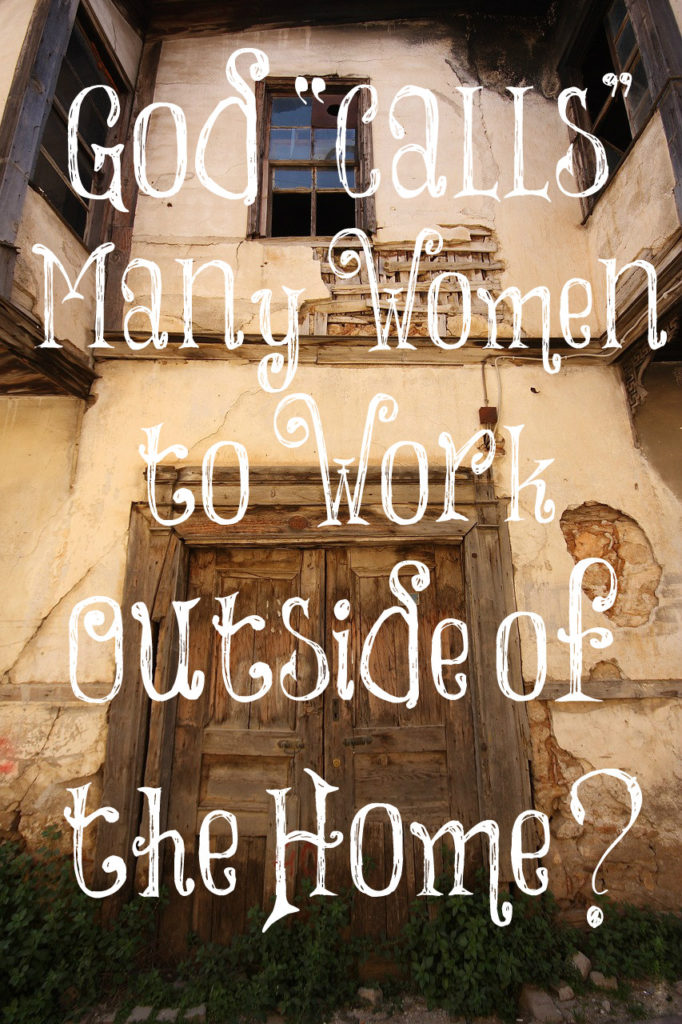 There is an article written called Is it Better For Moms to Stay at Home? I enjoyed the article until the author wrote about it being good and fine for mothers to work outside of the home even though she chose to be home with her children because she felt guilty while she was working. She admitted that she was missing too much of their lives.
"And God calls many women to work outside the home — even those who have small children." Oh, really??? God calls them to this? Where in the Word does she find this? Women don't seem to understand that if they aren't keepers at home they are blaspheming the Word of God (Titus 2:5). Yes, I realize this isn't a popular thing to teach nowadays, but I don't care about being popular. I care about teaching the truth of God's Word and all of the children who aren't being raised by their own mothers.
Lindsay Harold (a wise, young woman) responded: "We have adopted the idea of 'calling' as some inner feeling or impression God gives to individuals to show them what they should do with their lives. Christianity adopted that unBiblical idea many years ago. But if that's how we're supposed to find out what God wants us to do, then anyone can claim they were 'called' to do what they are doing, no matter how unBiblical it is. All they need is an inner feeling. If you start with that shaky foundation, then it's no stretch to claim that some women are 'called' to leave their children and have a career."
Many women today are "called" into the ministry to leave their homes, stand behind pulpits, and preach the Word of God with many men in attendance. Many women are "called" to divorce their husbands. Many women are "called" to do whatever they "feel" like doing as long as it makes them happy. NO! We are CALLED to obey the clear commands from God's perfect and unchanging Word.
One woman named Vanessa commented on the post above with these words and I sadly believe that many women who call themselves "Christian" feel the same way: "Did God want me to be home? NO! My job is to help other mothers whose kids have behavior problems and/or were even trying to kill themselves.. that was much more important than watching blues clue, wiping drool, and making casseroles.
In fact, I loved going back to work; it was the balance I needed. And sitting back and watching the stay-at-home church moms with their kids.. did I want that life?? Noooo! not one bit. Their husbands seemed burdened financially at times, expected too much of their wives at home and with the kids since they weren't working, their conversation seemed glued to all things child and domesticated, and their kids often were more ill-behaved.
And as I kept watching, I actually spent more one-to-one time each day with my kids when I did get home than they did in the whole day. My husband helped out more and my kids learned no meant no not because I said so.. but so did their other caretakers .. so they had more respect for me. And I also still felt I was helping kids in my community.. it was so worth it. I never and I repeat never regretted it.
And even though we had plenty of income for me to stay home I am pretty sure I would have lost my mind living in toddlerville day after day. And I also have more respect for men than to think they should be solely responsible for paying the bills. God gave me a brain and abilities just the same as him to earn an income. And men are more than capable of doing most all the childcare and household jobs too..and it is better shared.
Please stop trying to guilt trip women who work or presume they do so because they have to.. no most us of realize the toddler years are few and life goes on..and now they are grown and gone and me and the hubs are free to keep working and life is still going on. There is always the next stage of your kids' lives to enjoy so quit telling yourselves you would miss something. And please stop thinking your service to God is only to be found in your home or as a mother.. little of that was true for the women who followed Christ in his day and it still isn't… as you serve Christ make a difference in your world.. your kids will respect you and learn the most from that!!"
Did you notice she failed to use one Bible verse in her comments? Her and many others like her value their intelligence and "wisdom" above the Word which instructs younger women to be keepers at home. I receive comments similar to Vanessa's frequently. Women are deceived just as Eve was deceived and they go their own way, not caring about pleasing or obeying the Lord at all.
Lindsay Harold added:
"The rationale for many women whenever anyone brings up staying home goes something like this:
1) I like my job and making an income and not being stuck with my kids all day doing boring stuff.
2) Staying home can't be better than having a career because I don't stay home and I think I'm a decent person.
3) Claiming a woman staying home is better than having a career means they're saying I'm not a good person and not doing the best for my kids.
4) Cue being offended and getting defensive at this point. Notice that their rationale begins and ends with what sounds good to them and their own view of themselves. It doesn't start with the scriptures."
For the time will come when they will not endure sound doctrine; but after their own lusts shall they heap to themselves teachers, having itching ears; And they shall turn away their ears from the truth, and shall be turned unto fables.
1 Timothy 2:3, 4