Treating Children as Idols
Treating Children as Idols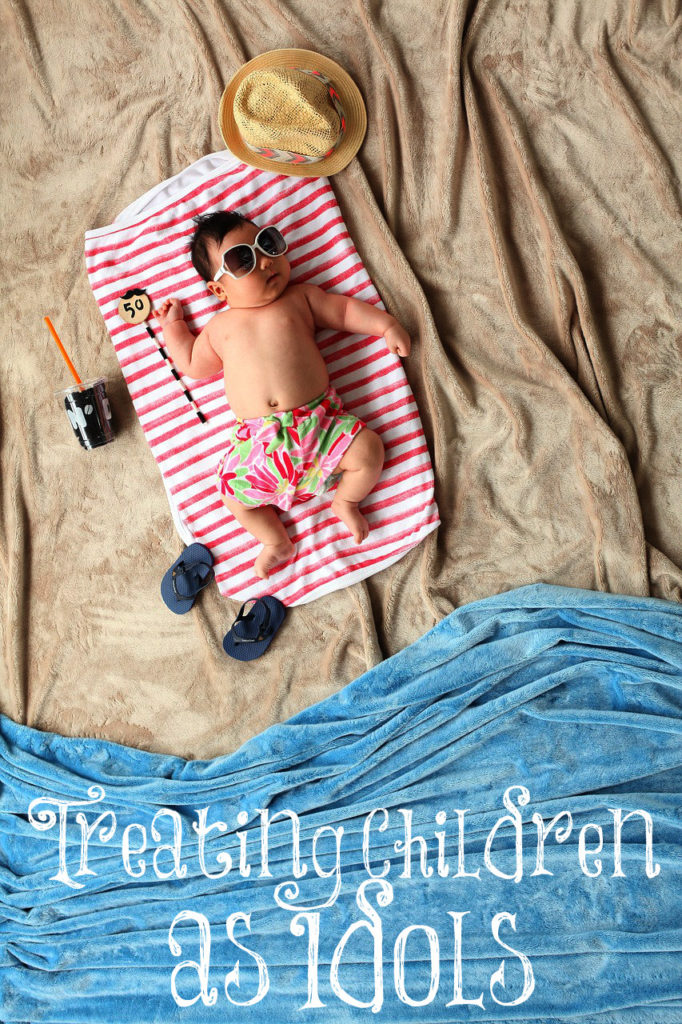 From an Anonymous comment on my Peaceful Parenting post
Sadly "peaceful parenting" is very quickly becoming the new norm for "good parenting". Children are being treated as idols and parents are constantly yielding to every emotion and request like their child's life depends on it. I am not judging these parents because they are genuinely trying to do the right thing. I know many peaceful/gentle/attachment parents and they are beautiful people who are just misguided and heavily influenced by the world.
It is becoming more dangerous and forceful as time goes by just like any other sin. We are now told that time out or removing privileges is disrespectful and border line child abuse. That children have "bodily autonomy" which means they can refuse to have their hair or teeth brushed. We should all unschool our children and let them explore and teach themselves whatever they have an interest in. If we teach or facilitate anything we are undermining them.
Children should not be prompted to say "please" or "thank you" because that is rude, they will say it if they want to and if you force them the words will hold no meaning. Bedtimes and enforcing naps is stripping children of their independence, we must let them choose when they want to rest so they learn to listen to their own bodies. Children must co-sleep for as long as they want (forever if they choose) and husbands can sleep in another room if they have a problem with it.
All of these examples are things I have actually witnessed in real life or have seen in various blogs and Facebook posts.
I honestly feel like this new trend is another tactic of the enemy to destroy marriage. What man can feel happy and fulfilled after years of being cast the leftover energy and attention his wife has to offer after a busy day of worshiping her children and letting them run the household.
I have two boys who I love with all my heart but they absolutely do not run this house. If they need a hair cut, they get one even if they don't like it because it's boring. If it is bedtime, they go to bed even if they would rather stay up with my husband and me.
Lori speaking here: Parents, raise your children in "the nurture and the admonition of the Lord."  Nurture means to educate, to bring or train up. Teach and train them the ways of godliness. When you are raising your children you must always be training and guiding them to do what is right and hate that which is evil. It's your job to teach them the Word and the ways of the Lord. Teach them to love the Lord's ways and hate the world's ways by telling them about the goodness and greatness of the Lord. One way to do this is to live a life of cheerfulness and joy; for the joy of the Lord is your strength. Sing songs and make melody in your heart to Him. Let your children see the joy of the Lord in YOU!
Then we are taught to raise them in the admonition of the Lord. Admonition means to give a reproof; counseling against a fault; instruction in duties; caution; direction. This means they must be disciplined to learn what "no" means from an early age and learn to obey you. This is the most important thing to teach a young child. It will make raising them so much easier. Let them know the horrible consequences of sin and that they will reap what we sow. You can use many stories in the Old Testament to show them the pain of sin. Pain is a great teacher. A couple of good, hard swats on the behind are a great teacher against disobedience. The pain of the swat must hurt more than the pleasure of the sinful behavior.
The rod and reproof give wisdom: but a child left to himself bringeth his mother to shame.
Proverbs 29:15