Does God's Grace Allow Us to Sin?
Does God's Grace Allow Us to Sin?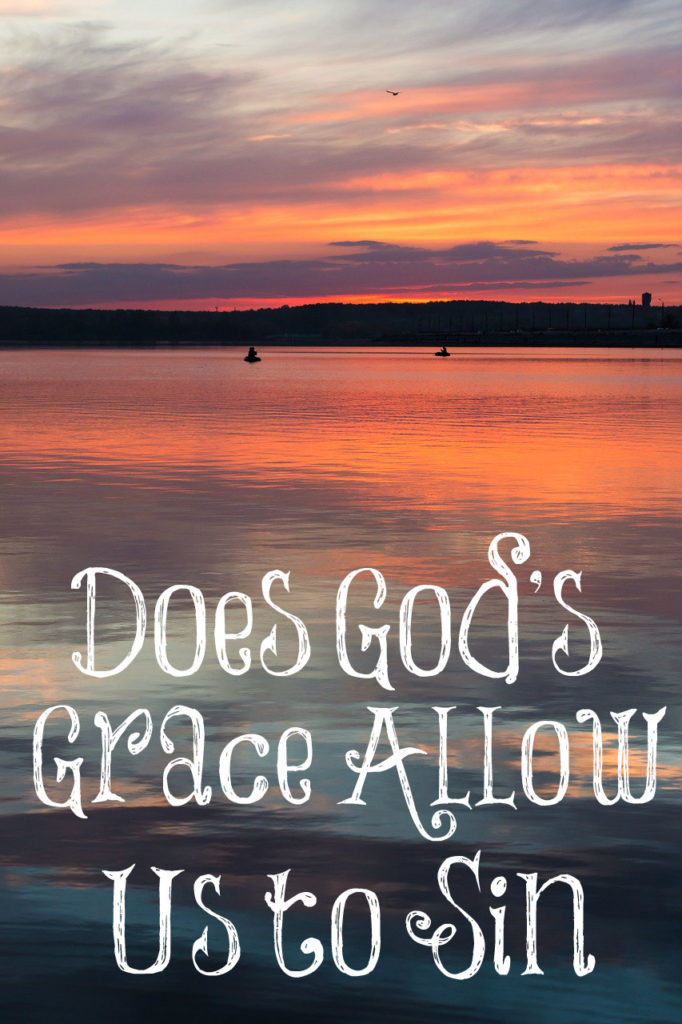 Some women have told me that I don't show enough grace in my posts. I focus too much on teaching women how they are to live their lives: be sober, love and obey (and submit to) their husbands, love their children, be discreet, chaste, keepers at home, and good so that "the word of God be not blasphemed" (Titus 2:4, 5). I teach women to not teach men nor be in authority over them and to be silent in the churches (1 Timothy 2:11, 12). If they have a question, ask their husbands at home since it is shameful for them to speak in the church (1 Corinthians 14:34, 35). I teach them to be modest, shamefaced, have meek and quiet spirits, and if they are married to husbands who don't obey the word, then win them "without the word" (1 Peter 3:1) by their godly behavior.
Many women don't like being taught these things and being told what to do, even Christian women. They cry, "Where is the grace?" and "You are judgmental!" Grace doesn't give us the license to sin. "What shall we say then? Shall we continue in sin, that grace may abound? God forbid. How shall we, that are dead to sin, live any longer therein?" (Romans 6:1,2).
God's grace is what redeems us from our sins and gives us the ability to walk in the Spirit. It's God's favor and kindness poured down upon us when we were yet sinners. We deserved nothing from Him but eternal wrath and condemnation but once we confess His name and believe that God raised Christ from the dead, we are washed clean from ALL of our sins (past, present, and future) and His command to us is simple: "Go and sin no more." He's given us His Holy Spirit, the same Spirit that raised Jesus Christ from the dead, and tells us that His Spirit works mightily within us. He has clothed us with His righteousness and reconciled us to God! (Memorize Romans 6 and 8 to clearly understand your new life in Christ.)
Yes, we still sin and His grace covers our sin but we should never willfully sin or practice sin as believers in Christ Jesus (Read 1 John). We will fall into the mud but we need to jump quickly out, remind ourselves that we are dead and freed from sin (Romans 6), and begin again to walk in newness of life; for He has rescued us from the dominion of darkness and translated us into the kingdom of His dear Son.
What is our reasonable service for all He's done for us? Is it to continue to live in sin and keep reminding ourselves that His grace covers us? NO! "I beseech you therefore, brethren, by the mercies of God, that ye present your bodies a living sacrifice, holy, acceptable unto God, which is your reasonable service. And be not conformed to this world: but be ye transformed by the renewing of your mind, that ye may prove what is that good, and acceptable, and perfect, will of God" (Romans 12:1, 2). What is that good and acceptable and perfect will of God for women? It's clearly outlined in the first paragraph of this post! He wants our obedience to His commands since His commands are for our protection. They are boundaries and they are good.
We are commanded to exhort (to use words or arguments to incite to good deeds) one another daily (Hebrews 3:13), especially as we see the day approaching; for the deceitfulness of sin hardens hearts and sin must be warned against continually because we forget Truth so quickly.
Satan's goal is to kill, steal, and destroy so I am going to continue to teach Christian women to be godly women who walk in newness of life and obey God in what He has asked them to do. It is our reasonable service. It's the least we can do in return for what He has done for us and it's for our protection. He is our Creator and He knows what is best for us.
But exhort one another daily, while it is called To day; lest any of you be hardened through the deceitfulness of sin.
Hebrews 3:13