Never Fear Teaching Biblical Womanhood
Never Fear Teaching Biblical Womanhood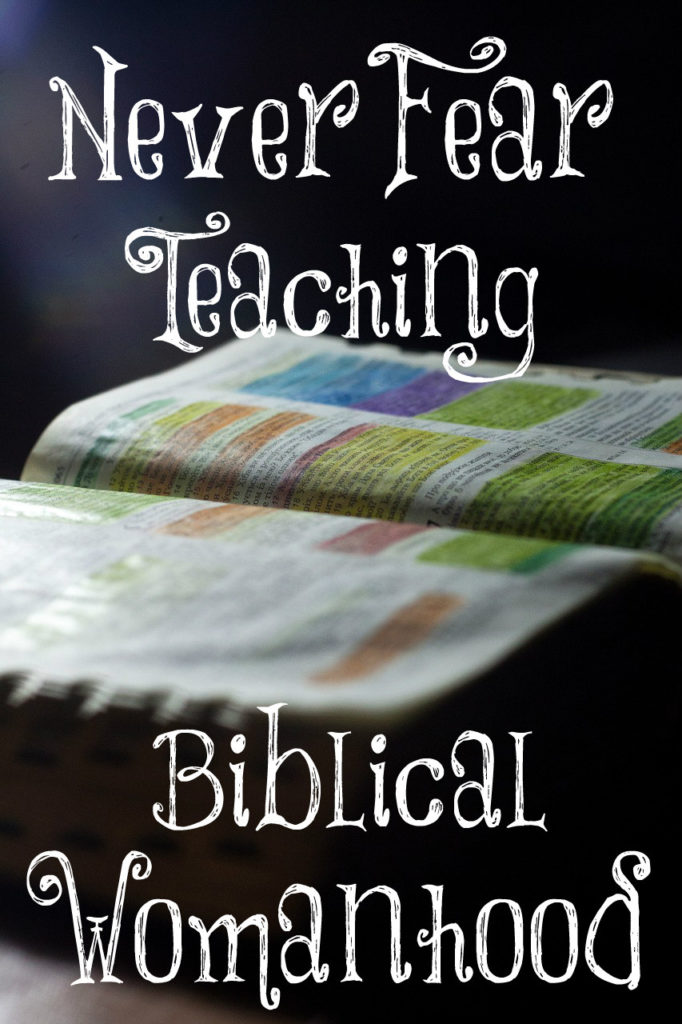 We don't need more female Bible teachers. Most of them teach men which is a clear violation of God's Word. We do need more older women who are not afraid to teach biblical womanhood since this is what most younger women need. God commissioned men (elders) to "labor in the word and doctrine" (1 Timothy 5:17). He never commissioned women to do this but to "learn in silence with all subjection" (1 Timothy 2:11). I can understand why God never commissioned women; they are easily deceived and begin to teach things that aren't biblical. In order to teach men, they have to twist scripture to say something that it does not.
Trey wrote a great comment on my post on grace and why I teach what I teach even in the midst of many cruel and evil comments that are thrown at me. I know what is at stake. I don't like seeing such a lukewarm Church that doesn't look or act much different than the world. I'm tired of hearing of yet another "Christian" couple divorcing usually due to the wife divorcing her husband. I'm saddened by all of the mothers who choose to work and leave their children in the care of others. It pains me to hear of more "Christian" children walking away from the faith because their parents didn't heed the warnings in God's Word to "avoid profane and vain babblings, and oppositions of science falsely" (1 Timothy 6:20) and sent them to be educated in a godless school system.
Yes, if you teach biblical womanhood to women today, you will get slandered and scorned but this is to be expected. There are many false believers among us who twist the Word of God for their own benefit. Never veer from the narrow path, women. It is good and it's the only path that you want to walk on.
Here is Trey's comment:
"One of the reasons that we have so much sin (suffering, pain and death) in the church and soooo many immature Christians who are more focused on grace (whining about being judged) than they are on holiness is that there is not enough teaching and admonishing of the Word among us. Our goal as Christians is to become more and more like Jesus Christ every day. That is the sanctification process!
"Paul tells us in Colossians 1:28 KJV that: 'Whom we preach, warning every man, and teaching every man in all wisdom; that we may present every man perfect in Christ Jesus.'
"The NASB says: 'We proclaim Him, admonishing every man and teaching every man with all wisdom, so that we may present every man complete in Christ.'
"The goal is to become perfect and complete in Christ! The only way we are going to become complete in Jesus Christ is to learn and follow His instructions for us and the Bible tells us that we need to help each other by pointing out the sins in each other's lives and warning each other of the danger of sin (which results in suffering, pain and death) and encouraging each other to repent and live according to Gods Word.
"Matthew 18:15-17 NASB says: (the words of Jesus Himself) 'If your brother sins, go and show him his fault in private; if he listens to you, you have won your brother. 16"But if he does not listen to you, take one or two more with you, so that BY THE MOUTH OF TWO OR THREE WITNESSES EVERY FACT MAY BE CONFIRMED. If he refuses to listen to them, tell it to the church; and if he refuses to listen even to the church, let him be to you as a Gentile and a tax collector.'
"Jesus tells us here how important is it to NOT tolerate sin in the Church body and that if those who call themselves Christians refuse to repent when their sin is brought to their attention that they are to be put out of the church and not even associated with! SIN IS SERIOUS BUSINESS and must be dealt with within the body of Christ!
"Titus 2:3-5 specifically tells the older women not only that they need to be teaching the younger women, but also exactly WHAT they need to be teaching the younger women and that is exactly what Lori is doing!
"The ladies who complain about Lori are so deceived and blind in their PRIDE they don't even know what is good for them when they see and hear it. They do not understand the DANGER they are in and how Lori is just calling out to them; trying to warn them of the pain, suffering, and death they are bringing upon themselves and their husbands and their children; not to mention the fact that by calling themselves Christians, yet continuing to live their lives in willful ignorance (of God's Word) and sin, their lives do nothing but blaspheme (bring reproach upon) the Word of God.
"Most women do not see the damage they are doing until it's too late and even when their house (family) has been completely torn down (by their own hands), some still do not see what they have done because they are so blinded by their own selfishness, pride, and sin.
"Lori, thank you for continuing to be faithful to God's Word and I continue to thank God for you and your faithful service to Him."
You're welcome, Trey. I love teaching women biblical womanhood because the fruit is so beautiful. It's only God's Word and His ways that convict and change people's lives. Yes, there is a ton of backlash but it's so very worth it, women. Learn to fear God instead of the many women who despise the ways of the Lord. Women NEED to hear the beauty of God's ways. His Word never comes back void.
The fear of the LORD is the beginning of knowledge: but fools despise wisdom and instruction.
Proverbs 1:7