Does His Happiness Matter More Than Mine?
Does His Happiness Matter More Than Mine?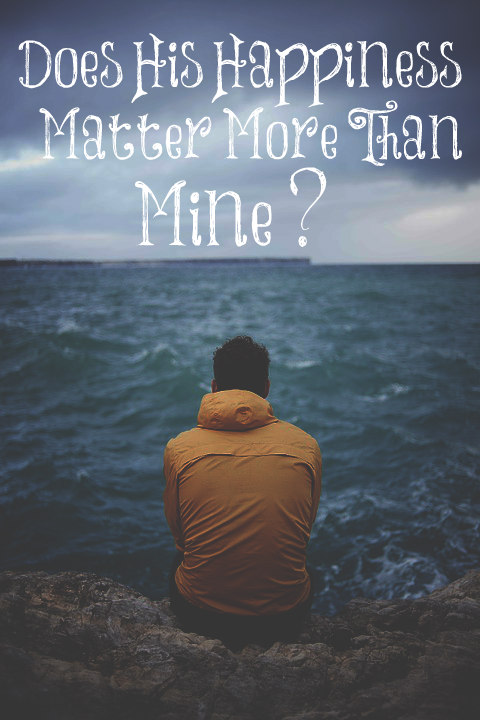 "Why does his happiness matter more than mine? Why should I have to know what makes him happy and what his favorite foods are? I would love to make my husband happy but only if he's willing to do the same for me. Both of our happiness should matter equally, but this article makes me feel like his happiness matters more than mine. Please, help me understand as to why this is." (Aubrey)
This was a recent comment left on a blog post I wrote for Crystal and Co. in January 2015 but I still receive comments on it. The post was called Are Wives Supposed to Obey Their Husbands? Aubrey may not find my answer to her questions on this blog since she may not even know about it, but I think they are good ones to tackle since this thinking isn't uncommon. (I don't think Crystal is still publishing the comments.)
The bottom line is that we are all bent towards sinfulness and this is what destroys marriages. We go into marriage thinking of ways our husbands should be pleasing us and if they are not, we become angry and unhappy. It's all about us and our pleasures. We are selfish and self-centered without Jesus Christ's transforming power.
As I was just writing this, I went to check my Facebook page and Regina Kay Williams wrote this: "It's because we have it seared into our brains that we are what matters most. Instead of putting ourselves in the role of a servant as Christ did, we feel the need to be served. It becomes all about us and satisfying our fleshly needs. When we reach for Christ and allow him to do His most precious work in us, then we become more about serving others and putting ourselves aside. And doing this with a glad heart leads us into a life more fulfilling than any career. We can then wrap ourselves in the presence and bask in love of Christ and serving others." She nailed it!
Jesus Christ told us that the greatest of all is the servant of all. We are to be living sacrifices for Him. We are also told that we reap what we sow. Therefore, Aubrey, if you want a good marriage, go into it thinking of ways to serve and please your husband. Take your focus off of yourself and put it onto him. The more you learn to do this, the more content and at peace you will be; for selfish expectations destroy marriages.
How will a husband love and treasure a wife who is continually upset and frustrated with him? He won't. He will love and treasure a wife who loves to please and serve him. If you want a good marriage, do it God's way, not your way. He is your Creator and He knows what is best for you. You were created to be your husband's help meet, not vice versa. This may seem unfair, but our God is a just God and His ways are perfect. His ways bring beauty and order. The world's ways bring chaos and disorder.
She that is married careth for the things of the world, how she may please her husband.
1 Corinthians 7:34