It's Time For Christians to Rebel and Have Lots of Children!
It's Time For Christians to Rebel and Have Lots of Children!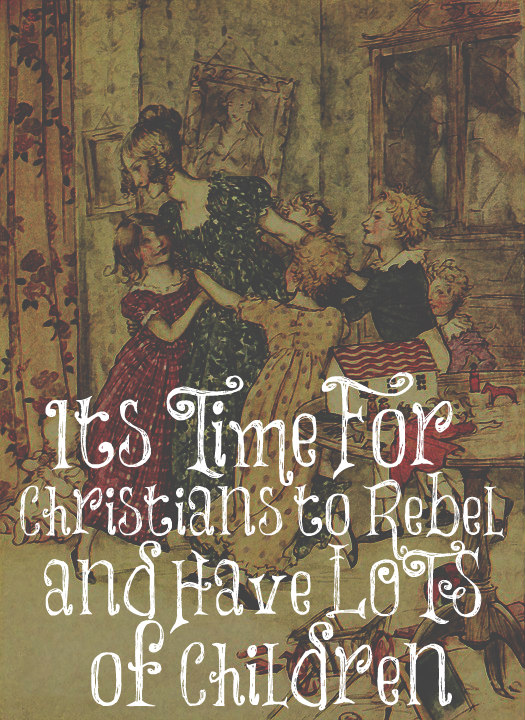 There's an article in The Gospel Coalition called It's Time for a New Culture War Strategy by Kevin Deyoung. I am not a fan of TGC and do not recommend them since I see them compromising on a lot of issues, but I do like many things stated in this article. Here are a few excerpts that I completely agree with:
"Here's a culture war strategy conservative Christians should get behind: have more children and disciple them like crazy. Strongly consider having more children than you think you can handle. You don't have to be a fertility maximalist to recognize that children are always lauded as a blessing in the Bible.
"As I've said before, in the not-too-distant future, the only couples replacing themselves in America will be religious couples…The basic reason countries stop having children is because they've come to see offspring as a liability rather than a source of hope. As Christians, we know better.
"Do you want to rebel against the status quo? Do you want people to ask you for a reason for the hope that is in you (1 Peter 3:15)? Tote your brood of children through Target. There is almost nothing more counter-cultural than having more children. And once we have those children, there is almost nothing more important than catechizing them in the faith, developing their moral framework, and preparing them to be deeply compassionate lovers of God and lovers of people and relentlessly biblical lovers of truth.
"Let us welcome new life and give our children that best opportunity for new birth. Presidents and Supreme Court justices will come and go. A child's soul will last forever. The future belongs to the fecund. It's time for happy warriors who seek to 'renew the city' and 'win the culture war' by investing in their local church, focusing on the family, and bringing the kingdom to bear on the world, one baby at a time."
God gave us the command to be fruitful and multiply. He's never taken away that command. He wants young women to marry, bear children, and guide the home. The Bible calls children a blessing and happy is the man who has a quiver full. He tells us that the purpose of marriage is to raise godly offspring. The majority of believers today were raised in godly homes. This is how we build the remnant. Children are good, bring joy into our lives, and are eternal beings. Treasure them, women. Pray that the Lord will bless your womb and be diligent to raise them up in the ways of the Lord.
Lo, children are an heritage of the Lord: and the fruit of the womb is his reward. As arrows are in the hand of a mighty man; so are children of the youth. Happy is the man that hath his quiver full of them: they shall not be ashamed, but they shall speak with the enemies in the gate.
Psalm 127:3-5
***If you are single or barren, please read this.