Pastors, Please Teach Wifely Submission Biblically
Pastors, Please Teach Wifely Submission Biblically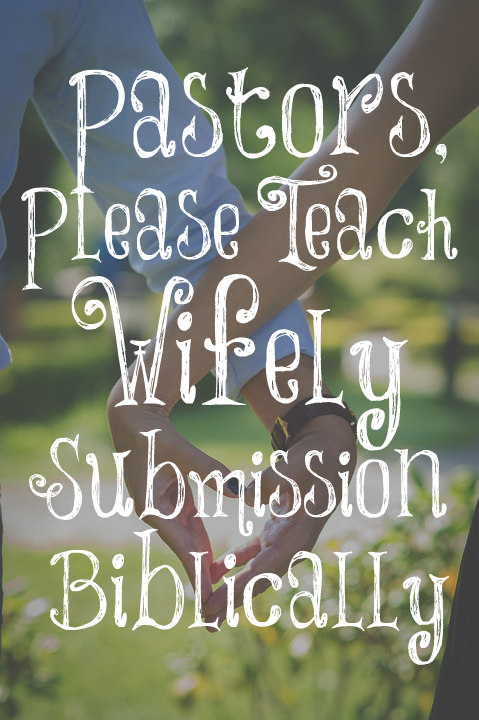 Written By Ken Alexander
Recently, I listened to a sermon on marriage by a well-known evangelical pastor as I was challenged by a friend that I had him wrong on his views of a Christian wife's submission to her husband. I was so hopeful that he was right and that his pastor was not giving the same defensive and inaccurate message on wifely submission that is rampant in the churches.
At first, the pastor did a good job emphasizing that a Christian wife's submission to her husband is clear in the Word and not optional, but it quickly became apparent in the fine print that he would buy back much of what true biblical submission is all about, leaving his audience confused if submission is to be followed at all in today's modern world.  The sermon certainly was not in keeping with what sound biblical pastors and theologians taught us with theological accuracy for centuries until just some 30 years ago when feminism began infiltrating the Church.
The pastor began with a very clear and indisputable presentation of God's desire for a wife's submission to her husband:
"Wives, submit to your husbands as unto the Lord.  You don't do it because he deserves it, but because Jesus asked you to. In biblical submission, there is no way around it."
Excellent, Pastor!  If all pastors would make it this clear and incontrovertible, the Church and family could flourish. But later, he goes on to muddy the waters so badly that it is hard to tell who is submitting to whom and if a wife is truly being asked to submit at all.
Pastor: "But I also want to take a moment and talk about submission's fine print. If you read a contract, you can't take one particular phase out of that contract and build everything upon it or you are going to get screwed big time. When it comes to submission, yes, it says submit, and, yes, submit means to put their needs and interests first and do what they ask you to do but the Bible is full of stories and statements that gives some clarity and boundaries to this, the fine print.
"Biblical submission is not blind or absolute. If you are asked to do that which is immoral or illegal you say no, or you look for a creative alternative and if that is not there you just accept the consequences."
We love it so far!  And I have written a post about how a wife's submission in everything does not mean EVERYTHING! But now the wheels are about to come off of a perfectly good sermon.
Pastor: "Biblical submission is mutual and husbands are to submit to their wives."
WOW, Really? This is a far stretch when not once is a husband commanded to submit to his wife, yet a wife is commanded to submit to her husband some six to eight times. Even if one could conclude that mutual submission is to be part of a Christian marriage, can you tell me, pastor, what that should look like? Oh, maybe it's deferring to the other as to which restaurant to choose for date night. But what about the harder questions of what church to attend, which schools to send the kids, or whether or not to homeschool, how often should we have sex each week, and where are we to live?
What about what roles we are to play when it comes to housework and if the wife is to work outside the home? How about spending money or savings, how to discipline a child, or how much housework should get done each day? Pastor? Pastor? Why are you silent in a passage on submission about any question of importance that the marriages of your flock are having power struggles with every day? Does mutual submission mean a husband is to submit to his wife in all these areas? If so, why does God tell wives to submit to their husbands six to eight times and never once to a husband, if husbands are to submit to their wives?
Okay, pastor, what should it look like in a marriage if a husband makes a decision a wife does not like? What should a couple do if the wife is regularly losing her emotional well being because a husband will not do what she wants him to do? The closest he comes to answering these important questions is to say, "I better be in the kitchen, especially when she gives me that look." Humm… a sermon on submission and a pastor who is being controlled by the way his wife glares at him to motivate him to help with the housework.
In his explanation of what submission is not, he gives the classic Christian feminist arguments by going to Proverbs 31:
"She's not a little mousy, submissive wife who is just sitting around… She is independent and has a real estate license."
Really… a real estate license because she bought one piece of land? The passage is simply silent as to whether her husband gave his permission or not, but in keeping with the times, Mrs. Independent would have gotten her husband's approval, right, pastor? She just did not go out and do it on her own, just like you would want your submissive wife to get your approval before buying land, right? And just how independent is this submissive wife supposed to be? So independent that what she is doing every day goes contrary to what her husband desires?
He goes on to put Christian men on the never-ending treadmill when he talks about "live with her according to knowledge." For this pastor, this means that if you are married to a "high maintenance wife, figure her out and maintain her well." Whoa! She is not to adapt to her husband and be his help meet, but he is to adapt to her and spend a lifetime trying to figure out what will please his high maintenance wife, when many times all that will really please her is if she is in control and gets her way. She may live an unhappy life in the marriage because it is her regular displeasure with him that keeps her man under her control.
Husbands are to "protect her as the weaker physical vessel, not that she is weaker emotionally."
Now, pastor, I have to call you out here as you try not to offend your audience. You know full well that most women are weaker emotionally than their Christian husbands, but you just can't say it out of fear. You make no reference to anything that the Greek text or context may have to defend this assertion that emotional weakness is not part of the context.
Here, let me help you out and give you some empirical evidence, even as you know from your experience that men and women process emotions differently and women struggle more with their emotional nature than men do in general. God forbid that your audience find out what they already know and have known almost all of their lives. It's not by accident that 70 percent or more of divorces are sought by unhappy women who allow their emotions to rule over their once godly values for family, children, and most of all their Lord Jesus.
Then he shows his own bias. He had a dad who perhaps did not serve his mom and says, "In my world growing up, if you have the right plumbing you get whatever you want." Classic! Put down Christian men as if it is a plumbing issue instead of recognizing it is a God ordained issue of headship.
The women in the room must be eating this up and poking their husbands in the ribs. Here we have a sermon specifically on a wife's submission to her Christian husband and men are put on the defensive because his dad did not live out proper leadership in his home. The pendulum has swung the other way with "mutual submission" meaning no submission at all, and in many Christian homes, husbands are scrambling to keep up (or put up) with the control of their wives in almost every area of marriage, family, and their down time.
Finally, he makes the worst of all mistakes pastors too often make by saying, "Who would not want to submit to a husband who is serving his wife?" He supposes that all wives everywhere would just love the idea of submission if their husbands are serving and loving them well. WRONG! Not my wife!!! Nor the wives of a whole bunch of good and godly men whose rebellious wives have put them into an impossible position of having to put up or divorce and lose their children and half of what they own. No matter how hard they have tried, some wives just won't play mutual and fair. Yet they still go to church and their Bible studies justifying their actions by their bitterness.
My wife heard many sermons like this one and read marriage book after marriage book searching for how we could get along and have a great marriage. It always came back to this classic lie that every one of them was telling her. "If my marriage is not going as Christian marriage should, it is because my husband is not serving and loving me well." These books and sermons had her looking so deeply at the fine print that she missed the big bold letters, "Wives, submit yourselves unto your own husbands, as unto the Lord… in every thing."
He concludes by saying, "The goal of marriage is that it should be a model to the world of our Lord's love and relationship to us."
I totally agree! I am 100 percent on board with a husband's required role of being a servant leader who lays down his life for his wife, but the scriptures make it very clear that it is the role of the godly, Christian wife to live in submission to her husband, not vice versa. The idea of "mutual submission" is an oxymoron. Do master's submit to their servants, bosses to employees, elders to their flock, or parents to their children? Of course not. Each of these roles can take on a servant leadership role, even a sacrificial and understanding role, but never would one postulate that they are to be submissive to those they are trying to lead.
"For the husband is the head of the wife even as Christ is the head of the church" (Ephesians 5:23). Does Christ submit to His Church? He loves it, serves it, and has sacrificed for the Church, but He is the Lord of the Church and we are to submit to Him. If pastors could just get back to teaching what wifely submission is and stop spending most of the sermon on what it is not, maybe then Christian wives could see marriage though God's eyes and come to value the protection and leadership of their husbands instead of trying to stay in control of the relationship. Or worse yet, waiting for their husbands to do "their part" as they see it, before they will obey what God is clearly asking them to do when it comes to submitting to their godly or disobedient husbands.
When a Christian woman uses all of the arguments here as to what submission is not, and what a husband should do and be in marriage, I always ask them just one question. "The Bible tells a wife to be submissive to her husband six to eight times and never once tells a husband to submit to his wife. Are you living in submission to your husband?" Unfortunately, the answer is almost always, "No way, it's mutual submission! And of course. if it is mutual then I don't really have to submit at all, but I do expect my husband to keep loving me as Christ loves the Church and lay down his life for me. After all, this is all so clear in the Bible!"
Please, pastors, the Church is dying because you won't teach the truth just as the Scriptures plainly teach it. Stop throwing your fears, bias, and feminism into your messages and be the man of God that your Lord Jesus is asking you to be as a leader of your church. If not, only a small remnant will remain as the soul of the Church and the healthy, godly families who are committed to doing things God's ways, not man's ways. The churches' soul is rotting.
I dare you to give it a try and see all the blessings God can give when a Christian marriage sells out to both husband and wife doing and being what God asks us to be. In my marriage, where I had given up hope of ever truly being able to love and be loved by my wife the way God says, is now most fulfilling and rewarding. It was turned on its head in just one moment of time.
"I finally figured it out!" she excitedly said.
"Uh, what did you figure out?"
"I figured out how we can have a good marriage."
"Okay, what do I need to do now?"
"It's nothing you can do. It's something I need to do. I need to learn how to please you."
"I like the way that sounds," I said as I headed off to work in my office. Little did I know that less than a week later I would find myself at the kitchen table with four kids chattering away and looking into the eyes of my smiling wife as she returned my gaze. And then it hit me. I was falling head over heels with this woman like I had never loved her before. Fast forward almost 15 years later now and that love and admiration grows deeper every day as I watch her "look well to the ways of her household and does not eat the bread of idleness."
I am not a high maintenance husband but I love her ministry in my life and the lives of our children, grandkids, and many others, who have all benefited greatly from the New Life that my wife found in obedience to the plain Word of God. But most of all, she is now happy. Really, really, happy with me and with life, and that makes me so happy just to watch her find the joy in serving others. A joy she never knew could exist at this level until an older, godly woman (Debi Pearl) showed her what submission does look like, and stopped her confusion of the small print over the big print. She is free to please the Lord not by trying to avoid all the evils that may befall a submissive wife, but by purposefully and actively trying to be that wife that God calls her to be.
We pray that couples everywhere will find this same joy unspeakable we have found in doing marriage God's way. We sympathize with pastors trying to avoid this minefield of feminism we now have in our churches, but we ask that they stop watering down and obfuscating what God clearly wants of godly, Christian women: "Wives submit to your own husbands…" How many times must God's Word say it for us to believe it?
We pray that God would revive the Church, yet fear that this revival won't happen by evangelism or in the seeker-friendly churches, but must begin with the family and marriage doing things God's way. Pastors, please teach all of God's Word even the hard things that are difficult to teach in today's modern world if you want your marriages and families to be healed. Be bold and unashamed to go against the cultural tide and side with God at His Word on this important matter of life, marriage, and godliness.
Wives, submit yourselves unto your own husbands, as unto the Lord. For the husband is the head of the wife, even as Christ is the head of the church: and he is the Savior of the body. Therefore as the church is subject unto Christ, so let the wives be to their own husbands in every thing.
Ephesians 5:22, 23