Don't Compare Yourselves to Others
Don't Compare Yourselves to Others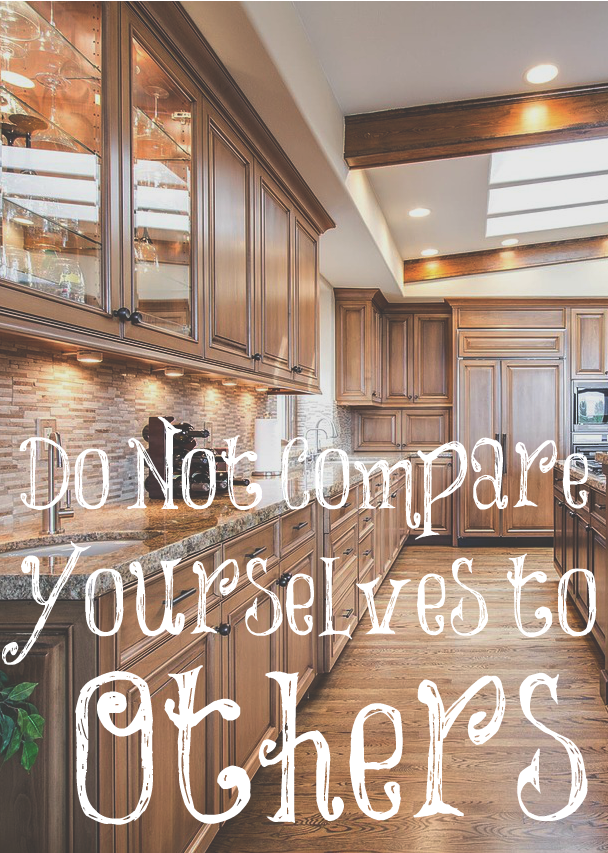 With social media so prevalent and overwhelming, it's hard not for young women to become discouraged and discontent with their lives. They see women making videos of their perfectly clean and decorated homes, making meals from scratch, having big and bountiful gardens, homeschooling their well behaved children, and making a ton of money from the business they run out of their homes. I want to tell you all that no one can do everything perfectly. It's impossible.
Don't believe everything you see and don't compare your lives with these women. "For we dare not make ourselves of the number, or compare ourselves with some that commend themselves: but they measuring themselves by themselves, and comparing themselves among themselves, are not wise" (2 Corinthians 10:12). Yes, it seems the picture of the Proverbs 31 woman accomplished all of these things perfectly but remember, this woman was not a real life woman. She was given as an example to her son what to look for in a wife. It's a picture of her entire life.
Any woman with a bundle of small children can't expect to do everything. Her focus needs to be upon her husband, her children, and her home. These are the ministries the Lord has given to her. He hasn't given her the ministry of making money, having a perfectly decorated home, or making amazing videos. There may come a time in her life when she can make a bit of money from home, decorate her home to her liking, and make videos to encourage women to love being home but when her children are young is not the time. The children need their mother and the husband needs his wife!
The only thing you need to be comparing yourselves to, women, is the word of God and how He wants you to live. He wants you to be sober, chaste, lovers of your husband and children, good, discreet, keepers at home, submissive to your husbands, modest, shamefaced with meek and quiet spirits, and quiet in the churches while learning with all subjection. This is His perfect will for you! Focus upon these instead of how other women are living, what they have (financially and materially), the marriages and children they have, and the places they go.
We ALL will go through sufferings and trials in this life no matter how great our lives look on the outside. We are all human and struggle. We grieve and mourn. We experience loss and heartbreak BUT we know that God is in control of our lives so we live our lives for Him and are thankful for all of His blessings, what He's done for us, and what He has planned for us. We live in a wicked and fallen world but we are simply strangers and pilgrims passing through (1 Peter 2:11) so live with eternity always in your vision.
But godliness with contentment is great gain.
1 Timothy 6:6