Was This Truly Marital Rape?
Was This Truly Marital Rape?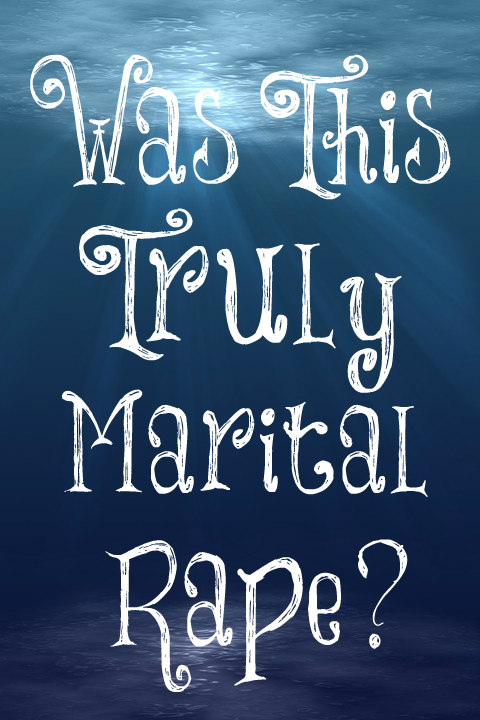 Last April, I made a video called Should Wives Have Sex With Their Husbands When They Don't Feel Like It? It was viewed by many, and many were very angry with me and accused me of promoting marital rape because a woman wrote to me and told me her husband asked to have sex with her one night. She told him no but found him having sex with her in the middle of the night. She asked if this was considered marital rape.
I told her that no, this wasn't considered marital rape. Marital rape is when a husband forces himself upon his wife on a frequent basis while drunk or high on drugs or is simply an abusive, mean man. If there is true marital rape, there is physical abuse that comes with it. Every woman who has told me that they were raped by their husbands, also told me that they were physically abused by their husbands. In this case, the authorities need to be called and the wife needs to be protected from her physically abusive husband.
In the case I mentioned in the video, this wasn't marital rape. Her husband doesn't physically abuse her. He woke up in the middle of the night (maybe he wasn't even fully awake, for all we know) and began having sex with his wife. What does this mean? Was he having full on intercourse with her or was he having foreplay with her? We don't know. She didn't tell me. If he was having full on intercourse with her, she must be a very deep sleeper but even if he was, I would never consider this marital rape.
Let's say I told her that yes, this was marital rape. Then she would report it to the police in the morning. Her husband may be put in jail, then lose his job. He would have no means to support his family. He may even divorce her for considering him having sex with her one night as marital rape. In my opinion, she should have given him sex when he asked that night since we aren't to deprive our husbands. She could have asked him if it would be okay to wait until the morning, too, if she was too exhausted but at least let him know she will give it to him very soon. I know that many wives are depriving their husbands sexually on a continual basis and they are in sin.
So he divorces her and remarries. Her marriage is destroyed. She's left alone to have to support herself and her children, if she has any, just because I told her that her husband was committing marital rape because he was having sex with her one time during the middle of the night. I won't do this. I am in the business of restoring marriages and trying to make them better. I am sure there are many wives who would admit that their husbands have woken them up in the middle of the night trying to have sex with them. It's not that big of a deal!
Our culture is a culture of death. They want the death of this marriage so they accuse this man of marital rape. All this would lead to is the destruction of their marriage. God wants us to promote a culture of life. Life for the unborn and life for marriages. Wives, don't deprive your husbands sexually. God is very clear about not doing this. Most husbands married because they want to have sex on a regular basis. One reason for marrying is that it is better to marry than to burn. Be wise in the counsel you give to other women. Always fight for marriages rather than tear them down.
The husband should give to his wife her conjugal rights, and likewise the wife to her husband. For the wife does not have authority over her own body, but the husband does. Likewise the husband does not have authority over his own body, but the wife does. Do not deprive one another, except perhaps by agreement for a limited time, that you may devote yourselves to prayer; but then come together again, so that Satan may not tempt you because of your lack of self-control.
1 Corinthians 7:3-5
***Every time I write about this topic, women will write me and ask about women having higher sex drives than their husbands. This is the post that I direct them to that was written by TheJoyFilledWife.