Dressing and Acting Like a Harlot
Dressing and Acting Like a Harlot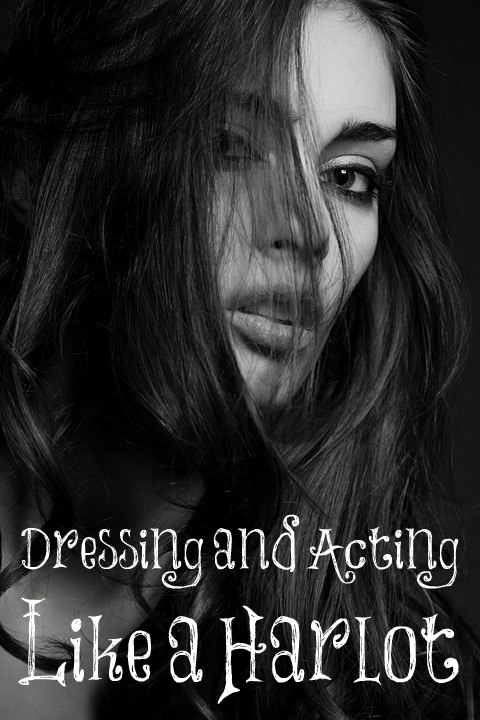 "And behold among the simple ones, I discerned among the youths, a young man void of understanding, Passing through the street near her corner; and he went the way to her house, In the twilight, in the evening, in the black and dark night: And, behold, there met him a woman with the attire of an harlot, and subtil of heart. She is loud and stubborn; her feet abide not in her house" (Proverbs 7:7-11).
Here's a man; a man who is not wise. He meets a woman that is dressed like a harlot. She wasn't necessarily a harlot, but she was dressed like one. Many women dress like harlots these days. They dress sexual and sensual. They show off their bodies with no shame. This loud woman is the opposite of dressing modestly and being shamefaced. She provocatively wants to draw attention to herself and cause men to stumble.
"Subtil" means deceitful, cunning, and treacherous. This describes her heart. She likes to deceive men by her sensuality. She is the opposite of being chaste and discreet. She hates God and His ways and enjoys destroying men's lives.
She is loud and stubborn. She fights for her rights and wants her way. She is opinionated and tries to force her ways on others. She will do whatever she can to get what she wants. She won't listen to wise counsel or rebuke. She has the opposite of a meek and quiet spirit. Her feet abide not in her house. She is not a keeper at home nor does she look well to the ways of her household.
In every way, this woman is the complete opposite of a godly woman. Unfortunately, this describes many women these days. They use their lack of clothing and their actions to seduce men, even married men to get what they want.
How do the men end up who "visit" these loud and stubborn women? "Her house is the way to hell, going down to the chambers of death" (Proverbs 7:27).
In a few chapters later, we are told more about this woman. "A foolish woman is clamorous" (Proverbs 9:13) "Clamorous" means noisy and loud. God is very clear that He doesn't want women who believe in Him to be loud. He doesn't want us always stating our opinions, needing to be right and heard, and fighting for what we want. He has never called us to do these things. He wants us to be the exact opposite of what feminism is telling women that they should be.
How do the men end up who "visit" this clamorous woman? "Her guests are in the depths of hell" (Proverbs 9:18)
How about us? What are we to be known for? May we pursue godliness and what the Lord requires of us.
"Strength and honor are her clothing; and she shall rejoice in time to come. She openeth her mouth with wisdom; and in her tongue is the law of kindness. She looketh well to the ways of her household, and eateth not the bread of idleness" (Proverbs 31:25-27).
"While thy behold your chaste conversation coupled with fear. Whose adorning let it not be that outward adorning of plaiting the hair, and of wearing of gold, or of putting on apparel; But let it be the hidden man of the heart, in that which is not corruptible, even the ornament of a meek and quiet spirit, which is in the sight of God of great price. For after this manner in the old time holy women also, who trusted in God, adorned themselves, being in subjection unto their own husbands: Even as Sara obeyed Abraham, calling him lord: whose daughter ye are, as long as ye do well, and are not afraid with any amazement" ( 1 Peter 3:2-6).
"In like manner also, that women adorn themselves in modest apparel, with shamefacedness and sobriety; not with braided hair, or gold, or pearls, or costly array; But which beometh women professing godliness with good works. Let the women learn in silence with all subjection" (1 Timothy 2:9-11).
"I will therefore that the younger women marry, bear children, guide the house, give none occasion to the adversary to speak reproachfully" (1 Timothy 5:14).
"That the aged women…teach the young women to be sober, to love their husbands, to love their children, to be discreet, chaste, keepers at home, good, obedient to their own husbands, that the word of God ne not blasphemed" (Titus 2:3-5).
It's clear what God wants from us and how He wants us to live. You can either choose to obey Him and be blessed or choose to disobey Him and suffer the consequences.
Now therefore hearken unto me, O ye children: for blessed are they that keep my ways.
Proverbs 8:32