Facebook Censoring "Hate Speech"
Facebook Censoring "Hate Speech"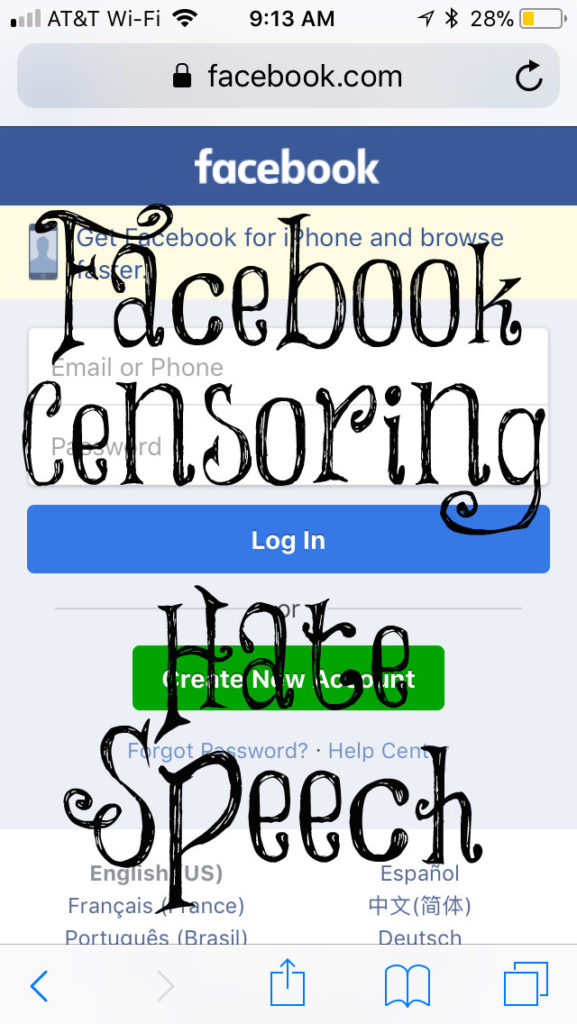 Yesterday, as I was working on my laptop, I suddenly noticed this phrase underneath my post on Facebook. "Does this post contain hate speech?" Then I saw that it was underneath every single post on my newsfeed. What is their goal in doing this? Is it to get rid of those who say cruel things to others and bully them or is it to get rid of the truth of God's Word? We all know the answer to this. (I took this picture from my laptop since it wasn't showing up on the cell phones but it must be something that Facebook is strongly considering doing but they quickly took it down.)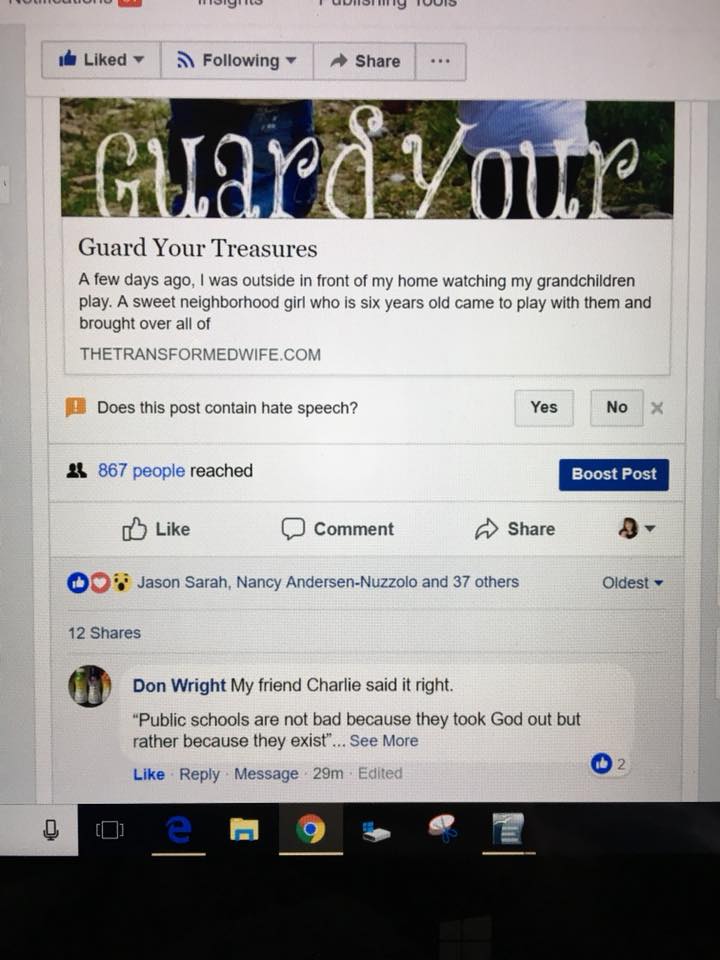 Our culture celebrates evil and hates that which is good. They celebrate the murder of millions of unborn babies and all types of sexual deviancy. Anyone who speaks against this is considered spreading "hate speech." California's legislature is doing everything they can to stop this "hate speech," too.
If Facebook does indeed do this to all of the posts eventually, all of those who speak biblical truth will most likely be shut down since this is considered "hate speech" in our culture. Little do they understand that speaking God's truth is the most loving thing we can do since we care more about people's eternal souls than we do about their present "pleasures."
Before my book went out on Amazon, I warned my editor that those who hate what I teach will write many scathing reviews about my book. He's been an editor for many, many years and has never seen anything like it but knows that my message needs to get out to Christian women. Therefore, if this hate speech option is given for my posts, the same who slander my book will quickly push the "yes" button for what I teach.
They are fighting a losing battle. Even if they are able to shut down my Facebook page, they won't win in the end. We are promised that we will have tribulation on this earth but He has OVERCOME! We should never be surprised when we see things like this happening. They hate God; they will hate us. Facebook has already been shutting down all the Christian and Conservative voices. My posts used to reach over 150,000 a week. Now, they reach about 25,000 but I don't let this concern me because those who are supposed to see it, will see it. I trust God with my Facebook page since greater is He who is in my than he who is in the world!
This isn't our home, women. The Lord is preparing a mansion for us in heaven! Our life on this earth is a blip on the screen of eternity. Let's live our lives in obedience to the Lord and trust Him with everything, including what happens on something so insignificant as Facebook. Yes, use it to speak the truth in love as long as you can but when they shut us down, rejoice, since we are promised this in His Word.
If there are Christians who are bold to speak the truth in love on Facebook, quickly click on "no" if asked if it contains hate speech to support our brothers and sisters in Christ. We are called to be as wise as serpents and harmless as doves so let's do this for each other!
Blessed are ye, when men shall hate you, and when they shall separate you from their company, and shall reproach you, and cast out your name as evil, for the Son of man's sake. Rejoice ye in that day, and leap for joy: for, behold, your reward is great in heaven.
Luke 6:22, 23