Sane Women Standing Against Their Crazy Sisters
Sane Women Standing Against Their Crazy Sisters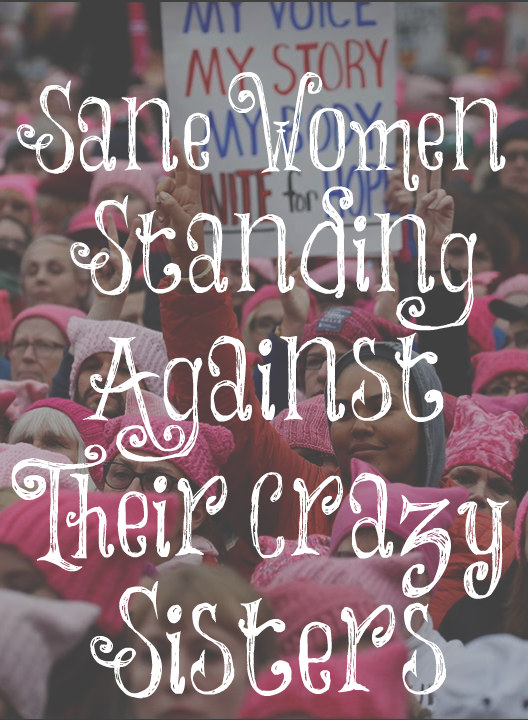 "It seems to me that it isn't men who have to stand up and say 'enough of this,' even though that is what they should do. It seems to me that it's sane women who have to stand up against their crazy sisters and say 'Look, enough of that. Enough of that man-hating, enough pathology, enough bringing disgrace on us as a gender…I don't see any regulating force for that terrible femininity (feminism), and it seems to be invading the culture and undermining the masculine power of the culture in a way that, I think, is fatal. I really do believe that" (Dr. Jordan Peterson).
I don't think that Dr. Peterson is a Christian but he sure does have a lot of wisdom. Just as Eve plunged the world into sin by allowing Satan to deceive her, women have again plunged our culture into darkness by being deceived by the feminist's agenda instead of the Lord's calling on their lives. Dr. Peterson's solution: sane women need to stand up against their crazy sisters. God's solution: older women teach the younger women the ways of biblical womanhood!
Since most men can't say anything negative about women without being shouted down, scolded, and called misogynist, someone of their own sex needs to do it. But I can tell you that it's not easy. "You hate women!" "All you do is criticize women!" Yes, you will get a lot of this if you try to teach biblical womanhood in this wicked culture.
This shouldn't deter you, older women, because the younger women need to hear the truth. Feminists are trying to destroy masculinity. They are the ones who really hate women, motherhood, being a wife, and homemaker. They want to be men and take over their positions in culture. "We have a strange phenomenon today that many mothers call themselves mothers and yet do not want to embrace the role of motherhood. They love their children but don't love motherhood. How sad to not LOVE what God has created you to do and called you to do" (Nancy Campbell).
I don't hate women. I love women and I love womanhood. I love the role that God created for us: to be help meets to our husbands, mothers to our children, and keepers at home. I have tasted of the Lord's ways and they are VERY good. I love being a wife. I love being a mother and grandmother. I love being a keeper at home. His ways are perfect for us.
I want women's eyes to be opened to the lies of feminism and the destruction that it has caused. I want them to learn to be feminine, chaste, good, modest, sober, and discreet. Men are attracted to these kinds of women. They need more of these types of women because they make them feel more like men and masculine. God made men to want to protect and provide for women. Feminism has fought against this and called it bondage. NO, it's not bondage. It's beautiful! All of God's ways are beautiful! Walk in the old paths, women.
Thus saith the LORD, Stand ye in the ways, and see, and ask for the old paths, where is the good way, and walk therein, and ye shall find rest for your souls. But they said, We will not walk therein.
Jeremiah 6:16