Fake Christians
Fake Christians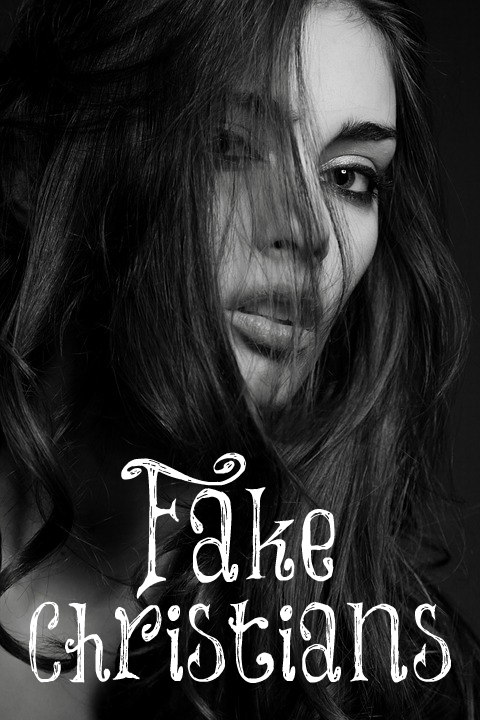 A supposedly "Christian" woman wrote this on Twitter recently:
"Since conservative Christians keep coming at me. Here:
"I am a Christian and I believe proselytizing is violence against another.
I am a Christian and I believe LGBTQ+ ppl are divine and should lead us.
I am a Christian and I learn a lot from ppl who do not share my faith.
"I am a Christian and I don't go to church.
I am a Christian and I don't believe the Bible is the word of God.
I am a Christian and I embrace sex-positivity, which includes but isn't limited to, sex outside of marriage.
"I am a Christian and I believe everyone has access to God. EVERY ONE.
"I am a Christian and I do as I please (which is not to say I can harm anyone, that's never ok).
"I am a Christian and I know Christianity has been used as a weapon of white supremacy for so long that any Christian who isn't actively dismantling white supremacy, is harming ppl with their theology.
"I am a Christian and I believe people know what's best for them, sometimes that means running away from Christianity. I applaud them."
I will give you some Bible verses that describe her perfectly. "For such are false apostles, deceitful workers, transforming themselves into the apostles of Christ. And no marvel; for Satan himself is transformed into an angel of light. Therefore it is no great thing if his ministers also be transformed as the ministers of righteousness; whose end shall be according to their works" (2 Corinthians 11:13-15).
The social justice path is a dangerous path to be on, women. I see many popular female Bible preachers (which is unbiblical and sinful to begin with since God makes it clear that women are NOT to be preachers) falling away from Christ on their pursuit of social justice. The health, wealth, name it and claim it gospel is another dark path to be on. Watch the "American Gospel Christ Alone" on Netflix if you can and learn about the true Gospel of Jesus Christ plus nothing. Find out what Christ accomplished on the cross for you, a sinner in need of a Savior. Once you repent and believe, you become a new creature in Christ. It's all about Him! It's all about living for Him and glorifying Him in all that we do.
This woman who I shared her tweets with you is lost and floundering. She is nothing like a true believer in Jesus Christ. Many will say that they know Christ, but they do not. Here is an example of fake Christians. Make sure you are not one!
False converts avoid conversations about the Lord Jesus Christ. They will change the subject or make some judgment about another that diverts attention.
They enjoy faulting others and feel a sense of relief when others prove to be hypocrites. Gossip gives them peace.
They will usually go to church at the prescribed hour but avoid going to intense spiritual gatherings if they can do so without being singled out as disinterested.
False converts do not have a burning desire to win others to Christ. They can spend time with a lost friend or relative without feeling a compelling need to pray, share Christ, and lead them to saving faith.
In their secret thought life they do not dream of going to heaven and meeting the Savior face to face. If they are somehow forced to think about it, they do so with discomfort and lack of assurance.
They do not have a desire to read the Word of God and learn more about their God and Savior.
Their prayer life tends to be formal and regulated, not spontaneous and believing.
They do not have a life of private worship, praise, and thanksgiving. They just do not love the very thought of God.
In some cases, though not all, the false convert is known to live on the edge of worldliness. They secretly yearn for a more liberal, worldly lifestyle, but the Christian culture constrains them to walk a narrower path for reasons of self-interest.
Others go to the opposite extreme: rather than flirt with worldliness, they are prominently pious, known to flaunt their personal convictions. They are known for exalting single issues like head coverings, women wearing pants, birth control, and affiliation with a particular denomination. Their zeal is a substitute for worship and love.
When worldly minded false converts find themselves removed from the Christian culture and influence, as in the case of divorce, moving to a different location, suddenly coming into wealth with new friends, opportunities, and means, they find it easy to enjoy worldliness, feeling liberated for the first time.
This list of thirteen signs of being a false convert leaves them feeling uncomfortable or critical of this article. Their tendency is not to share it with people they feel might be false converts, but to put it away and forget about it. "Marvel not that I said unto thee, Ye must be born again" (John 3:7).
Their pride will not allow them to admit that they are lost sinners. Their reputation means more to them than actually being saved..
 Not every one that saith unto me, Lord, Lord, shall enter into the kingdom of heaven; but he that doeth the will of my Father which is in heaven. Many will say to me in that day, Lord, Lord, have we not prophesied in thy name? and in thy name have cast out devils? and in thy name done many wonderful works? And then will I profess unto them, I never knew you: depart from me, ye that work iniquity.
Matthew 7:21-23
***Do you want to know the true Gospel of Jesus Christ? Read this!