The Right to Vote Gives the Right to Be Elected
The Right to Vote Gives the Right to Be Elected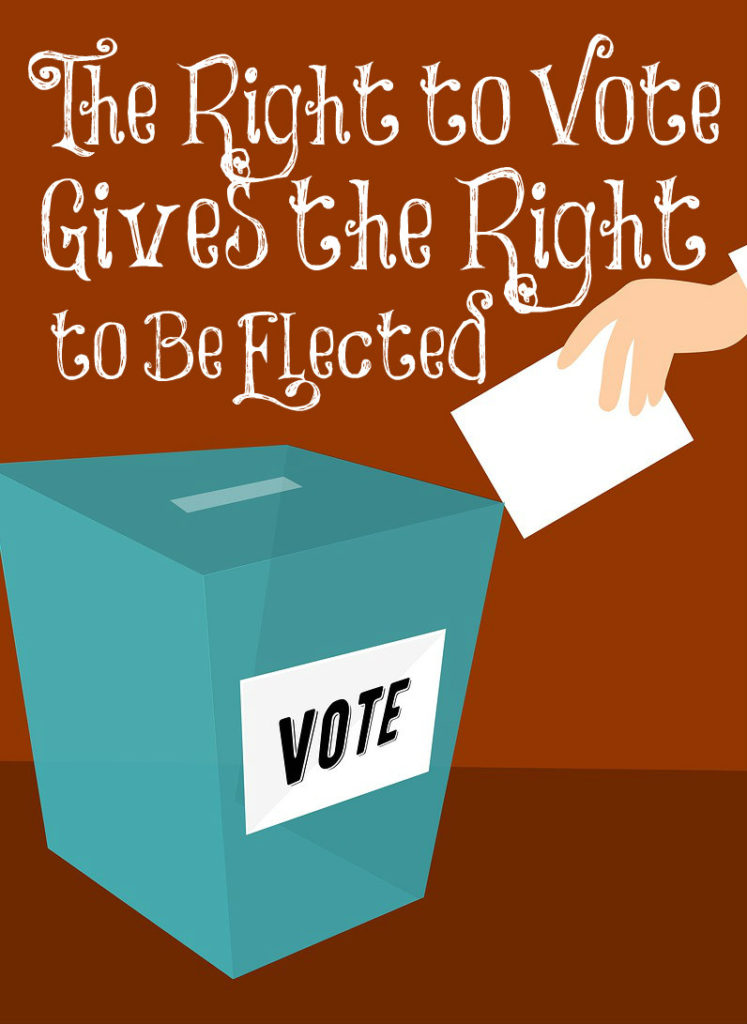 Amelia Barr was a mother, widow, and writer. She lived from 1831 to 1919. I found out about her from Elizabeth Prata on her blog The End Times. Amelia wrote a piece called Discontented Women. Elizabeth used the parts of the piece concerning the discontentment women naturally have towards marriage, having children, and being homemakers.
It's not an easy piece to read since it was written long ago but well worth reading. I am sharing some excerpts that have to do with what Amelia thought about the Suffrage movement, women in public offices, and where she thought it would lead. She was a wise woman with a lot of insight. She knew the female nature and that God had made men to be the rulers and leaders. She saw the trouble where women voting would lead, and she is 100 percent correct. She predicted the demise of this nation when women began voting and becoming involved in politics. Just look at the majority of women as mayors, in Congress, and in the Senate! They are radical Leftists. (I am going to highlight a couple of sentences that really caught my eye.)
"The discontent of working-women is understandable, but it is a wide jump from the woman discontented about her work or wages to the woman discontented about her political position. Of all the shrill complainers that vex the ears of mortals, there are none so foolish as the women who have discovered that the founders of our republic left their work half finished, and that the better half remains for them to do.
"While more practical and sensible women are trying to put their kitchens, nurseries, and drawing-rooms in order, and to clothe themselves rationally, this class of discontents are dabbling in the gravest national and economic questions. Possessed by a restless discontent with their appointed sphere and its duties, and forcing themselves to the front in order to ventilate their theories and show the quality of their brains, they demand the right of suffrage as the symbol and guarantee of all other rights.
"This is their cardinal point, though it naturally follows that the right to elect contains the right to be elected. If this result be gained, even women whose minds are not taken up with the things of the State, but who are simply housewives and mothers, may easily predicate a few of such results as are particularly plain to the feminine intellect and observation. The first of these would be an entirely new set of agitators, who would use means quite foreign to male intelligence.
"For instance, every favorite priest and preacher would gain enormously in influence and power; for the ecclesiastical zeal which now expends itself in fairs and testimonials would then expend itself in the securing of votes in whatever direction they were instructed to secure them. It might even end in the introduction of the clerical element into our great political Council Chambers, the bishops in the House of Lords would be a sufficient precedent, and a great many women would really believe that the charming rhetoric of the pulpit would infuse a higher tone in legislative assemblies.
"Again, most women would be in favor of helping any picturesque nationality, without regard to the Monroe doctrine, or the state of the finances, or the needs of the market. Most women would think it a good action to sacrifice their party for a friend. Most women would change their politics, if they saw it to be their interest to do so, without a moment's hesitation. Most women would refuse the primary obligation on which all franchises rest, that is, to defend their country by force of arms, if necessary. And if a majority of women passed a law which the majority of men felt themselves justified in resisting by physical force, what would women do? Such a position in sequence of female suffrage is not beyond probability, and yet if it happened, not only one law, but all law would be in danger.
"No one denies that women have suffered, and do yet suffer, from grave political and social disabilities, but during the last fifty years much has been continually done for their relief, and there is no question but that the future will give all that can be reasonably desired. Time and Justice are friends, though there are many moments that are opposed to Justice. But all such innovations should imitate Time, which does not wrench and tear, but detaches and wears slowly away. Development, growth, completion, is the natural and best advancement. We do not progress by going over precipices, nor re-model and improve our houses by digging under the foundations.
"Finally, women cannot get behind or beyond their nature, and their nature is to substitute sentiment for reason, a sweet and not unlovely characteristic in womanly ways and places; yet reason, on the whole, is considered a desirable necessity in politics. At the Chicago Fair, and at other convocations, it has been proven that the strongest-minded women, though familiar with platforms, and deep in the "dismal science" of political economy, when it came to disputing, were no more philosophical than the simplest housewife. Tears and hysteria came just as naturally to them as if the whole world wagged by impulse only; yet a public meeting in which feeling and tears superseded reason and argument would in no event inspire either confidence or respect.
"Women may cease to be women, but they can never learn to be men, and feminine softness and grace can never do the work of the virile virtues of men. Very fortunately this class of discontented women have not yet been able to endanger existing conditions by combinations analogous to trades-unions; nor is it likely they ever will; because it is doubtful if women, under any circumstances, could combine at all. Certain qualities are necessary for combination, and these qualities are represented in women by their opposites."
As for my people, children are their oppressors, and women rule over them. O my people, they which lead thee cause thee to err, and destroy the way of thy paths.
Isaiah 3:12