Feeling Guilty For Having Sex After Married
Feeling Guilty For Having Sex After Married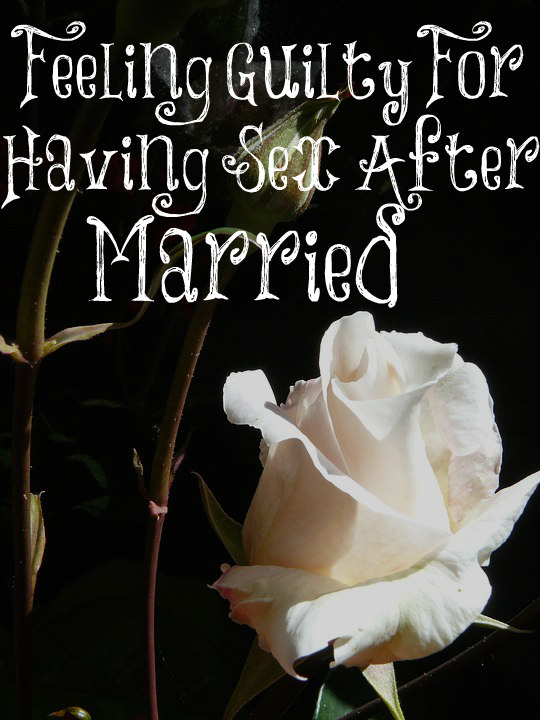 Hollywood makes sex out to be absolutely amazing with fireworks the very first time a couple has sex so young people grow up to believe that it must be amazing always, UNLESS they are raised in a godly home by Christian parents. I was out to lunch with some friends the other day and they were all taught to be pure until marriage. They taught their children the same thing. The problem was that they weren't taught that sex was supposed to be fun and enjoyable once married and they didn't teach their children, either, so on their honeymoons and for a while after, it was difficult for them to enjoy sex because it was always forbidden in their minds and they felt guilt.
I asked the women in the chat room if any of them were raised this way and felt guilt once they were married and had sex, since I had never heard of this before. I was raised by a mom who clearly let us know that sex was wonderful in marriage and we taught our children the same. Many of the women in the chat room said that they did have guilt feelings concerning sex after marriage and it seems to come from the lack of being taught by their parents.
One woman wrote, "I was raised this way. Sex was never talked about except in terms of waiting till marriage. When I got married, I very much enjoyed sex, however, I had a feeling of guilt I couldn't shake for probably a few months, like I was doing something I wasn't supposed to do. I'm determine to have much more open conversations with my daughter."
Another one wrote, "Yes! I was definitely raised this way and I've been married 17 years and still sometimes feel guilty or feel like a bad person when I do have sex with my husband. My mom made me so afraid to have sex that when I actually did (I waited until I was married), I was terrified of it."
Yet another, "I was told very little but I knew you weren't supposed to have sex before marriage and my mother said that once you're married, 'Everything is okay.' I didn't know what 'everything' was but I knew it wasn't bad. Labels like 'pure UNTIL marriage' contribute to this issue. I think we are so used to them that we don't realize what we're saying. Yes, we are to be pure before marriage but sex in marriage IS pure. We need to teach our children that married sex is an extension of purity and not the end of it."
The following comment was written by a wise, older woman named Paula on this YouTube about sex after marriage and children: "You treated this subject very tastefully, Kathryn, and this is the opinion from a 70 year old~~not quite Victorian woman! I would like to add that physical intimacy does not always have to be WOW to be beautiful, good for a couple's health and closeness, and to be rewarding. Just having each other and being able to hold and love each other is a gift. You did not mention performing, but I think some people think that is necessary. Love and caring are key.
"Also, women need to appreciate that their husbands like their bodies and not try to hide them or be embarrassed by them. Do not make negative statements to your husband about your body, and be grateful for any compliments, even when you do not see it the way he sees it. In this case, remembering that 'love is blind' is helpful! One more tip, if you will: asking God to give you grace to bless your husband in this way, even while experiencing physical intimacy. This is a prayer He will gladly answer with a 'yes'."
Mothers, it's your responsibility to be open with your children about sex at the proper age. It's usually when they begin asking questions. You don't have to go into details (unless they are asking right before they get married) but let them know that they are to be pure before marriage and make sure they know all of the benefits to this. God's commands are ALWAYS for our best! Then, tell them how wonderful sex is after marriage and how God created it for us to enjoy. Teach your children to not deprive their spouse since this is a command from God (1 Corinthians 7:5).
Make sure your daughters know how very important sex will be to their husbands and that they need to be available to them even if there are times, like after birth, that they must be creative. Help them to make the decision in their minds that this will be a priority in their lives. They need to understand that their husbands should not take the place of a back burner once their children are born. If they have time to watch their favorite TV show or scroll through Facebook, then they have time to bring pleasure to their husband!
May your fountain be blessed, and may you rejoice in the wife of your youth.  
A loving doe, a graceful deer— may her breasts satisfy you always, may you ever be intoxicated with her love.
Proverbs 5:18, 19