His Battle With and Victory Over Sexual Immorality and Lust
His Battle With and Victory Over Sexual Immorality and Lust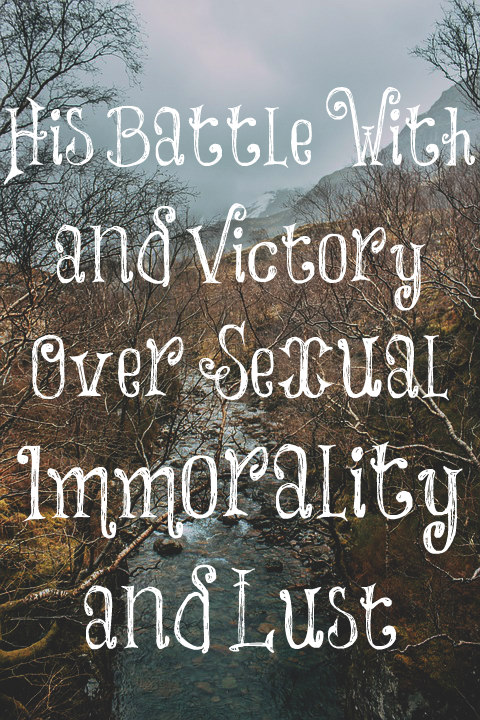 I, Pastor Joseph, received this letter from a brother in Christ who wanted to share his battle with and victory over sexual immorality and lust while calling both men and women to join in with this battle. I believe this heartfelt letter should move us to a love for God's design for sex and for personal holiness. I hope that men will be encouraged in their battle with temptation and I pray that women will be convicted to love modesty and chastity because they love God and love their neighbor.
Dear Brothers and sisters in Christ,
The first recollection I have of sexual immorality springing forth in my life I recall like it was yesterday. At around eight years old, I became aware that there was something "different" about men and women as a teenage girl, who enjoyed sunbathing in her brown and tan bikini for all the little neighborhood boys to watch, caught my attention one summer. At the time I didn't know what it was about her, but knew there was something there to be conquered, something I desired.
As I grew older, my innocent curiosity grew, and I received a typical Southern Baptist education regarding relationships between men and women: I was taught that sex was a big NO. There was no explanation that a healthy sexual relationship between a husband and wife was how God designed men and women. Sex was painted as off limits, taboo, and dirty. Guess how this reprobate young boy came to view sex in that environment? As this dirty, dark venture to be engaged in as an act of defiance.
Fast forward about four or five years. Spending the night at a friend's house, I enjoyed my first beer, and my first glimpse of what would be recognized as hardcore pornography. Thirty years later, I can still recall the scene that played out in my friend's living-room on his big screen TV. I was lost, and the years of innuendo, sexually suggestive entertainment, and ignorant wonder exploded with that one glance. My sexual desires found an outlet that would dominate my thoughts and physical existence for decades.
"But each one is tempted when he is carried away and enticed by his own lust. Then when lust has conceived, it gives birth to sin; and when sin is accomplished, it brings forth death" (James 1:14). Though temptations were everywhere, I had no one and nothing to blame but myself and my own sinful desires. I was now firmly planted on this path. Do not fool yourself into thinking that since no smut magazines, pornographic DVDs, or garbage over the internet comes into your home, that you have created a safe space, free from sexual perversion.
All forms of media and entertainment are filled with what 20 years ago would have been called pornographic. Even more than that, the men in your life are quite adept at finding sexual stimulus wherever their eyes roam, hidden away in their minds. Your husbands, sons, and brothers are oftentimes incapable, and willfully incompetent to discern this sin. God created men with a desire for sex. When utilized in accordance with God's created order, one man, one woman, in a monogamous relationship as husband and wife, this sexual appetite can be used for good, God's glory. But venturing outside of this design has horrific consequences.
In high school, I found myself looking for teenage girls that would be the women found in the average smut magazine. I had a small collection of porn of my own by this time, which fueled my increasingly perverse desires. Friends viewed by my parents as "good" boys helped fuel this downward spiral. Bad company corrupts good morals….unfortunately, I had no good morals to begin with, because I was a lost little boy, yet was considered to be a "good person" by most.
Two years into my stint in the military, my porn collection and appetite had grown to a footlocker full of sexual immorality, and had expanded to strip clubs and prostitution. I was totally in bondage to my sexual sin, yet I didn't even realize it. A contributing factor was the increasing amount of young women who found liberty in their sexuality, displaying it for all to see, and oftentimes all too willing to assist a lost, sin-ravaged soul down the broad road to destruction. Ladies, each of us will have to stand before God on judgement day and give an account. Men before God giving an account for their lusts, and women giving an account for their contributions to it. Men must be self controlled, a fruit of the spirit, but lest you think women bear no responsibility, please consider Proverbs 7.
My time after the military was no different, but a new wrinkle was added to the mix: marriage. By this time, I came to realize that my sexual appetite dominated me, but felt powerless to stop. Every. Single. Woman I saw and met became sex objects in my mind. Looking back, deep inside I hoped that marriage would save me. That I would marry this woman, and she would finally satisfy every wicked lust I had. What I had looked to for peace (marriage) became an object of resentment which wound up fueling even more sexual immorality. Jesus said if you even lust with a woman in your heart, you are guilty of adultery in your heart. My sin had moved from mental adultery to full blown, out in the open for everyone to see, depravity. Five years in, my marriage was in shambles. My cold dead heart was destroying the woman I promised to love till death do we part. Looking back, it was only God's grace that kept us together.
I continued into a spiral of pornography and drunkenness, attempting to fill my life with a myriad of "manly" activities to hide my growing effeminacies and mountain of sin. Around 11 years into my marriage, I found myself tired of running from God, knew I was a hopeless sinner, and knew I had nowhere else to go. I believe it was sometime that year that God opened my eyes, helped me see my sin and its end, and I cried out to Him for mercy. Help Me! And He answered. Forgive Me! And He did.
Yet the porn persisted. I came to realize that while it was true that I was saved and forgiven, I had to join Job in making a covenant with my eyes to not look upon a young woman. I had to be like David and allow no worthless thing to come before my eyes. For most of my life, I had been the foolish young man walking past the door of the adulteress woman, foolishly believing that I could toy with hot coals and not get burned. "It's just one glance, just one TV show, just one click of the mouse." God called me to another path. A path of warfare.
Putting your sin to death is the name of the game. Cutting off hands, plucking out eyes, and doing so in the power of the Holy Spirit is the only hope for men and boys trapped in this sin. God transformed, and is still renewing my mind day by day to realize that sex, like every good and perfect gift, is from God. He has taught me that it is our sin soaked hearts which pervert this good thing He has given us. Men must take responsibility for their sin. They must own the desires of their heart, and obey God's command to flee sexual immorality. Ladies, your husbands, brothers, friends, and sons are weaker, and more susceptible to sexual sin than you can imagine.
As if our own sinful flesh isn't enough, men and boys contend with Satan's lies which say, "God is withholding good from you," and a world full of women who have been influenced by the scourge of feminism. Sisters, we need your help. Help us to love our wives. Help us to love our sisters in Christ. Help us not have to avert our eyes in church. An aspect of this sin involves not causing another to stumble. Your language, eyes, and dress can all be contributors to sexual immorality, however, this does not negate the responsibility of men and boys to guard their hearts and eyes from sexual perversion.
Ladies, a call for you to live and dress modestly isn't a call for you to live as prudes, in bondage to men who cannot control their passions, but rather a call for you to reserve your sexuality for the man blessed to be your husband. There is nothing more beautiful than a Christian woman exercising her Christian liberty by seeing that she is not a cause for stumbling among her brothers. Christian women, we do need help. We are called to turn back those stumbling to the slaughter, to bear one another's burdens, and I can assure you, those trapped in this sin, struggling with it, and waging open warfare against it, are in danger of stumbling to the slaughter and carry a tremendous burden hidden by shame, guilt, and pride. The men in every area of your life need your help.
"Your lust isn't my problem" you may be tempted to say.
What about your son or husband?
"I have liberty to dress in a way that I deem moderate." Fair enough.
Does this liberty give you license to sin?
"Why this message, in this format, at this time?"
Because brothers and sisters, the Church of Jesus Christ is being ravaged by sexual sin, and it often seems that it's only "those other people" who are impacted. We cringe at the thought of God's created order being subverted by female "pastors." We scoff at those who would twist scripture and hold up homosexual behavior as a healthy alternative lifestyle. We become righteously indignant at the fornication and adultery that has divided churches and destroyed lives. We herald the gospel of Jesus Christ as the hope for those trapped in these sins.
We champion repentance, and demand accountability of all involved. But when it comes to the sin of lust, which often takes place in the dark recesses of one's own mind, we often say, "Deal with it. I cannot help the fact that my presence and how I carry myself leads you to sin. Get your lust under control." These men cannot without the gospel. They cannot without the church living out their lives in a manner worthy of their calling. We are called to bear with one another's burdens, to lay down our lives for one another, and to consider others more highly than ourselves.
We don't give a pass to sin. We make war with the sword of the spirit, with genuine Christian love not afraid of getting dirty, and with men and women saying together #metoo. We are all sin sick sinners in need of a Savior. I am a sinner saved by the grace of God, and I want to see men and women flourish in the way God has created them, in the place God has called them.
Flee fornication. Every sin that a man doeth is without the body; but he that committeth fornication sinneth against his own body.
1 Corinthians 6:18

***Here's how TheJoyFilledWife won her husband from pornography.