Feminism Has Demeaned and Trivialized Women's Traditional Work
Feminism Has Demeaned and Trivialized Women's Traditional Work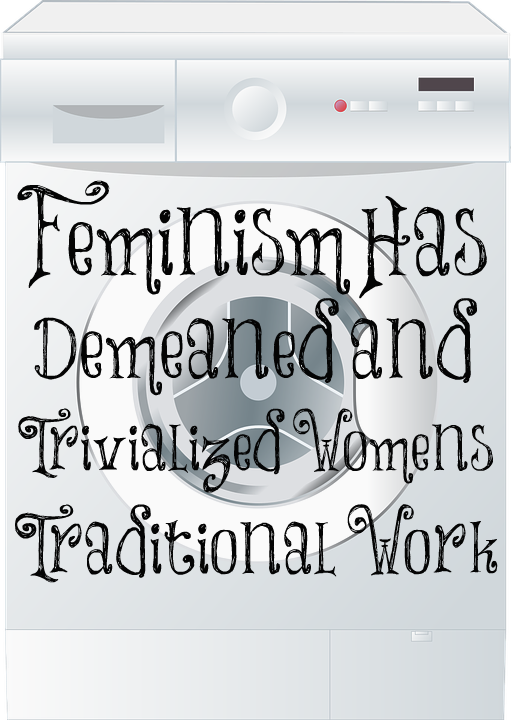 Many women falsely believe that if they serve their husbands, they are doormats. One woman wrote me recently and told me that she has never picked up after her husband because she didn't want to be a "doormat." She has equated serving her husband with being a doormat. One woman on my Instagram wrote the following:
"Women think they are being a 'doormat' for doing domestic tasks because for the last half a century, feminism has consistently demeaned and trivialized women's traditional work to the point where many women won't even consider it and even turn their noses up at it. I personally think that women need to reclaim this very important work of caring and nurturing and that if we did, over time the family unit could be restored, divorce and abortion would decline, and God would be restored as the center of the family."
Women, we were created to be their husband's help meet! They were created to pick up after him and serve him; make his life easier. I have never once heard a man complain that he was a doormat because he had to go to work every day and work hard for his family, yet women often complain. They seem to have more of a predisposition to complain and be unhappy. It's probably why divorces are initiated by women up to 80 percent of the time. Women contemplate their "feelings" more than men and if they're not happy in their marriage, they want to do something about it and it usually doesn't involve changing themselves but their circumstances instead.
God tells us that the greatest of all is the servant of all. As we serve our husbands, we are serving Christ. When we pick up after them, we are picking up after Christ. Whatever we do, we are to do heartily as unto the Lord. The Apostle Paul wrote: "For though I be free from all men, yet have I made myself a servant unto all, that I might gain the more" (1 Corinthians 9:19).
As we serve others, we are ministering the Gospel to them. This world needs more servants, not less. It needs more wives willing to lovingly serve their husbands and families. When they are doing this, they are sharing the Gospel through their actions. Learn to love caring for your family and others. This is the ministry that the Lord has given to you, and it is good.
Likewise, ye wives, be in subjection to your own husbands; that, if any obey not the word, they also may without the word be won by the conversation of the wives; While they behold your chaste conversation coupled with fear.
1 Peter 3:1,2