Men Should Prioritize Career Women?
Men Should Prioritize Career Women?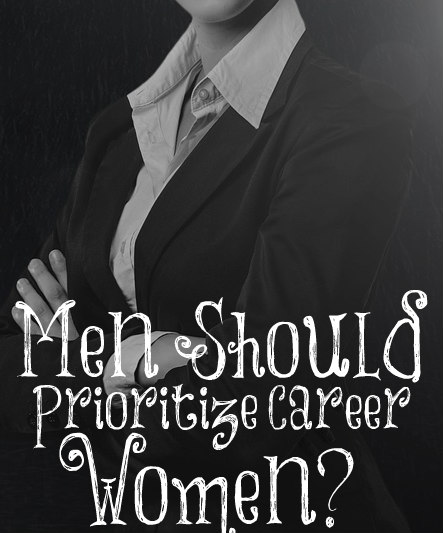 Written By Lindsay Harold
Tomi Lahren put out a rant against men she called trash who use women, won't commit, have several women going at once, and have no plans to make a commitment. She says she's going to help the clueless men by telling them what women want.
She's not entirely wrong. There are such bad men out there. However, I'm going to help the women out by telling women like Tomi what men want.
Tomi says men should be prioritizing the career women who are making something of themselves, are ambitious, have a good job, are educated, and so on. Women like her. She says women like her don't like to be pursued by men who want a less ambitious, younger, more naive type woman who "doesn't have anything going on."
Well, there's your problem, Tomi. If you want the kind of man who is looking for the kind of woman you are, you are probably going to get a player. Because the good men who want marriage and a family don't want to play second fiddle to your career. They don't want a woman with her own goals that don't include them. They don't want a woman that they have to beg and cajole to get consideration and time with her.
A good man is designed to be a leader, and that means he needs a woman who will follow him and make it her goal to encourage him and adopt his vision as her own. If she has her own vision already and is doing her own thing, sure she's fine as arm candy or a one night stand for men who want that sort of thing, but you can't build a life with a woman like that. Not if you want to be the leader in your own home. If a man wants to find a wife to help him carry out his mission, he needs someone who isn't so set in her own ways and making a life that doesn't include him.
There are two main reasons men gravitate to the innocent young thing who is 18-21. One is the obvious – looks. Youth and beauty are attractive to men. But that's not the only reason, and probably not even the primary reason for a lot of men. The biggest draw is a woman who doesn't have a career yet, who is flexible, who will mold her life to his rather than him trying to compete with her existing life. A woman who will follow him is a HUGE attraction. That's the kind of woman worth marrying.
So, when a woman advertises her career, her money, her ambition, and thinks that should get her a good man who wants to settle down with her, she's wrong. That's what feminism told her makes her valuable, but it's not a plus to good men. It's a liability, not an asset. An ambitious career woman is not what attracts good men because that doesn't meet their needs. Women are attracted to a high-powered career, money, ambition, and gravitas in a man. But men do not have the same attraction to such things in a woman. They aren't wired that way.
Ladies, if you want a good man, be up front that you want marriage and make it known that you are willing to leave everything to follow a good man. Be flexible. Be open to change in order to make a husband your priority, not just something you fit into the nooks and crannies of your life. Otherwise, if he thinks your career is your priority, he's probably going to conclude that there's no room for him and no place for him to lead and move on.
But let it be the hidden man of the heart, in that which is not corruptible, even the ornament of a meek and quiet spirit, which is in the sight of God of great price.
1 Peter 3:4