The Long-Term Consequences of the Modern Woman
The Long-Term Consequences of the Modern Woman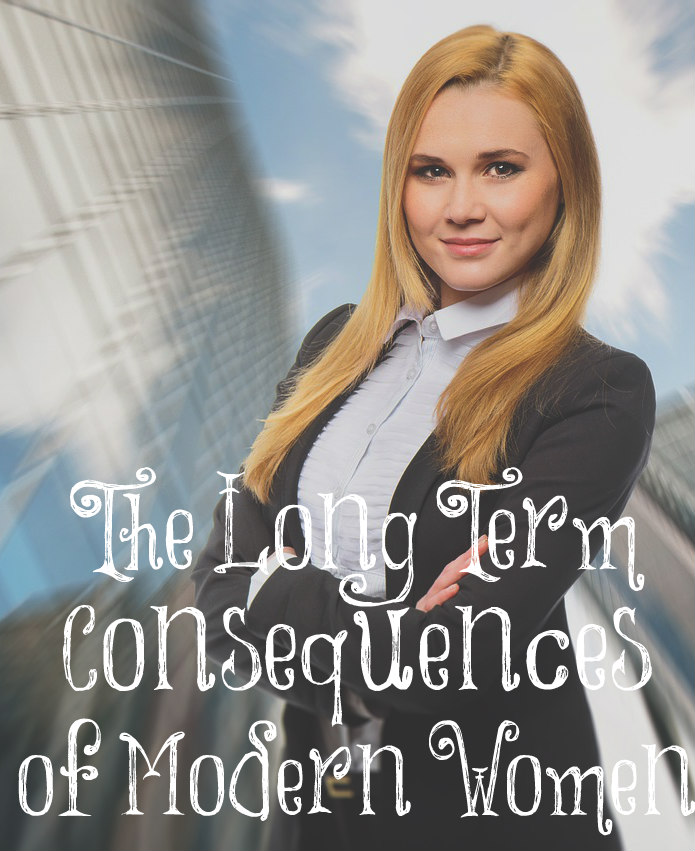 A man named Simon wrote to me and asked me the following questions:
"What are the long-term consequences of the modern woman in regards to society?"
We are already seeing the long-term consequences of the modern woman and all that we see is destruction. Divorce has sky-rocketed. Children are devastated. Women have their babies slaughtered in their wombs which contributes to our culture of death. Children aren't being raised by their mothers but by strangers instead in day care and in public schools. Church attendance is down. Many kids who are being raised in Christian homes are walking away from the faith while attending colleges which teach Marxist Feminism.
Nothing good has come from the "modern woman" and we see these modern women in the congress and how most of them are Left, meaning Marxists, socialists, Communists, which are anti-God, anti-family, and anti-traditional values. What possible good can come from women wanting to be men, actually superior to men, and wanting to do away with masculinity?
"Will men just have to accept this new normal and just adapt to high divorce rates, etc.?"
Yes, most men will because few are teaching young women the ways of biblical womanhood. If you've seen any of my social media platforms, you can see that I am ridiculed and mocked on a daily basis. Even most churches don't teach what I teach so young women aren't being taught truth anywhere these days, sadly. But there will always be a remnant who will want to live their lives pleasing to the Lord. I have many women who comment and write to me who love the Lord and His ways. I don't see how any unbelieving men can find decent unbelieving wives in this atmosphere, however, unless they find a "golden retriever" type of woman who had a solid upbringing with a loving mother and father and doesn't want to control her man. These types of women are rare.
"Will western society collapse as a result of this new perverse marital dynamic, i.e. dominant females and submissive males?"
Oh, yes, sadly. This is what God says about women ruling. "As for my people, children are their oppressors, and women rule over them. O my people, they which lead thee to err, and destroy the way of thy paths" (Isaiah 3:12). God made men to be the ones in authority and leadership. Now, we have women in leadership in every area of society, even in many churches. Women like Beth Moore are leading many women astray in her fight for social justice (which only leads to revolution and chaos) rather than teaching what God has commanded her to teach. A society can't last long once it gives up all of God's ways and turns to Satan's ways instead. Satan's goal is to kill, steal, and destroy. He is doing this to our nation and he is using women in mighty ways to accomplish his goals.
"Should single men just have to make do with the best female they can find?"
No, I don't think so. Like I wrote, there will always be a remnant. Godly men need to find godly women in order to raise godly offspring. If men just marry the best woman they can find yet she is a feminist, this will be harmful to the marriage and the children. Godly men must seek out women who love the Lord and His ways. They want a wife who will raise godly offspring for him, and they are out there. I wouldn't have so many women reading what I write if there weren't any women out there who love biblical womanhood. Just as Elijah cried out to God that there were no other people who didn't bow their knee to Baal. "I am left alone, and they seek my life." God reassured him that there were 7,000 men who didn't bow their knee to Baal (Romans 11:3,4). Praise the Lord for always saving a remnant for Himself. Find a wife who is part of the remnant.
Even so then at this present time also there is a remnant according to the election of grace.
Romans 11:5