Recipe to Heal an Unhappy and Crumbling Marriage
Recipe to Heal an Unhappy and Crumbling Marriage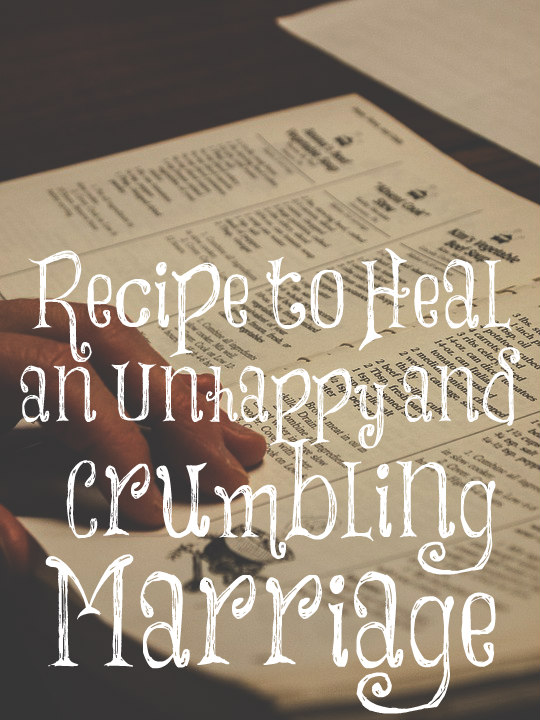 "Mother Dearest" comments once in a while on my blog. I don't know who she is but she is a wise woman! Here is another comment of hers that deserved a post of its own. It's a lesson on building up your home instead of tearing it down. It's the secret to having a good marriage.
Lori, my mother told my sisters and me about a wife who married and moved to a village where all marriages were happy but hers. For years, she tried and tried to make things work, but her husband seemed to be working against her.
At her wits' end and as a last-ditch effort, she went to consult with the oldest woman in the village (who was reputed to have been married the longest and was said to have the happiest marriage of all) regarding her unhappy and crumbling marriage. In frustration, this young wife related her tale of woe in detail to the elderly woman with nary an interruption and with many bitter tears. She told of how her husband never did this and instead always did that.
She cried as she retold all their daily shouting matches, how he was controlling and unfair, ungrateful and inconsiderate and that lately he'd taken to avoiding home as much as possible, leaving early for work and staying later thereafter. After getting it all off her chest, both women sat quietly for a while as the young wife continued to sob and wipe her tears away occasionally.
The old lady then cheerily declared that she had just the thing to solve all this woman's problems once and for all. She assured the young wife that indeed there was a secret to her own long and happy marriage and that it had worked for all the marriages in the village without fail. Needless to say, the young wife was eager to get her hands on it.
Placing a small ordinary earthen pot onto the palm of the young wife's right hand, the old woman instructed her saying that in the little pot was a small amount of water from a famed well that dried up the year the old woman was born, but her great grandmother had saved some to give to struggling young wives who were in thoroughly horrible marriages like hers and in need of desperate measures to save said marriages.
Growing very somber, and in the sternest tone she could muster, the old woman instructed the young wife to see to it that she was never without a mouthful of the precious water whenever her husband was home. Furthermore, the young wife was to see to it that she neither swallowed nor let out a drop of the water unless her husband was asleep or away from home.
At the end of the fortnight, the young wife was to return for more special water. Once more, the old woman stressed how crucial it was that the mouthful of water be held intact in the young wife's mouth the whole time the husband was "in residence" and awake. The young wife thanked her hurriedly and wondered how hard it could be to keep such simple instructions. She was anxious to see the solution at work, surely now that ungrateful, unrepentant husband of hers would get what he had coming to him, just like all the other husbands in the village had been "fixed."
That evening, she had the meal ready and kept an eye on the path leading up to their home. As soon as her husband appeared, she quickly did as she had been instructed. He walked past her in the usual way and she was aghast that he didn't say so much as a "hello" so she got ready to tell him off but for the sake of the precious water, she kept her mouth shut. She made him a plate and anticipated all his needs and comforts that evening to avoid him "starting a quarrel" because she couldn't speak.
The whole family sat down to an unusually quiet, peaceful meal and a calm night. Her husband asked her if she was poorly because she was not moaning and nagging about anything or complaining about something he did or didn't do, but she sat there quietly, seeing to the children and refreshing his cup as and when he asked.
Keeping the old woman's instructions was proving to be much harder than she had expected because her husband was being his usual annoying self but as time went by, she got better at anticipating his ways. If and when he expressed displeasure, she quietly and quickly did what he wanted because she was determined to see the fortnight through if only to inform the old woman that some men are simply lost causes.
After a fortnight of similar days, the young wife sat before the old woman regaling her with what magical powers the special water held and how her husband had showed signs of amendment from the very first evening. She further mentioned that her entire family life was transformed now: the children were mild mannered, her husband spent more time at home, he was not cross anymore. In fact, he was attentive to her, smiled, and didn't provoke her with his little annoying remarks about her moaning and complaining. He actually found ways to make life easier for her at home with ingenious handmade installations here and there.
She was surprised how much her husband knew about life just hearing him speak so often and happily the last fortnight. She was sure that with another fortnight's supply of special water, she might just succeed in perfecting her husband once and for all. At the end of her enthusiastic narration, the young wife handed over the earthen pot for a refill.
The old lady looked her straight in the eye and calmly but firmly explained that there was no such thing as special water and that the trouble was that this wife was destroying her marriage with her own mouth. Her incessant criticism, nagging, her want of gratitude or respect for her husband, her desire for her own way, and refusal to submit and listen to her husband, had been evident on that first consultation with the old woman. The water only served to keep the wife's mouth shut at all times in her husband's presence rather than to vent the first thought that popped into her mind.
The young wife was stunned, embarrassed and deeply remorseful. "So, you mean to say, all these wives in our village who are happily married…." The young wife's voice trailed off as the old woman smiled and nodded in agreement. "Yes, I taught them the same key to happiness in marriage, as I did you," the old woman patted the younger's hand. "Now you know, so go and do right by your husband. One day, you will help out a young wife, too, but only if your marriage is exemplary enough for your help to be sought after."
No wife has ever won her husband to herself by talking, preaching, scolding, or nagging him. God tells us that wives are to win their husbands by their godly behavior which includes a meek and quiet spirit. I believe having a quiet spirit includes not speaking our minds and not always having to give our opinions, but actually being quiet.
It is better to dwell in the wilderness, than with a contentious and an angry woman.
Proverbs 21:19