Fighting for Equality is Never God's Intention for Us
Fighting for Equality is Never God's Intention for Us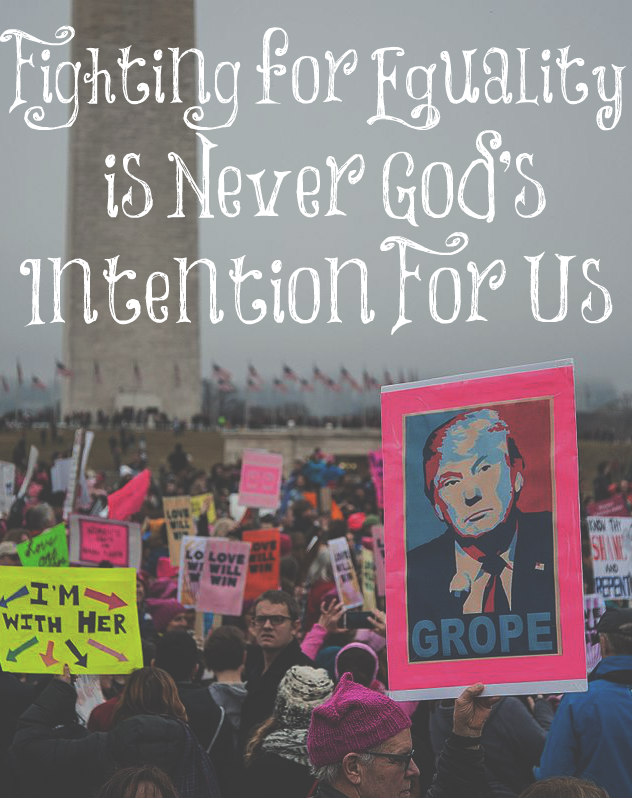 On a church sign in the front of the Knoxville Baptist Church reads a sign, "Remember, Satan was the first one to demand equal rights." Satan wanted to be like God and this desire did nothing but wreak havoc on mankind. His goal is to kill, steal, and destroy. He wasn't content with the role God created for him and wanted more. Fighting for equality with men is never God's intention for us. There's not one Bible verse that tells women to do this.
Look at Jesus Christ. "Who, being in the form of God, thought it not robbery to be equal with God: But made himself of no reputation, and took upon him the form of a servant, and was made in the likeness of men" (Philippians 2:6, 7). He left His throne on high, became a man, was crucified by the men He created, and rose again thus conquering death so that all who believe on Him will live eternally with Him in paradise. He told us that the servant of all is the greatest of all. His desire for us is to raise godly offspring which takes a lot of sacrifice. It's the least we can do for Him!
God's perfect role for men is to be leaders, providers, and protectors. He made them bigger and stronger for a very good reason. God's perfect role for women is to be nurturers, child bearers, and homekeepers. He wants them to have meek and quiet spirits that don't demand their rights. He wants them to be content in His role for them.
Feminism is antithetical to God's will for women. Did you know that before the 1920s, the average family size was six to nine children. Now, it is one to two children. Careers have become more important to women than children. Even Natural Family Planning wasn't used until 1920 or so. Before then, couples got married and knew they would have children since sex usually results in having children. Are we supposed to decide how many children we are going to have? Is this from God or from Satan?
There are many horror stories of day care centers. Mothers are the ones who are called to raise their precious children. It is a full-time job to teach them the ways of the Lord, discipline and train them, and give them the love and affection that they require. The exceptions don't negate the commands of God because God is our Creator and knows what is best for us and our children. No one can take the place of a mother in a child's life. Children need and want their mothers.
In God's economy, women were never supposed to fight for equality with men. They aren't men. They are women with different and important roles from men. If you watch the Women's March, it's a mob of angry women. Demanding equal right makes women discontent, angry, and unfeminine – the opposite of what God calls women to be; for godliness with contentment is great gain.
Are you content with God's perfect role for you? Yes, it's hard bearing and raising children but hard doesn't mean bad. Hard is God's plan for us. It's hard for men to be leaders, providers, and protectors but it is what God asks of them. When we understand who is behind the feminist plan and equal rights, as godly women, we will want nothing to do with it. We will relish God's will for us and pursue it.
I know many of you are deep in debt because you went the college route and amassed a ton of debt which keeps you from God's will for you. Others are divorced and must work to provide for their children. Some women are widowed and have no choice. Now you understand the importance of being the ones home raising your own children. You can clearly see the lies that feminism has promoted. It breaks your heart to leave your children in day care all day long. All of these don't mean that you can't strive to live according to God's will.
Read The Tightwad Gazette and learn to live as frugally as you can. You don't need all of the modern conveniences. Seek the Lord in prayer and ask Him to make a way for you to come home; for nothing is impossible with Him. Sometimes it takes a leap of faith; for we live by faith in God's provision. Pray for protection over your children daily until you can come home. Trust God to take care of your precious treasures.
We all live with regrets. Don't allow your regrets to control you life. Do your very best and leave the results with the Lord. God is in the business of transforming lives. Yes, His will is for women to marry, bear children, and guide the home (1 Timothy 5:14). Feminism has made women unattractive to most men. While you are waiting for God's perfect will in your life, be in the Word daily. Renew you minds with God's Truth.
Become the woman that God wants you to be. He wants you to be modest, cheerful, loving, kind, generous, and feminine. Grow your hair longer if you can and dress in a modest and feminine manner. Learn to smile more often, be kind and friendly, and practice not having to be right or in control. These will draw godly men to you. Marrying a hard-working, godly man will help you in your desire to come home full time. In the meantime, trust God with your life and your children.
Trust in the Lord with all thine heart; and lean not unto thine own understanding. In all thy ways acknowledge him, and he shall direct thy paths.
Proverbs 3:5-6