Freedom of Choice is the Freedom to Choose God's Ways
Freedom of Choice is the Freedom to Choose God's Ways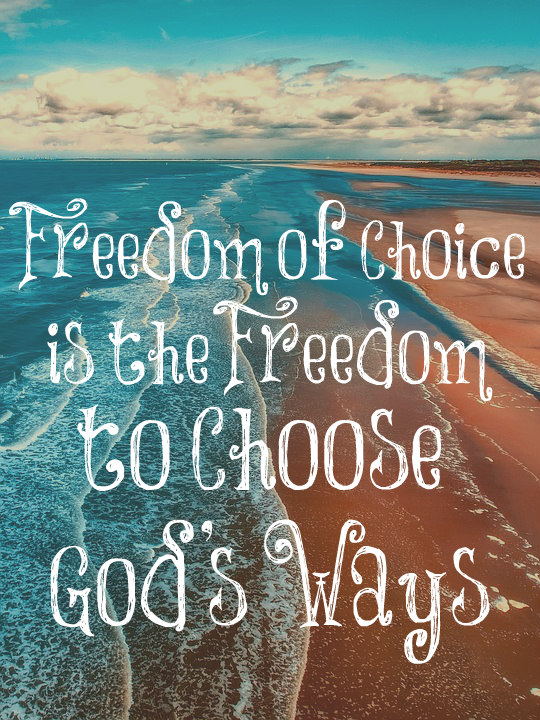 Written By Ken, my husband
With Lori's posts going viral again and USA Today and others wanting interviews, it gives me pause to consider what this is all about. Certainly I am Lori's biggest fan and love her heart for trying to fulfill God's admonition for the older Christian women to teach the young Christian women. What is always a concern is the big pushback she gets from society, and even fellow Christians who don't seem to get that what Lori is teaching is actually about CHOICE and FREEDOM. After all, is not most of life a series of choices knowing that when we make the right choices, we find the blessings that come with them, and with the wrong choices come the discomfort, suffering and heartache that can come from a life that was not well lived?
We only get one shot at this life to try and do it right. The natural process of life means that we either learn from the wisdom of others, especially the wisdom found in God's instruction manual, or we learn from our own mistakes. Lori's blog is born out of pain, real and debilitating pain. She was basically house bound for a time and wondering how God could use her, so she decided to take the things she had learned from her one-on-one mentoring of younger Christian women and pre-marital counseling and turn it into a blog. Little did we know at the time how much God would use and bless the blog as it was never her intent to be speaking to well over 100,000 a day, or to be in the news around the world for her "controversial" teaching because it went counter-culture. The idea was to simply be obedient as an older godly woman who was willing to open up her life, her mistakes, and her blessings to those who cared to learn from her wisdom.
Jesus sat in the temple and opened up the scroll to Isaiah and read,
"The Spirit of the Lord is upon me, because he has anointed me to proclaim good news to the poor. He has sent me to proclaim liberty to the captives and recovering of sight to the blind, to set at liberty those who are oppressed, to proclaim the year of the Lord's favor… Today this Scripture has been fulfilled in your hearing" (Luke 4:18-21).
Here we find the Messiah, Emmanuel, God in the flesh, who is standing in the Temple of God proclaiming the good news of freedom. One would think that the listeners would be thrilled. Who would want to continue to be blinded by the culture and the world and remain as prisoners to their own bad thinking? Surely the oppressed and the blind would want to follow a Messiah who was ready and willing to grant them freedom, but such freedom comes with a cost.
The cost was to actually open up their eyes to the things of truth that Jesus would show them and change their ways. No longer simply following along with the slippery slope of this world and its culture, but actually making new and better choices for their lives based on what God says is best for mankind. For as Jesus said, "You shall know the truth, and the truth shall make you free" (John 8:32).
For more than 30 years, I have crisscrossed the US and worked in Canada, Australia, and Europe delivering powerful management and systems information to a select group of businesses. I did not create the original content but rather inherited it at 25 years old from some very wise people who developed it, then I added my own additions and simplifications. Even as the consultant, I remain astonished by how much better results can be achieved with just a little bit of truthful information. The truth sets free doctors and teams to accomplish far more with much less time and energy.
Truthful information is powerful in many ways but what gives it its greatest power is that it offers to the listener the freedom to choose. When we do not know the truth, we have no choice but to continue to run our lives as we see life. But when God enters our lives through Christ Jesus, we take on a whole new perspective and we have a whole new set of truths to illuminate our paths and choices. Truth sets us free to be able to choose wisely. Not that we always make the right choices, not that what Lori teaches is always the truth for every woman, even as she tries to base what she teaches on God's Word. The truth is not relative, but it also is not cookie cutter as it is applied to each individual life. It is as we seek to apply God's truth to our lives that we make good choices that we believe will be pleasing to Him and in turn give us earthly blessings and heavenly rewards.
Take for instance the issue of the choices Lori writes about often, like a wife's submission and being a keeper at home. Many want to accuse her of teaching that ALL women should be following these two important biblical admonitions… ALWAYS, and this is not so. If she did not know all the potential exceptions to God's principles in these areas when she began blogging, she has now heard them all. Yes, no wife should submit to abuse, and yes, some women must work. Lori fully understands and can sympathize with those who have significant exceptions in their lives that seem to keep them from fulfilling what we see as strong biblical and natural mandates. Does not nature itself teach that a mother should be home with her very young babies?
What Lori is doing, yet is often purposefully misunderstood by her detractors, is to give Christian women the freedom to choose God's ways and design. Christian wives and moms cannot choose "to love their husbands and children, to be sober, discreet, chaste, good, and obedient to their own husbands" (Titus 2:4-5) if an older godly women does not show them these truths. We certainly are not hearing them from the pulpit anymore, are we?
This 60 year old grandma of nine who takes great care of her home, husband, and grandkids, is not forcing anyone to read her, to follow her, or to obey her. She is simply exposing a set of truths that have remained constant in the Church since its beginning until now, the modern age of feminism. Yes, the messages Lori teaches, and does so in a strong manner, are counter culture. Our culture has so dumbed-down God's mandates all the while empowering women yet not realizing that the greatest empowerment and freedom comes when the Christian believer actually believes and trusts God at His Word.
Thousands of Christian women both young and old are reconsidering the focus and purpose of their lives because one grandma decided to take God at His Word and try and explain why it is best for the family of God that wives follow God's design. The readers now have all the freedom in the world to pass on by the information, to apply parts of the information that fit their lives and purpose best, or sell out to doing things according to God's instructional and perfect manual and trust that God will be there to provide. After all, our walk with Christ is not called "faith" by accident, but it is the choosing to believe God and test Him to see if He will not keep His promises to his beloved Children.
Here is the bottom line if you still don't get it. Lori and I are encouraging you to stop looking at your own reality and begin to adopt not part, but all of God's reality found in His many promises.  When we step out in faith believing what God says to be true, only then can He prove to us that He is indeed a promise keeper. Look to the Bible and see that the lives of believers were never easy, but in each and every case, God kept His promises. Some of these promises are slow in coming, and some may take years or even eternity to come true, but we who have put our trust in God know Him to be true. If He is not true and trustworthy, how can we believe Him for our great salvation?
Our Father in heaven is not in the business of making our lives more blessed, although He blesses us.  No, He is going about the job of making His children into heirs who will rule the universes with His love, joy, peace, and patience. Not simply with all the fruit of the Spirit, but actually having God's Spirit Himself living within us!  "For the just shall live by faith" (Hebrews 10:38) and "without faith it is impossible to please Him" (Hebrews 11:6).
Join me in choosing the life God says is best for you and me. A life He promises will be a abundant and free as we walk in the Spirit of the life of Jesus flowing in and through us. When you doubt if you can fulfill God's admonitions, don't fret if you try and fail. Remember that much of what Lori is teaching comes out of her own mistakes and heartache. I am the guy who had to try and patiently put up with a contentious wife for many years, but I can also tell you it was all worth it. Lori wants to try to spare other women from the heartache she, at times, still wishes that an older, godly woman would have spoken these truths to her at 22 instead of learning the hard way through physical pain.
The moment Lori decided to believe God at His word and to trust that she is a new creature in Christ, dead to sin, and alive in Christ Jesus, it was then that the promises of Jesus for spiritual and relational healing began to come true for her. In some ways it happened overnight, and in some smaller ways the struggles to believe God fully at His Word lingered.
It's okay if you are a working mom.  It's okay if you want to go to college. It's okay if you struggle at being submissive to your husband or even respecting him. Lori knows firsthand how hard it is to step out in faith and give up the job and come home to two clingy crying babies, but in retrospect, she wishes she had never worked at all. Lori is not trying to dictate every woman's choice, but she does feel passionately about the things she sees in God's Word that are regularly being violated by the Church. If you feel you are being called to go to college, or become a professional, then use your freedom to choose with a clear conscience before the Lord knowing what He has asked most wives and mothers to do.  Allow Lori to be a champion for keepers at home helping them to feel good about their choices without every woman who is not choosing to stay home feeling put down by a grandma's blog post.
As the apostle Paul wrote in God's Word, "For freedom Christ has set us free; stand firm therefore, and do not submit again to a yoke of slavery… For you were called to freedom, brothers. Only do not use your freedom as an opportunity for the flesh, but through love serve one another.  For the whole law is fulfilled in one word: "You shall love your neighbor as yourself" (Galatians 5:1, 13-14).
If you are using your freedom to make selfish choices, you are not fulfilling the purpose for why God has set us free. We have been set free from the yoke of sin in order to fulfill the law of righteousness and to say "no" to self, and "yes" to God's ways of being focused on the best interest of others, especially our family. This idea that women are empowered is great, but empowered to do what? To make the right choices for their lives. For the Christian, we are empowered by the indwelling of God's Spirit who leads us and guides us by God's Word to choose wisely, to choose life over death, and a walk in the Spirit over walking in the selfish flesh.
So ask yourself, Christian, are you free or are you in bondage, following along with the ways of this world and a culture that is all about me, me, me? If you are going to college or working for the glory of God and feel that God has your family safe and secure without your full-time focus upon them, then that is your choice. Whatever you have decided, be sure that your own conscience supports you in it. But also don't be offended when someone like Lori, or your pastor, challenges you to try and consistently work towards God's ideals.
We can work now but plan for a future when we have enough resources to have mom at home full time. We can plan to cut back at work so mom is home more and making greater investments in the lives of her children. Wherever we are at, God will meet us there, but please don't try and quench the Spirit or the message of God's Word just because at this time your life does not fully match up. Hey! We are all a work in process, and it is God's job to mold us and make us like Jesus, but we must be free to be willing cooperators.
As the seasons come and go… moment by moment … choose to walk in the freedom God has given us in all the peripheral things of life, but make good choices that conform to God's will found in His Word. If your conscience does not fault you, then neither do we. After all, this is between you and the Lord and your family. We just want the very best for you. Don't fault us for trying to stop what we see is far too many Christians running headlong into the culture of our times yet not finding the abundant and free life Jesus promises because they are truly not yet free.
If your life does not look very different from that of the rest of your unsaved friends, you must ask yourself where is the transforming life of Jesus that promises to set us apart from the world? We want to walk in the joy and peace that only God can give us when the life blood of His Son is running through every part of our lives. All is offered up to Him: our body, our ego, our jobs, our spouse, and our family, all handed to God who then hands them back to us and asks us to walk in His ways.
If you then be risen with Christ, seek those things which are above, where Christ sits on the right hand of God. Set your affection on things above, not on things on the earth.  For ye are dead, and your life is hid with Christ in God.  When Christ, who is our life, shall appear, then shall ye also appear with him in glory.
Colossians 3:1-4