Freedom to Be Home by Being Debt Free and Living Frugally
Freedom to Be Home by Being Debt Free and Living Frugally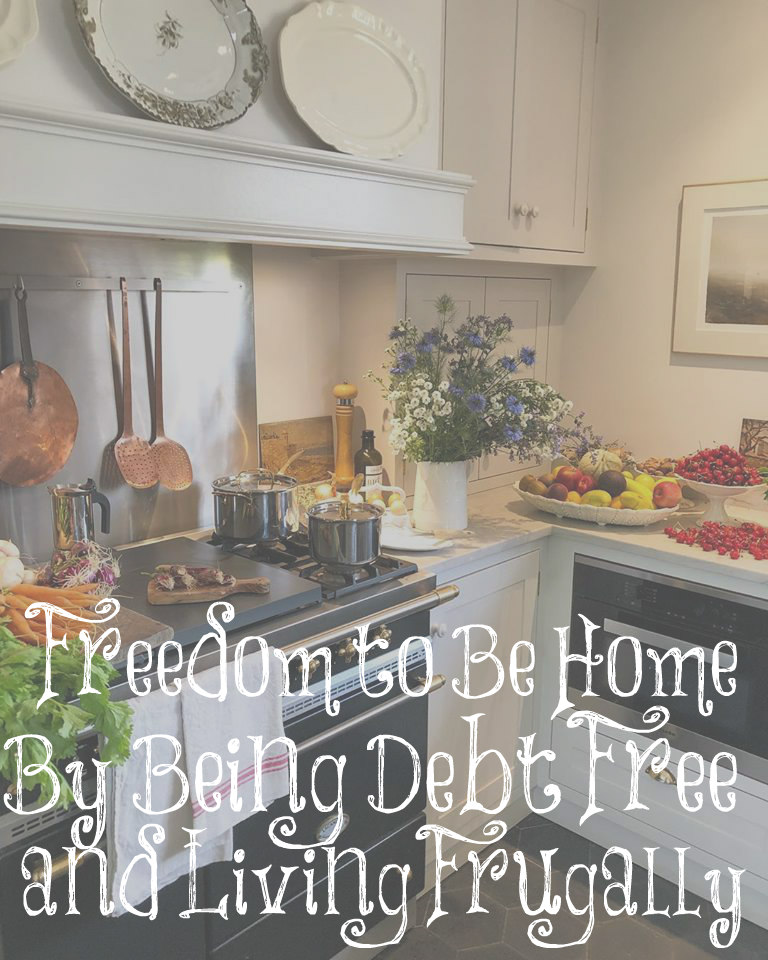 Many couples are in bondage to debt due to college, credit card, and home loans. Most are told that a couple needs two incomes to survive, therefore, a mother can't possible be a keeper at home and have a large family. Here are two women who have proved otherwise! The first one is by Amy Dacyczyn who wrote the book The Tightwad Gazette which I highly recommend and the second one is by Tamara Linkowsky.
"The change occurred when I got married and began to pursue my dream. I had always wanted a large family and a rural pre-1900 New England farmhouse (with attached barn). I had a crazy notion that I could have both without the two-income/daycare frenzy that has become the norm for the modern American family.
"Our first child was born nine months (and 15 minutes) after the ceremony. I set aside my career in graphic design to be a mom. It was during this time that I discovered daytime talk shows and first heard the commonly held myths expounded by intelligent audience members.
'Nowadays, a family has to have two incomes to make ends meet.'
'Nowadays, it is impossible for a young couple to get into the housing market.'
'Nowadays, families cannot afford to raise more than two children.'
"As if the message could magically be shot back through the television tube, I raised my fist and shouted, 'It is not true, it can be done.' And so began my quest…to prove that it could be done…that it was still possible to raise a large family and buy a house without two full-incomes.
"Saving money rather than earning money became the means to my goal…Over the years, our average income has been less than $30,000 (including my husband's Navy salary and all allowances, plus my spotty free-lance income). In less than seven years, we saved $49,000, made significant purchases of $38,000, and were completely debt-free!"
Just a week or so ago, a 19 year old woman was killed in a car crash. She was one of ten children and comes from a God-fearing family. Many of you most likely have heard about this tragic story but also how this family is using it to bring glory to the Lord. I wanted to share what Corinn's mother, Tamara, shared on Facebook the other day in hopes of encouraging some of you who don't see a way for you to come home full but with God ALL things are possible.
"Dear Friends, God has put on my heart to share this with you. We have always told Genavieve [one of their daughters], 'When God gives you a platform it is for His glory and His alone'…now it's our turn. Regarding finances, we went from two incomes to one ($11,000 per month to $3,000 per month), from two kids to ten, from being over $200,000 in debt to being debt free, and today we give more than we gave when I was working. We prayed very specifically 'Lord, if you get us out of debt we will give more to missions.' That is exactly what happened. I am sharing this to say our lives don't make any sense. From beginning to end, our story is a God story. It was hard, and we had to sell our house but we started with a 1,300 square foot house full of debt to living in a 5,200 square foot house today debt free which gives us the freedom to be more generous in our giving.
"Our bank account is not large by any means. We thought we were going to transfer Corinn to U of M and the hospital told us if that happened the expense would most likely be on us with a minimum of $17,000. This is when we opened the gofundme. The funds came in quick…real quick. I'm SOOOO thankful for the love people show us. When she was refused the transfer,we shut down the gofundme. People kept messaging us asking us to reopen it because they wanted to help and this was the only way they knew how. So we did.
"I am sharing this to say this. God does not want ANYONE giving by compulsion (2 Corinthians 9:7). God loves cheerful givers. There are going to be charity events because other people are asking us to do them. They want to do that for us but PLEASE do not by any means feel obligated to give. We still don't know what our expenses are going to be and either way God is and will continue to take care of us just as He will show us the next step.
"If anything, if you have a bit of money please go to IBLP.org and buy the Jim Sammons Financial Freedom Seminar [which is far richer with scripture and biblical support than Dave Ramsey]. God will use it to teach you MUCH about marriage, family, and finances. It is a 16-hour seminar on DVD. This is what God used to get us out of debt. It is very different from Dave Ramsey. We had to make some very hard decisions and do some very hard things but God delivered us from debt. If there is anything Craig and I would like, it would be for you all to watch and live out these videos and then see the mighty hand of God upon your life as we have seen on ours."
For with God nothing shall be impossible.
Luke 1:37