Freedom to Celebrate Christmas
Freedom to Celebrate Christmas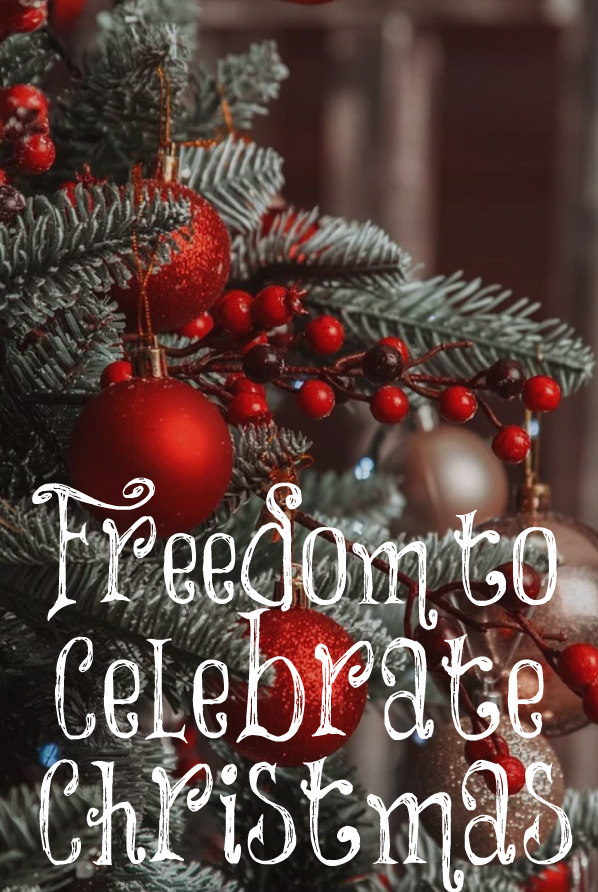 This was written by a woman who I follow on Instagram. She's taking a break but I thought her words are so powerful that I am going to share them with you.
Sweet friends, the last few days have been so heavy and hard for me. Multiple time, due to messages I've received, I've considered closing up "shop" and walking away from this space all together. But it is not man I fear, but God alone, and so I'm going to share my heart on a topic that's been weighing heavily on me.
The other day, I shared about my desire to decorate for Christmas early. When I shared that, I knew it was a polarizing topic. I meant the idea of decorating in October verses more transitionally after Thanksgiving. I had no idea what would happen next…
The messages I received implied it was satanic to celebrate the pagan holiday of Christmas, and that "if I was truly a believer," I would celebrate the Biblical feasts instead.
If you're not familiar with the Biblical feasts, these were given to the Israelites as part of the Law in Leviticus and Deuteronomy; all of which contain aspects of prophesy that would ultimately be fulfilled in Jesus.
I have to admit, I was wounded and completely taken back by the harsh accusations and spent the next several days in prayer, searching the Scriptures once again, and seeking counsel from my husband and fellow believers.
Now, I will share why our family has decided to continue to celebrate Christmas. I don't share this as a judgment. I don't share this as condemnation if you feel God has convicted you otherwise. I don't share this to be a stumbling block. I simply share this because it feels completely impossible for me to hide our celebration of IMMANUEL like it's a dirty secret.
I believe the Law was given simply to make evident our sin. The Law was unable to make us righteous, but rather produced death and bondage due to our own inability to uphold the Law or meet its requirements.
I believe the Law was given, simply put, to show our depravity, our inability to attain our own righteousness in the eyes of a Holy God, and thus, our need for a Savior as stated in Romans 7 and 8.
If WE couldn't attain righteousness on our own, and were in bondage to sin and death because of the Law, THEN WHAT?
Enter: Jesus.
The Perfect Lamb of God – given as a ONE TIME atonement for our sins. Sent to earth as God incarnate, not to abolish the Law, but to fulfill it.
"I did not come to abolish the Law, but to fulfill it" (Matthew 5:17).
JESUS WAS THE ANSWER! We are now under a NEW Covenant! (Hebrews 7-10)
Fast Forward:
Jesus was born.
Jesus died.
Jesus rose again.
For those who have put their faith in Jesus Christ, His death and resurrection set us FREE from the bondage of sin and death, and He has made us FREE INDEED!
We now stand without blemish and fault before a loving and holy God!!! By no merit or work of our own, but by the free gift accomplished on the cross!!!
HALLELUJAH!!!
Jesus – the Messiah – the One every fiber and aspect of the Old Testament pointed to and spoke of CAME!!!
JESUS DID IT ALL!
THAT'S THE GOOD NEWS OF THE GOSPEL!
JESUS!!!
Please hear me. I do not believe there is anything sinful or wrong with celebrating the Biblical feasts, but I do believe, as Colossians says, that they were/are but a mere shadow of the things to come, and that the reality came in Christ.
"But what about the Pagan roots?"
Many, many, many things have pagan roots, but that does not inherently make the celebration of  the birth of Jesus pagan. In our home, it does not include Santa Clause, elves, or anything of the like. In our home, Christmas is a time we set apart to REJOICE at the birth of our SAVIOR. The LIGHT OF THE WORLD. The ONE WHO CAME TO SET HIS PEOPLE FREE.
We are, as the angels in Luke 2, moved to praise God and say, "GLORY TO GOD IN THE HIGHEST!"
Christmas is not an idol in our home. Christmas is not pagan in our home. Christmas is a celebration of our LIVING HOPE. We will continue to celebrate the birth of our Savior. IMMANUEL – God with us. If it weren't for Jesus' birth (and eventual death and resurrection), we would still be held in bondage to sin and death. I will take any opportunity I can to celebrate that that is no longer the case because of Jesus Christ ALONE!
I'm not asking that you agree with me. I'm not condemning you if you feel otherwise. I'm just sharing that in our home, we do, and will continue to celebrate the very reason we have for the Hope that I profess.
And she shall bring forth a son, and thou shalt call his name JESUS: for he shall save his people from their sins.
Matthew 1:21