Many Men Don't Want to Marry
Many Men Don't Want to Marry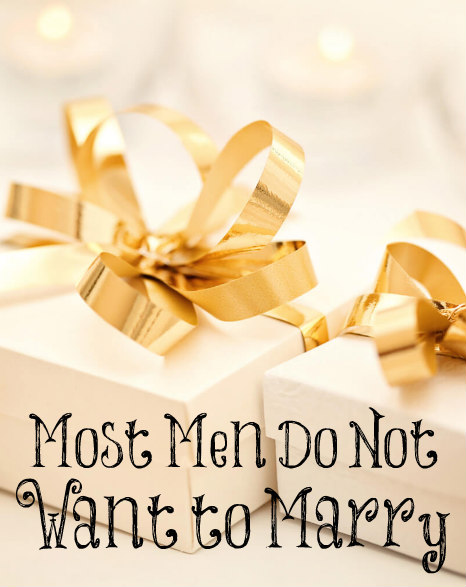 There's an article from Evie Magazine titled Millions of Men No Longer Want to Get Married and You Can Thank the Government for That. I want to address a few things in the article since it's what I teach about.
"Marriage is on the decline, and it's a scary thought. Imagine dating a man for years, cohabitating, and giving the relationship your all without him ever having to 'put a ring on it.' No matrimony, no wedding dress, and no big celebration with family and friends. What about the thought of having children without marriage?"
There's a simple solution to this problem, women. Don't date a man for years. If he isn't willing to marry you after at the most a year, go on with your life. You want a man who is willing to commit to you for life. Secondly, don't cohabitate with him! Don't have sex with him. If you're having sex with him, there's a good likelihood that you will have children with him. This is a disaster! Why should a man marry if he's getting all of the benefits of a wife for free without any commitment? Be wise and stay a virgin until your wedding night. A godly man will want a wife such as this.
"It's fine if you don't believe in marriage, but the rest of us do. Most women look forward to tying the knot with the man of their dreams, but what will happen if millions of men refuse to get married? This is what's currently happening in America and many other parts of the world."
Millions of men refuse to get married because they don't need to. They don't need to get married to have sex. They don't need to get married to have a family to provide and protect. Feminism has given women freedom to have sex whenever and with whomever they want. It's also forced women into the workforce so that they no longer need to be dependent upon men.
Moral of the story? Don't have sex until marriage as I have already stated. Don't spend a ton of money that you don't have to get a degree that will cause you to stay in the workforce long after marriage to pay off your debt. Plus, many men want their wives to work if they make good money. Find something creative to do before marriage that doesn't require an expensive degree and doesn't make a ton of money. "Career women" isn't a biblical concept.
"Philip Cohen, a sociology professor at the University of Maryland, says, 'Women's independence and gender equality is a huge factor in the long-term decline in marriage.'" Both of these issues were manufactured by the feminist mantra. No, we aren't the same. We have different but important roles. God commands women to be keepers at home and men to be the providers and protectors of the families. This is good!
"There has also been a rise in men's rights groups such as Men Going Their Own Way (MGTOW) and the Manosphere, where men in droves complain about men's unfair treatment in relationships and family courts. They're tired of being brow-beaten by women and the gender bias laws against men. For this reason, millions of men are opting out of marriage altogether."
This is something that we have no ability to do anything about except to marry a godly man and commit to being a godly, submissive wife. Stay married until death do you part. I have four children in their 30s. They're all married. Yes, there are men who still want to marry, and there are women who want to be godly wives. There will always be a remnant, but we can't allow the government stop what God has ordained.
Yes, men lose a lot of money in a divorce and women initiate up to 80 percent of the divorces, but we don't stop obeying God. I believe the biggest problem among Christians is a lack of older women in all of the churches teaching biblical womanhood to the young women. No, instead the young women are learning from female preachers/teachers who teach nothing about biblical womanhood. Young women need godly wisdom badly. The churches need young women who are committed to living in obedience to God and His clear commands to them. This would prevent divorce in most cases.
I believe it's feminism not the government that is the cause of most men wanting to divorce. If women are not contentious, argumentative, and mean but instead feminine, kind, loving, soft-spoken, classy, modest, hard-working, wanting a family, loving home and being a homemaker, and deep lovers of God, then men will want to marry these women. Most men still want a family. It's just that so many women are so unappealing because of what feminism (ie. sin) has done to them. The Bible tells us that he who finds a wife finds a good thing! Be the kind of wife that a man will desire to marry, then trust God's timing and will in your life.
Whoso findeth a wife findeth a good thing, and obtaineth favour of the LORD.
Proverbs 18:22