Gender Equality in the Home?
Gender Equality in the Home?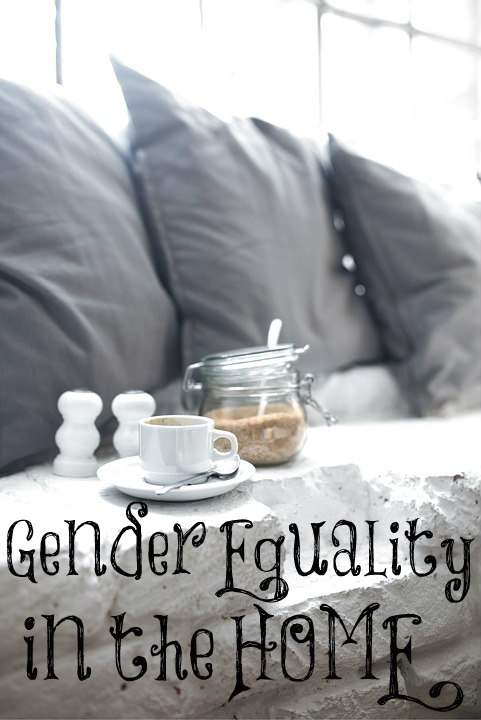 "MenCare, a fatherhood campaign working toward child-care parity in 45 nations, estimates that at the current rate of change, it will be another 75 years before women achieve gender equality in the home —a more optimistic figure than the 200 years the United Nations International Labour Organization predicted in March…Mothers remain more likely to miss work to tend to sick kids, to spend time with kids in the absence of another adult, and to maintain overall responsibility for managing the details of their children's lives." Hmmm, I wonder why this is so? Their solution? Don't be grateful for a husband who helps around the home and childcare because "this is an impediment to the elusive goal of equality in the home."
The title of the divorce supporting article is called Mothers Shouldn't Be Grateful That Dad Does His Share. Therefore, women should not be grateful if their husbands help them at home and instead do anything they can (manipulate, quarrel, and be contentious) in order to make their husband help them equally. This is a perfect recipe for divorce and unbiblical in every way.
The only way to have gender equality (sharing housework and childcare equally) in the home is to not marry a man nor live with a woman (since even female roommates argue about who should do what) and live alone with your cats instead. These feminists don't understand that there will NEVER be complete equality in this world no matter how hard they fight for it. Men were created differently than women. God assigned men and women different roles according to how He created them. They are fighting their Creator and His created role for them.
Besides, didn't these women ever have a lecture from their mother or father that life isn't fair? It never will be while living on the earth and ingratitude about this fact will simply make oneself and those around them miserable. Unthankfulness is one of the first qualities listed in Romans 1 that eventually leads to a reprobate minds. This article is pure foolishness and leads to the destruction of marriages and families.
God created gender roles for us because He knows that if they are followed and obeyed, there will be peace and order in the home. He created men to be the providers and the women to bear children and be keepers at home. It's His perfect plan for us, women. If you are constantly upset with your husband because he is not helping you enough, you are tearing your home down with your own hands. Be appreciative and thankful for every thing he does and if he is a good provider, be especially thankful for this!
Every wise woman buildeth her house: but the foolish plucketh it down with her hands.
Proverbs 14:1