Stop Looking Back!
Stop Looking Back!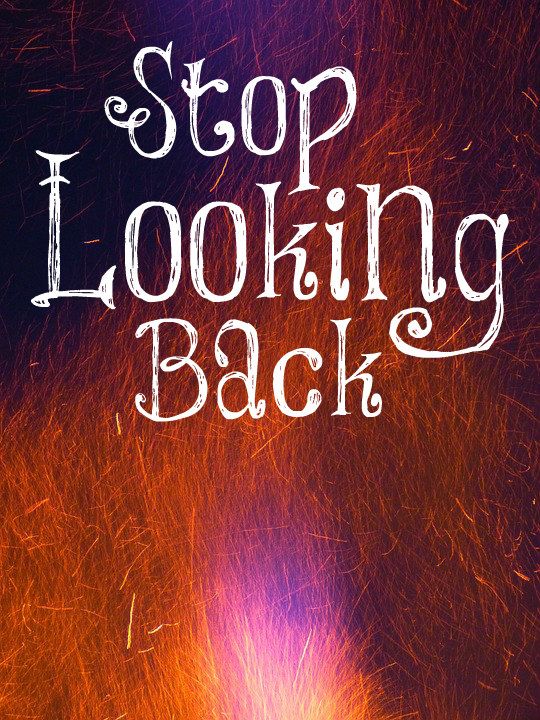 Nancy Wolegmuth from Revive Our Hearts did a study on Lot's wife and the second shortest verse in the Bible; "Remember Lot's Wife" (Luke 17:32). It's a great study and I encourage you all to listen to it! After I listened to it, I decided to do a short study on my own.
Angels came to Lot, his wife, and two daughters and told them to flee Sodom and Gomorrah before God rained fired and brimstone upon the cities and completely destroyed them and all who were in them. The angels gave them this warning so they would not "be consumed in the iniquity of the city" (Genesis 19:15). When the angels led them out of the city because they "lingered," they were then cautioned, "Escape for thy life, look not behind thee…lest thou be consumed" (Genesis 19:17). "But his wife looked back from behind him and she became a pillar of salt" (Genesis 19:26).
In Luke 17:32, we are told to "Remember Lot's wife." I checked out a few of the old commentaries to see what they had to say about this verse and here's what Matthew Poole's Commentary had to say, "God turned her into a pillar of salt. It is a dreadful caution against unbelief, disobedience, worldly mindedness, contempt of God's threatenings, and keeping a love for the forbidden society of lewd and wicked persons."
Lot's wife didn't believe God just as Eve didn't believe God. They both disobeyed Him and suffered terrible consequences. They had their minds on the things of this world instead of on the Lord and His ways. Many Christians today have one step on this earth and one step in eternity. They say they love the Lord but they don't want to give up their worldly ways. They are seekers of pleasure rather than seekers of God. They continue to be entertained by what the world is entertained by instead of dwelling on the good and the lovely (Philippians 4:8). They only care about the here and now and whether or not they are happy or not. They keep looking back. They don't remember Lot's wife.
Many don't take God's threatenings seriously. Wives don't think that Satan may tempt their husbands towards sexually immorality if they deprive their husbands sexually (1 Corinthians 7:5). Many young people don't believe that they will reap the consequences of their fornication in their own body (1 Corinthians 6:18). Most egregious of all is that most don't believe in God's wrath and eternal damnation if they don't repent and believe in Jesus Christ (Revelation 21:8).
As believers in Jesus Christ, we are not this way. "If ye then be risen with Christ, seek those things which are above, where Christ sitteth on the right hand of God. Set your affection on things above, not on things on the earth. For ye are dead, and your life is hid with Christ in God. When Christ, who is our life, shall appear, then shall ye also appear with him in glory" (Colossians 3:2-4). We live with eternity in our vision. We desire more than anything to please the Lord in everything even if it means suffering. 
We live our lives in loving and serving others. We know in this way that we are storing our treasure in heaven. We know that the "mundane" things that we do in the home (housework, cooking, shopping, caring for children and husband, hospitality, and many other things) are pleasing to the Lord and what He has called us to do. We know that when we are loving and serving others, we are loving and serving Him. It's the least we can do for all He has done for us.
Unlike Lot's wife, we believe in Him and obey His commands, we have eternity on our minds (we look forward), we believe that God means what He says so we trust that His threatenings will happen if we disobey, and we have no pleasure in the society of lewd and wicked persons. We walk with the wise instead and we want to be "wise unto that which is good, and simple concerning evil" (Romans 16:19). We will have "no fellowship with the unfruitful works of darkness, but rather reprove them" (Ephesians 5:11); for we want all to come to the knowledge of the Lord Jesus Christ.

But grow in grace, and in the knowledge of our Lord and Saviour Jesus Christ. To him be glory both now and for ever. Amen.
2 Peter 3:18