Questions Asked of Me
Questions Asked of Me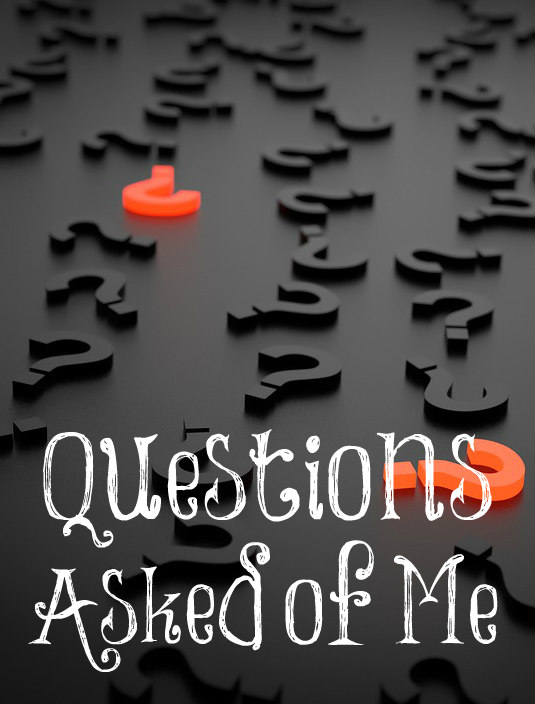 A woman wrote an email asking me these questions so I thought I would make a blog post out of them.
1. What do you think of infertile women who choose to have a career because they can't have children?
It's not what I think; it's what God commands. Just because a woman is infertile doesn't mean she has to have a career. There were many women in the Old Testament who were infertile for a long time (Sarah, Rebekah, Rachel, Hannah), yet not one of them left their homes all day and worked for a boss. They were help meets to their husbands and waited upon the Lord. Women were created to nurture, not have careers. This is why infertile women grieve so deeply when they can't have children. Here is a post for barren and infertile women.
2. What do you think of women who choose not to have children because they have a history of miscarriages in their family and don't want to go through that pain?
I would encourage them to trust in the Lord. Just because there is a history of miscarriages in their family doesn't mean that these women will have miscarriages. We must not live our lives by fear but by faith, knowing that whatever we go through, God will work all things together for good to those who love Him and are called according to His purpose (Romans 8:28).
3. What do you think of women who believe that God called them to have a career and not have children?
God doesn't call any women to have a career. You can't find one verse that states this. He calls them to marry, bear children, and guide the home (1 Timothy 5:14) and to love their husbands and children and be keepers at home (Titus 2:4, 5). The unmarried are to be holy in both body and in spirit. And no, the Proverbs 31 woman wasn't a career woman. She was known for looking well to the ways of her household, not going to a job each day, putting her children in the care of others, and working for a boss. She made some things at home and sold them. This doesn't make her a career woman. This a modern day fable made up to justify career women.
God would also never call women to intentionally not have children. He created women to have children! Look at their bodies. It doesn't take a rocket scientist to figure this out. He calls children blessings and wants us to be fruitful and multiply. He has never taken this command away. God's will for married women is to have children.
4. Do you think that God could have given some women less meek and more boisterous personalities?
God gives us free will. Are we going to live for Him and obey Him, or are we going to go with our natural bent which is usually opposite of God's will? He wants women to have meek and quiet spirits. Those with boisterous personalities need to learn to tame them. It doesn't mean that they can't laugh, have opinions and discussion, and enjoy life. It means they don't dominate conversations and insist on being right and don't act and dress in a way to be noticed by others. They do think before they speak, and discipline themselves to be kind and loving in all that they do and say.
5. What do you think of female representation in the media: characters such as Captain Marvel, and Rey from Star Wars?
I haven't watched any of those shows but I am sure it's in order to make women look superior to men, therefore, I am not a fan. Feminists don't like acknowledging the differences between the sexes. Men are generally stronger, faster, taller, and have ten times the testosterone than women have. God made men to be the protectors and providers. He had men over 20 years and older to go to war (Numbers 1:45), not women. Women and children have always been the ones who were protected up until recently. God calls women the weaker vessel for a very good reason.
6. What if a woman were able to achieve a career and not have children, and still be glorifying God in the process?
Achieving a career is NOT the be all and end all for women as our culture makes it out to be. God's curse to men after the Fall was that they would "toil in the soil" all of their days. They were the ones commanded to work hard for their families and others. Women's curse was to have pain in childbearing. If women can't have children, there are still many ways they can contribute to society without having the stress and burden of having a career.
Yes, some women need to work because their husbands want them to and others have no choice (divorced and single women) but even to those, I encourage them to seek the Lord in prayer and ask Him to make a way for them to come home full time and get out of the rat race; for with God ALL things are possible. There are many who need the nurturing, gentle touch of women in their lives (neighbors, church members, young mothers, old and sick people, children whose mothers works, to name a few), yet few are available because they are in the workforce.
7. What do you think of women who use birth control for health reasons such as endometriosis?
Birth control doesn't heal endometriosis. As Dr. Jolene Brighten wrote in her book Beyond the Pill, "Did you know that women on the pill are more likely to be prescribed an antidepressant? That they are at significantly increased risk for autoimmune disease, heart attack, thyroid and adrenal disorders, and even breast and cervical cancer?" The birth control pill, along with most birth control contraptions, are dangerous to women's health. Those with endometriosis and other conditions, I encourage to seek out a Naturopath and get to the root of their problems so they can heal.
8. What do you think of fathers who train their daughters to get careers, but also tells them it's okay if they become housewives?
My dad was this way. He raised us to have a career, even though my mom never went to college and she never had a career. He never wanted her to have a career. He wanted my mom home raising his children. We all did have careers that were easy to quit once we were married/had children and we all did. The difference from then to now is that none of us had debt when we were finished with college. It wasn't expensive back then so it was easy to quit. We didn't have to keep working to pay off the debt, thankfully.
If a dad wants his daughters to pursue careers, I hope he pays all of the college bills so that they can be home full time when they get married or have children. It's a huge blessing to be home full time. Women write me frequently or tell me in the comment sections of my social media how thankful they are to be home. Many grieve over how they were deceived by the feminist movement and can't be home full time because of all of their debt. Don't make the same mistake, young women!
"I hope these questions where clear enough. Thank you for taking the time to look at these!"
You're welcome!
Let your speech be always with grace, seasoned with salt, that ye may know how ye ought to answer every man.
Colossians 4:6