Help Your Husband Be Chaste
Help Your Husband Be Chaste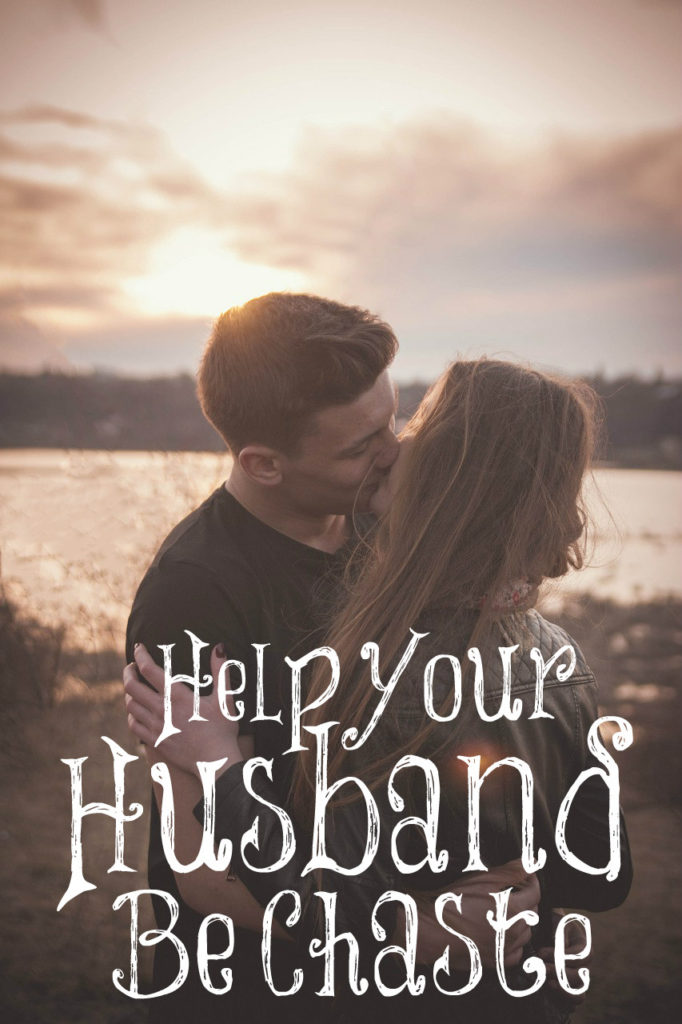 This post was written by two men who commented on my post Women Withholding Sex From Their Husbands. I believe it's good to hear how some men struggle who are married to women who routinely deny them sexual intimacy. Please, don't be one of these wives.
Being a man I will just say that I think this article is very well written AND I will add one big Caveat (especially for women like Brittany who are struggling with a husband who seems disconnected and/or not interested in sex).
CAVEAT:
It's important to keep in mind that we live in a digital age when and where men can very easily (and literally) take matters into their own hands and turn to pornography and masturbation as a means of satisfying their need. The videos were legitimately endless and I had noticed that over time a man can become addicted to pornography and/or masturbation to the point that normal sexual relations with his wife no longer appeals to him the way it did in the beginning. Many men today experience erectile dysfunction (that is more mental than physical) because they have become accustomed to pornography and/or masturbation. I know because it happened to me.
It wasn't until I quit looking at porn and masturbating that I got back my passion for my wife. Now that I have stopped looking at pornography and stopped masturbating (yes, I am serious) I am dealing with the very problem that this article addresses. I no longer resort to satisfying myself and instead only get relief OCCASIONALLY (sometimes only once a month) when my very distracted wife feels like having sex. That is what led me to this article. I was hoping to find an article that specifically addressed a Christian woman's responsibility to care for her husband's sexual drive (which can make it difficult for a man to live a chaste and holy life).
So if you are a Christian woman reading this and you sincerely care about your marriage, please try to help your husband to be chaste by actively seeking to keep him satisfied.
I can tell you from personal experience that it is VERY difficult to remain chaste and faithful when my need is only satisfied once or twice in a month. It was MUCH easier when I was satisfying myself regularly through porn and masturbation (yes, I know that is an oxymoron but at the time I didn't view porn or masturbation as being unfaithful but now I do).
Now that I have chosen chastity over sin, it is so VERY difficult. I feel constantly in need. My wife has no idea just how difficult it is. How many wives wish they had a chaste husband who NEVER looks at porn or masturbates and just wants to have passionate sex with them every day and night?
I want to be with her constantly and VERY badly but she just isn't interested. I hope this will be helpful to someone. If your husband isn't showing an interest, it could simply be that at some point in the past he got tired of not having his sexual needs addressed and took matters into his own hands (literally). If you want to get him back, it will take time and patience and at some point you might even have to openly address whether or not he has turned to taking care of himself and possibly even looking at pornography.
For me, if I wasn't a devout Catholic I know that I would be handling things for myself on a daily basis but I have come to believe that ANY sex outside of marriage (including sex with myself or my hand) is sinful; it is not what God created me (or my beautiful wife). The ONLY sex that is right before God is sex with my wife. One man and one woman.
I hope and pray that someday she sees an article like this and realizes what I am going through. Until then I will feel this intense need that nags at me constantly, every minute of every day. The enemy knows that I have chosen love for Jesus and my wife over satisfying my flesh and so many temptations come my way but I love Jesus and my wife and kids and will continue this struggle in faith. Hopefully this helps someone.
God Bless.
This comment is from Tiny Tim:
Thank you for this article. As a Christian man married to a Christian wife for whom sex is not important to her, I can speak from experience that you are 100% correct in how you express the effects of a sexless, Christian marriage on the husband. A "good year" for us is only two to three times a year, always at her convenience. I do a mountain of chores around the house and have tried to be a better husband to her in all ways I think of (including the many "list" articles on websites about all the ways men need to act differently), but to no avail.
To make matters worse, I have yet to hear any teaching in the church that puts any responsibility on the wife. We brow beat the husbands to death, with lessons and dire warnings on not straying, not looking at another woman, etc. And that's great and Biblical, but that's where it stops. No teaching for the wives on why abandoning the husband is not acceptable. What is a Christian husband to do when the only person that I can look at/enjoy without stepping outside God's loving boundaries wants nothing to do with me in this regard? I'm starving, and suffering all of the emotional hardships you write about. To be fair, she shows her love in many other wonderful ways, and I appreciate them fully (and tell her so).
Stop depriving one another, except by agreement for a time, so that you may devote yourselves to prayer, and come together again so that Satan will not tempt you because of your lack of self-control.
1 Corinthians 7:5