Her Advice to a New Wife
Her Advice to a New Wife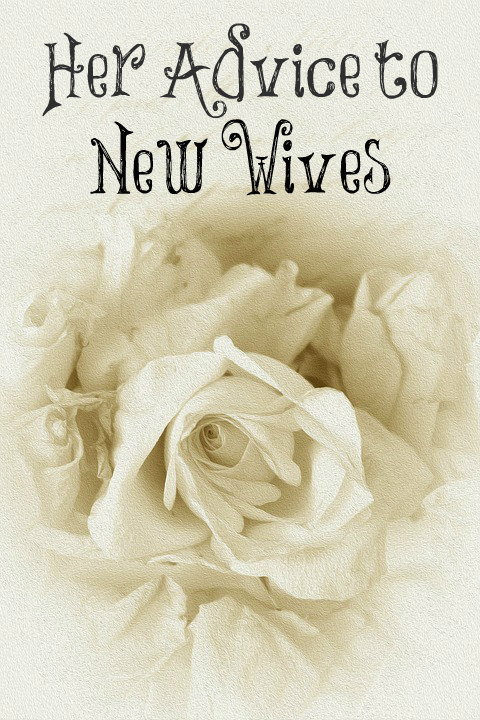 Written by Celina Eve
When asked by a new wife what your advice is to her, what do you say? These are the ones that come to mind after 22 yrs of marriage. What would you add?
1. Never say no to sex. It's the glue that will bond you together through thick and thin. Even on the days where you're not into it, put your husband's needs above your own. You'll be glad you did in the long run.
2. Take a humble place in your marriage and submit to your husband's headship. Discuss things once and then then let him have the final say. Respect him. Build him up to others. Never tear him down. Be sweet towards him and hold your tongue. Pray daily for him and don't argue with him.
3. Keep a clean and tidy home and stay on top of your housework daily. Even after little ones come, make it your habit that when you go to bed that the dishwasher is running, the floors are mopped, the counters are cleaned and the washer and dryer are running. Load your coffee maker the night before. (I have six children and four of them are under the age of six and I still do this daily. It feels wonderful to wake up to a sparkling clean home every morning!)
4. Keep a vegetable garden. Plant fruit trees if you can. Keep backups of everything in your home for your family's needs; look and think ahead. Look well to the ways of your household.
5. Be loving and kind to your parents and in laws but don't let them dictate anything regarding your marriage or your family. Never run to them when you have marriage troubles. Never vent to anyone about your marriage, ever.
6. Find an older godly woman who has a biblically healthy marriage and has raised a family. You'll need a living example as a young wife yourself.
Whoso findeth a wife findeth a good thing, and obtaineth favour of the LORD.
18:22