Caring More About Making Money Than Making a Family
Caring More About Making Money Than Making a Family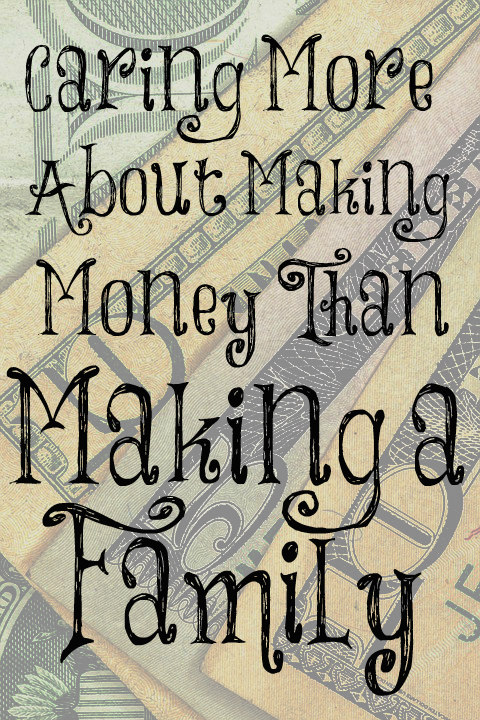 According to The Federalist's article, "Significantly more Americans ages 13 to 22 say it's important to buy a home and make 'a lot of money' than to marry, have children, and commit to a faith, according to a new late-April survey of 1,600 randomly chosen participants."
How is it going for these women who made the decision to pursue higher education and careers instead of families during this lockdown? Are they enjoying their fancy apartment or house and expensive car, clothes, and shoes while living alone? Do all of these things bring meaning into their lives? Do they enjoy being entertained by social media all day and going to bed every night alone? Just how fulfilling is the stuff that they have accumulated since they decided stuff is more important than relationships because this is, in fact, what they have decided?
We live in the most wealthy nation that has ever existed in the history of the world but I can tell you one thing, it's not money that fulfills us. It's relationships and living according to God's will for us that satisfies.
I have heard from many women during this lockdown that they now love being home full time. They love being the one home with their children. They love learning new things to do around their homes. They love the unhurried pace of life. They love not running here and there in their cars and being away from their children all day. Many are even deciding to homeschool their children.
Are all of these young women who have put family life on hold, maybe even indefinitely, finding out how empty their lives are now? Are they seeing that maybe, just maybe they passed up the best things in life and believed the lies told to them by culture? Are they reconsidering the direction their lives have taken? Is living alone with a bunch of stuff a good thing?
It's amazing how little most of us really need to live on. I think many of us have have figured this out during this time. We really are only buying the essentials. We are being more careful with how we spend money and not wasting food. We are not taking for granted the bounty that we have anymore. We understand the importance of family. Family are the ones most likely to come through when there's a need.
Don't seek the things of this world, women. Our economy could crash in an instant. You could lose your job and your stuff. Then what? For those who have invested in their families, they will still be rich in relationships even if the economy crashes. We will then have to lean upon Almighty God to provide for us and He promises us that He will! We trust Him. He owns the cattle on a thousand hills and He loves us.
I have been young, and now am old; yet have I not seen the righteous forsaken, nor his seed begging bread.
Psalm 37:35