Her Career Was Worth It?
Her Career Was Worth It?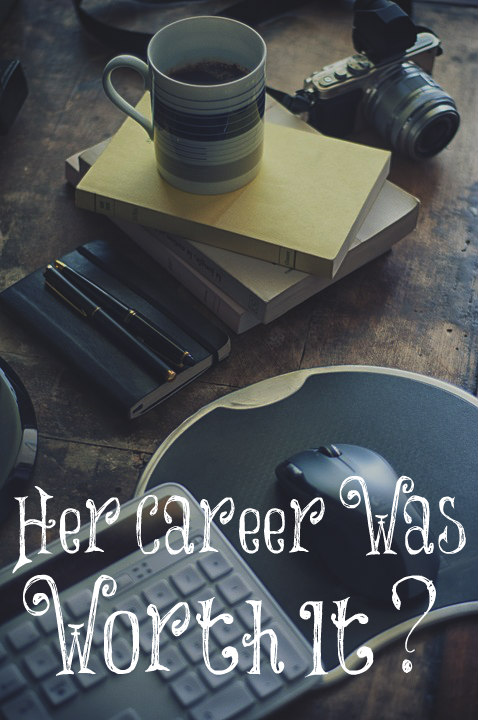 There's an article written by a Christian woman who went to college and had a good career before getting married. Once she had children, she decided to stay home full time and raise her children. When asked if going to college and having a career were worth it, since she's now a full-time keeper at home, she answers, "Yes!" She then rattled a bunch of reasons why, yet her husband is still working hard to pay off her large student debt loan. Thankfully, her husband is making enough money in order to be able to do this.
Going to college for everyone is a lie being perpetuated on the American public. There are few who actually end up using their degree and few who can actually pay off the crippling student debt in a reasonable amount of time. College used to be affordable back when I attended. It wasn't a heavy burden at all. It costs $3600 for a year which included everything and could be paid off by the students themselves, if they worked during the summer and a bit during the school year. Now, around $36,000 per year just for tuition, it's become unaffordable and the government is giving teenagers these massive loans to go to expensive colleges and most get a job that can't pay it off, so they are in bondage to their debt for most of their lives if not all of it.
I just saw a story of a young woman who couldn't rent a place because of her student debt so she lives in a van. This is a hoax, woman! So many young women can't stay home once they have children because of their debt. Few are looking to the future anymore. They are doing what everyone else is doing without any careful thought or wisdom. Culture tells women they NEED higher education and a career, so they go like sheep being led to the slaughter. What if some of these Christian young women marry pastors who have no ability to pay off their debt and make a living for their family? The wives are stuck in jobs while their children are being raised by strangers instead of being home where God wants them.
Women will throw out at me, "What if she never gets married?"
My response, "What if she does?"
Then they'll ask, "What if she never has children?"
"What if she does? Then what? She'll have to put her children into daycare to be raised by strangers while she works to pay off her debt." Yes, debt is bondage!
Lastly, they'll ask, "What if her husband divorces her or dies?"
Again, "What if he doesn't?"
As believers in Jesus Christ, are we supposed to be living by the "what ifs…" and planning our lives around this or by trusting in God to provide for the "what ifs…"?
How come they never ask these questions?
"What if my future husband likes the money I bring in so much that he never wants me to quit?"
"What if the debt I acquire keeps us from having children early in our marriage then keeps me away from them five days a week in order to pay off the debt?"
"What if I make more money than my husband so it takes away his motivation to want to work and I am left working for many, many years?"
If you want a career before marriage and children, find one without going into huge amounts of debt. College costs today are insanity and Satan's plan to keep women far from where God calls them to be and do. STOP going on the broad path that leads to destruction. If everyone is doing it, it's probably not the right path to take. We must be as wise as serpents and innocent as doves. Travel on the narrow path that leads to life!
See then that ye walk circumspectly, not as fools, but as wise, Redeeming the time, because the days are evil.
Ephesians 5:15, 16