Is Marital Sex Solely Based Upon Whether or Not There is Consent?
Is Marital Sex Solely Based Upon Whether or Not There is Consent?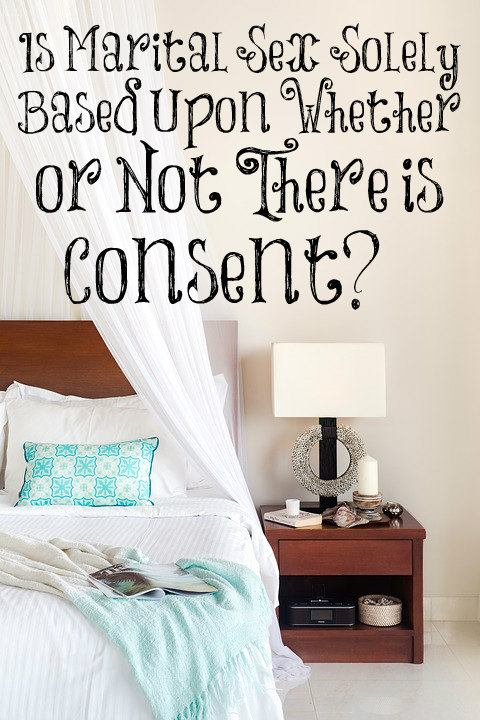 Yesterday, I did a YouTube entitled, "Should Wives Have Sex With Their Husbands If They Don't Feel Like It?' On my Facebook page, there was a lot of discussion on the topic. Here are a few comments in particular and reading Christiana's responses to these comments was like a breathe of fresh air! It's wonderful to read the words of a wise woman who isn't influenced by the feminist thought that pervades even the churches today.
LeAna: "You had me until you said a woman waking up to her husband having sex with her wasn't rape. She said no. She did not consent. That's rape. Of course, she doesn't want to throw her husband in jail. That doesn't make it any less a rape. You said rape happens with someone you don't know. I knew my rapist. Is that any less rape since I knew him? You can say no to sex in marriage. A man isn't going to be hurting too bad after missing sex one time. That's not depriving him of anything."
Christiana: "There are many problems with your premise, LeAnna, even from a secular perspective.
"According to our current culture, at least, whether or not sex is rape is determined solely by whether or not there was consent.
"What is consent in marriage (or out of it, for that matter)?
"Clearly, it cannot be a specific, 'Yes, I will have sex with you'– are you going to tell me that you expect married couples to give explicit 'consent' in that way every time they have sex? Hah! Of course not. That would be stiff, weird, and ruins the moment entirely. And by that definition, every married couple who has ever had spontaneous sex without stated agreement has engaged in rape.
"Are you going with some strange and vague notion of 'implied' consent? Because we all know how that goes down in court. Basing 'consent' on the man sensing that the woman was 'into it' because of her body language, expressions, etc. has gotten men thrown behind bars because she didn't expressly STATE consent. Clearly, we cannot expect men to be mind-readers and somehow intuit whether or not a woman agrees to have sex with him, as she can easily say later that it was not consensual.
"What, then? Especially in marriage?
"There is no such thing as marital rape because marriage IS consent. Why haven't we all burned our Bibles if we don't believe them when they say that neither the husband nor wife own their own body? Do we believe that, or don't we?
"I am far more inclined to agree with the wise commenter somewhere above who made the point that rape involves stealing sex that does not belong to you. In marriage, the other person's body DOES belong to you– at least, if we believe Scripture. Furthermore, it is definitely impossible to rape someone (wife or otherwise) who offers their body willing. So, why should wives not offer their bodies willingly? This is precisely what Lori is teaching."
Brittany: "I don't think a wife should just say no for no reason, but there needs to be a conversation. A husband demanding sex is also not fulfilling his role. To love his wife. Ephesians 5:25 'Husbands, love your wives, as Christ loved the church and gave himself up for her,' and verses 28&29 '28 In the same way husbands should love their wives as their own bodies. He who loves his wife loves himself. 29 For no one ever hated his own flesh, but nourishes and cherishes it, just as Christ does the church.'
"If I'm in legitimate pain due to a pregnancy or have a migraine (both occur fairly often) my husband is loving and doesn't demand anything. We have a loving marriage where we seek to fulfill each other's needs and not put each other in pain."
Christiana: "Brittany, I do wonder why you jump to exceptions like this in order to excuse the rule.
"But, that aside, why do you point out the husband's role? That's none of a wife's business. A wife is responsible to God for her own actions. She can't make her husband do what he ought to do, unless it's to influence him through her good and right actions.
"You may argue that a husband shouldn't demand things of his wife, but a wife shouldn't be depriving him, either. A wife can only do what she ought to do… not point the finger at what he ought to do."
Kim: "I find myself wondering why all you ever talk about is submission and giving your husband all the sex he wants. When a husband nurtures his wife and loves her as he loves himself, sex naturally follows."
Christiana: "Absolutely not! I know men who treat their wives with consistent Christlikeness and loving sacrifice, but their wives use sex as a weapon and are brats for their own reasons (upbringing, self-righteous hypocrisy, rebellion, etc.). Try turning your statement around to see what an inaccurate and unbiblical point you're making. Would you also guarantee with such presumption that when a wife makes sure her husband is sexually satisfied, a nurturing and selfless, loving husband naturally follows?"
Let the husband render unto the wife due benevolence: and likewise also the wife unto the husband. The wife hath not power of her own body, but the husband: and likewise also the husband hath not power of his own body, but the wife. Defraud ye not one the other, except it be with consent for a time, that ye may give yourselves to fasting and prayer; and come together again, that Satan tempt you not for your incontinency.
1 Corinthians 7:3-5