Hmm, Children are Thriving Being Home With Their Mothers
Hmm, Children are Thriving Being Home With Their Mothers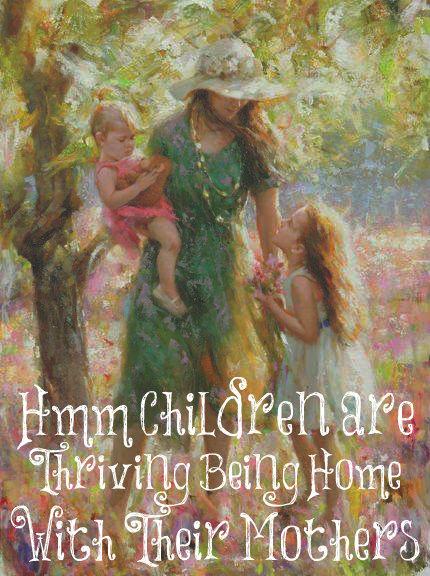 The government has mandated God's will for women and children. Mothers are home full time with their children and many mothers are now homeschooling their children. No one could have predicted something like this happening. All I know is that God's ways are best. It's best for mothers and children to be home with each other. God has ordained mothers to raise their own children.
There's an article in the New York Post called "Coronavirus is providing the course correction kids desperately need." Here are a few excerpts from this article.
"Before the virus changed everything, childhood anxiety was one of the worst things facing today's kids. Over the past several decades, the rates were spiking to the point where today, according to the National Institutes of Health, nearly one in three adolescents has an anxiety disorder. Thrown from the soccer-Kumon continuum, kids are starting to do all the things they didn't have time to do or weren't trusted to do before. We're already hearing about marathon Lego sessions, cookie baking, sibling-sitting and the videos kids are making in their unleashed time.
"We've watched kids blossom like crazy once they were nudged into simply making pancakes, or riding their bikes. One middle-schooler told his teacher that thanks to doing a bunch of new things on his own, he was no longer taking his anxiety meds. Amazing. Now, with a whole country's worth of kids at home and school only taking up a fraction of the long, long day, it's a whole new (indoor, trophy-free, child-organized) ballgame.
"As for parents worried that all this non-academic time is dooming their kids' futures, research at the University of Colorado at Boulder found that the kids who have more free time to create and structure their own activities develop stronger executive functioning skills — that is, better planning, problem-solving and follow-through — than kids whose lives are more continuously structured by adults.
"Executive functioning skills are exactly what kids need to succeed at school and in real life (that thing we used to partake in, before Zoom). When disruption occurs, learning is inevitable."
Before this quarantine, most children around this nation were away from home the majority of their childhood. They are in school for eight hours a day or more. Then they have after school activities, dinner, and homework. They have little interaction with their own parents. Now, life is completely different for them. They have time to be creative, to play outside, to ride bikes, to splash in the puddles, take walks with their parents, learn to cook something new, work in the yard, plant a garden, and on and on the list goes. Their lives are completely different and they are better because God's ways are always perfect. I believe many children who are in healthy homes will look back at this time at home with their mothers, and many with their fathers, with fondness.
And be not conformed to this world: but be ye transformed by the renewing of your mind, that ye may prove what is that good, and acceptable, and perfect, will of God.
Romans 12:2