Love is NOT a Feeling!
Love is NOT a Feeling!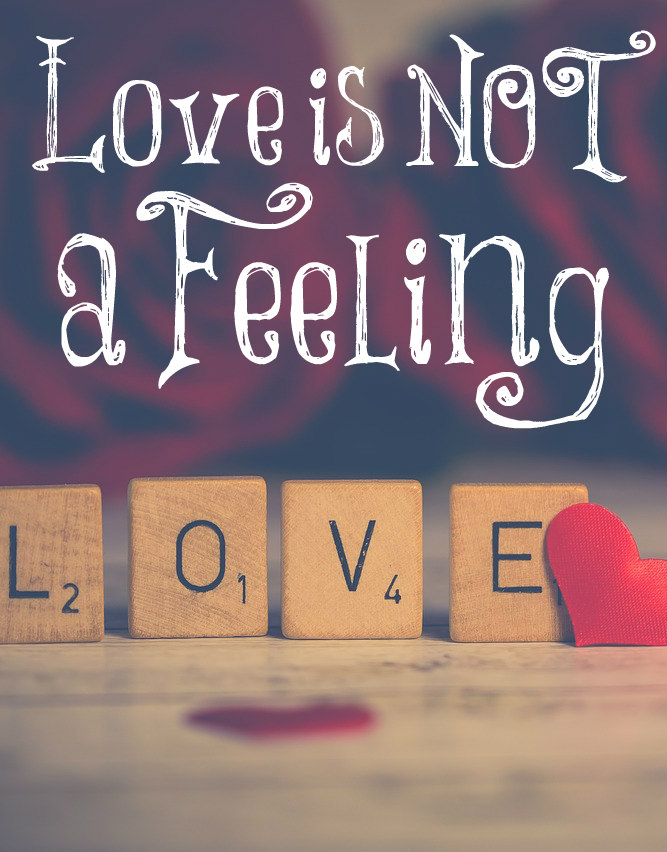 Many will argue that love is a feeling. I wrote this on my Facebook page the other day: "There is no such thing as 'falling in love.' Read 1 Corinthians 13:4-8. This is the definition of love. It has nothing to do with emotions and feelings which come and go. True love doesn't, because it's a commitment, a decision, a choice until death do you part." Many, many disagreed with me since most think that love has to do with feelings and falling in love. "Why, of course, love has to do with feelings! God gave us feelings and feelings are what keep us connected to our spouse!"
Women will have feelings of anger towards their husbands. Feelings of passion, coolness, disgust, sadness, warmness, tenderness, discontentment, and happiness. These feelings aren't love. They are feelings and part of life. Feelings change. Love never fails. Maturity is learning to not be lead by feelings and emotions but by the Spirit of Truth.
If love is a feeling, then all the women who suddenly have no good feelings for their husbands anymore, will falsely believe that they no longer *love* their husbands therefore, they should divorce them, right? No, love is NOT a feeling. Feelings come and go. Love is a choice, a commitment until death do you part. Hollywood has convinced young women that marriage is all about feelings. They must feel the butterflies and tingles and if they don't, he must not be the one. But guess what, those butterflies and tingles won't last no matter who you marry. God wants you to marry a believer. Marry someone who is willing to work hard to provide for you and your children. Decide who you will marry by seeking wisdom, having a sound mind, and being sober-minded, not by your butterflies which will cloud your judgment.
Why do you think God commands older women to teach young women to "love their husbands"? Because younger women tend to think that if they aren't feeling *in love* with their husbands, they must not be. This is why up to 80 percent of divorces are initiated by women. They need to be taught what true, biblical love is since feelings are fleeting and changing!
The definition that God Almighty gives for love is nothing about *falling in love* or feelings. It's a made up phrase by Hollywood which has caused devastation upon the institution of marriage. Marriage based upon feelings is guaranteed of failing and this is why divorce is rampant. Love is patient. Love is kind. It does not seek her own and its not easily provoked. Love thinks no evil and rejoices in the truth. It bears all things, believes all things, hopes all things, endures all things, and love never fails. This is what young women need to be taught. I see NOTHING about feelings in this definition. Love is an action, NOT a feeling.
Every great marriage has gone through trials where the good feelings were non-existent. It happens to everyone. Yes, feelings are part of us but they aren't what constitute love or define truth or reality. We love even when there are no "feelings" of love, because we have made a commitment, a vow to God Almighty. Remember, love NEVER fails.
Churches and marriages that are built upon emotions and feelings are doomed to fail. They both must be built on faith in Jesus Christ and commitment to His Word if they hope to endure. Many churches appeal to people's emotions. They play a bunch of music from Bethel and Hillsong that stimulates the emotions and feelings. Few churches sing the great hymns of old that are rich in theology. This is why God's people are being destroyed; for lack of knowledge. They want their ears tickled instead of being convicted and challenged by the Truth in God's Word. It's the same way with marriage. If their warm and fuzzy emotions aren't there, they leave. Their marriage was built upon sand. Build your marriage upon the Rock of Jesus Christ.
And above all these things put on love, which is the bond of perfectness.
Colossians 3:14