Husbands are to Be Servant Leaders?
Husbands are to Be Servant Leaders?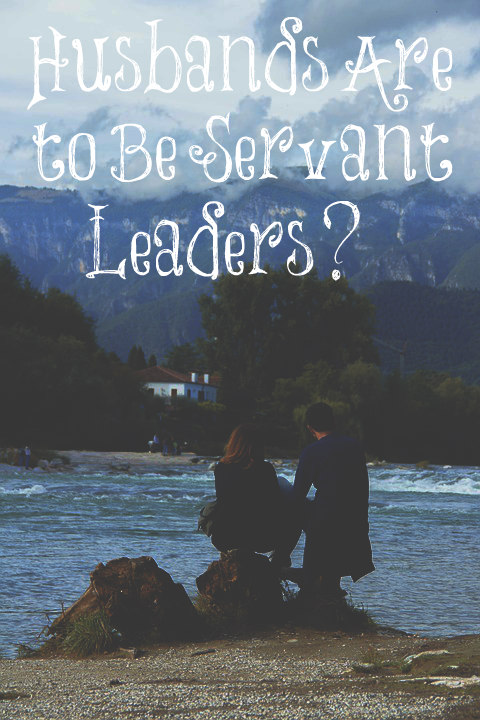 Written By Ken
Today's Church teaches that a Christian husband is to be a "servant leader" to his wife, and on the surface this sounds so wonderfully spiritual. After all, was not Jesus the perfect example of being a servant leader? Unfortunately, the Church has so over-emphasized the servant aspect of a husband's role that it has all but wiped out any leadership he may be entitled to perform in his home. Most sermons seem to focus far more on what a husband's leadership is not to be, and what a wife's submission is not to be, without ever addressing what it means for a husband to be a loving leader and a wife a joyful follower. Church teaching has become so watered down that we now have most Christian wives deciding if they approve of their husband's leadership and if it is not like Jesus in their minds and feelings, his headship is disqualified.
Lori wrote out a handwritten post on this topic and posted it on Facebook trying to explain that servant leader does not mean the wife gets to use her husband as her servant by telling him regularly what he is do for her. No, she is not to become the leader and decide how the home is run and how he is to push all her right buttons while avoiding all her wrong buttons. God makes it clear that the Christian wife is to follow her husband's leadership and she should recognize that much of his service to the family is by being a provider, protector, and leader. When the church sets up a wife to decide how a husband is to serve her, she ultimately stops trusting his leadership. It was breaking away from this awful unscriptural thinking that helped free Lori to become the wife that God's Word asked her to be towards me.
One of the first comments from Lori's handwritten post: "The husband is supposed to lead his family like Christ leads the church? Didn't Christ serve the church when he laid down his life for her? Seems like servant leadership to me."
Here's my response to him: "The point is that a Christian husband's approach to serving his family is often not something a wife, or others, judge properly. Christian marriage counseling often fails right at this point with the wife, often supported by the counselor, waiting for the husband to be the loving servant before a wife can follow him. Who is really leading if the one who is supposed to follow refuses to follow because she knows better or best? And hence why so many marriages are in trouble today, and back to the point of the post. A husband cannot even show he is a true servant leader to his wife because she won't give him the opportunity of time and faithfulness to show it to her. She has set herself up as judge and jury as to what his role should look like, and to her, this does not look like Jesus washing the feet of His disciples.
"Here's an interesting question and perspective: Besides the washing of the disciples feet and the death of Christ on the cross, can you name one other time that Jesus served his disciples? He did not offer to lower the bucket at the well, nor jump up to help Martha when she complained. I do not think breaking bread at the last supper counts, but go ahead and throw it in and tell me how much of Jesus' leadership was about teaching, commands, admonitions and requests that he expected his disciples to keep and how much was he physically serving his disciples? By definition, does not the word 'disciple' mean follower? As far as we can see from God's Word, we might find Jesus actively serving his followers five percent of the time and 95 percent serving His God-given role as Messiah and King.
"I think a husband is in a different spot than Jesus and would generally serve his wife much more than five percent, but the point is that if we are to have husbands and wives follow the model of Christ's leadership, then the post is spot on. The Christian wife is to trust her husband and not second guess everything he does or tells her to do. She is not to assume he is not adequately serving her, especially if he is headed out to work 40-50 hours a week and puts bread and meat on the table and a roof over her head. She is to be his helper as the disciples helped Jesus, not the other way around.
"Take a good look at the life of Jesus and let's not exaggerate who he was as the Suffering Servant and turn that into some house cleaning husband who is supposed to be like Jesus. Yes, we serve our wife and family and try to please and satisfy our wife, but if she is our follower and our helper, she is to trust the leadership of her loving husband so that true and abiding intimacy can flourish as God has designed and commanded. Unless, of course, the Suffering Servant's commands are optional for your life. Jesus seems pretty bossy to me in the gospels, even strongly rebuking his disciples at times, yet we love his commands knowing they are best for us. If you want to see your marriage blossom, start emphasizing the leader part of the equation and stop second guessing how your good husband chooses to lead and serve you.
A wise woman wrote under Lori's handwritten post: "Servant leadership means that he makes decisions that are best for his family. He sacrifices his time/body/finances to provide what they need and nurture them in the Lord. Not that he submits to his wife's demands."
I would love to hear of a Christian counselor who has the spiritual insight to say to a wife, 'I think you could have a great relationship with your husband if you would trust him in his leadership. I know he is asking you to do some things you don't like, but they are not sinful, and what if he is right that he indeed knows what is best for you and the family? Could it be your arguing is really about who is going to have control in your relationship? And God has already decided that for us. Can you try to joyfully follow him and see if God will bless you in your faith and family?
Be a wife who loves the Lord so much that you will walk in His Spirit trusting your husband instead of allowing your minds to regularly feel hurt that he is not doing things your way. If you are alive in Christ, you can win your husband's love and service without a word by your godly and loving behavior towards him. This is God's promise to wives, and that is how you can be most happy when you stop the back-seat driving, instead throwing your lives into harmony with the one you chose to love for a lifetime. Some of you have to stop being your husband's holy spirit to allow him to show you how Jesus loves and leads. And only then will you find that your every need has been already met in Christ Jesus.
Wives, submit yourselves unto your own husbands, as unto the Lord. For the husband is the head of the wife, even as Christ is the head of the church: and he is the Savior of the body. Therefore as the church is subject unto Christ, so let the wives be to their own husbands in everything.
Ephesians 5:22-24