If You Want to Be a Wise Woman, Seek Wisdom
If You Want to Be a Wise Woman, Seek Wisdom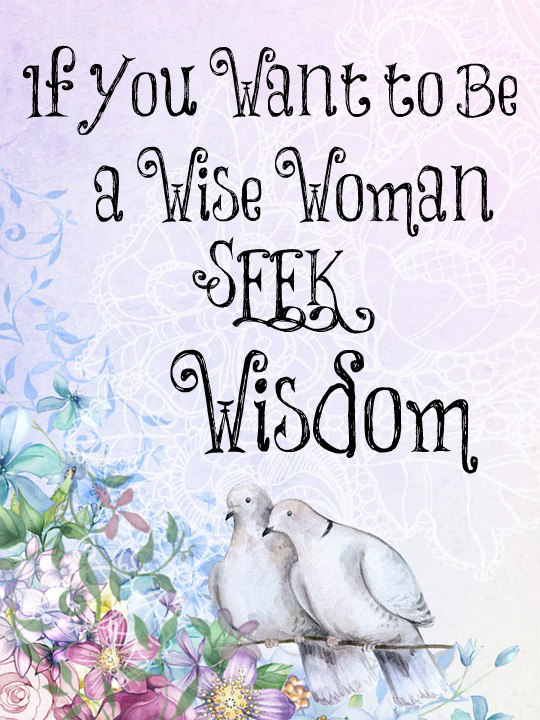 Christian women have rebuked me for not backing up everything I teach by God's Word, for my tone in writing, and for not writing about God's grace more. "Certainly, your viral post about debt-free virgins wasn't biblical at all. Where is God's love, His grace, His forgiveness, and His mercy in this post," they seemed to scream at me through the many articles written against me. I believe a lot of that post and all of my posts can be supported by Scripture. I am not writing to continually remind women of the amazing God we serve, His grace, and His love towards us. Yes, those are all VERY important and women do need to know these things but they also need to learn wisdom, common sense, and truth as they walk through this life.
Most women don't have a lot of wisdom these days. They don't learn it in the public schools or universities, that's for sure. They don't learn it from Hollywood or most music, even most Christian music. Many don't even learn it from their parents or churches. Where are they to learn it? From the Word of God, godly men preachers/teachers of the Word, and those who are older than them and have experienced a lot of life, like me, an older woman. This is God's plan, not mine.
A man who goes by the alias Wintery Knight wrote about my viral post the other day. I loved this one comment he made in the comment section of his blog when someone mentioned that many Christians disagreed with my post. He wrote, "I think wooden fundamentalists are not going to be able to understand what Lori is saying. The issue isn't what the Bible says. The issue is what strategy should a wise person use in order to achieve what the Bible says. And that's where wise people will consult studies on how premarital sex affects marriage quality and stability and studies on how outstanding debt affects divorce rates. There are studies on this, and conservative millennial won't find them in the Bible.
"Nobody who takes a half-baked, feelings-based approach to marriage likes to look at what studies say, but this is how you engineer a successful marriage. Read the studies, adjust your decision-making, and achieve what the Bible says to achieve.
"Also, I couldn't care less about Christians who are offended by the tone of Lori's article. And I think that's the majority of Christian women. To me, it just goes to show the approach that women take to marriage. I'll do whatever I want, however unwise, and some how it will work out – and if it doesn't, how dare you judge me? Doing what feels good and not being judged for it is the sum total of most women's understanding of how to approach marriage. But it's not wise, and it's not working for them."
It seems that most young women don't want to learn from older women. We're old-fashioned and don't understand the present culture. I do understand the female nature. I know that many young women still want to be attractive to young men, thus the debt-free virgin post. I know that sex has a strong pull and many are living together before marriage, thus the post Stop Living With Your Boyfriend. My goal is to teach women biblical womanhood because I know that God's ways are best. I have made mistakes in my life so I teach from those, the experiences I have had, the wisdom and common sense I have learned, and from the Word of God.
Yes, God does forgive every single sin we have ever committed or will commit the moment we believe. Yes, His grace is sufficient for each day and He will carry us through whatever trials we are facing. Yes, His mercies are new every morning. Yes, we can do all things through Christ who strengthens us BUT He still wants us to obey Him. He wants us to grow into the image of Christ. We will still reap what we sow. I am only trying to teach women to sow good fruit in their lives on a daily basis and through each season of life by making good and wise decisions when they are young. It's better to live without a lot of regrets and without the consequences of bad choices made in one's youth.
Flee also youthful lusts: but follow righteousness, faith, charity, peace, with them that call on the Lord out of a pure heart.
2 Timothy 2:22